Juneteenth: Galveston celebrants share what the day means for them
Galveston, Texas - In many places around the country, Juneteenth has gained ground since it became a federal holiday in 2021, but in Texas, it's no new concept. TAG24 was on the ground in Galveston – the site of the first Juneteenth celebrations – to learn about the significance of the holiday for African Americans today.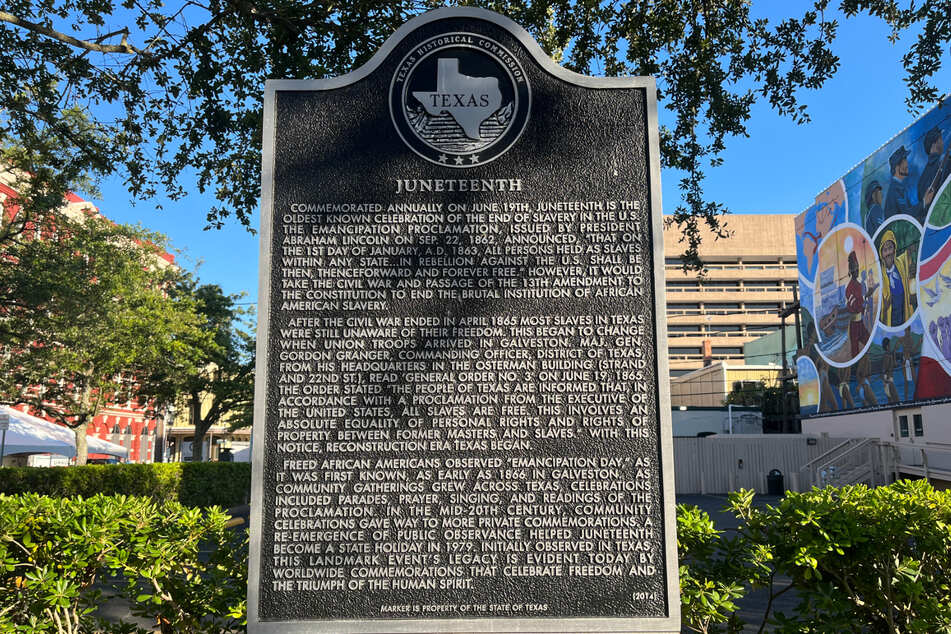 Juneteenth refers to June 19, 1865, when General Gordon Granger arrived in Galveston, Texas, to read General Order No. 3, which proclaimed the official end of slavery.
While the Emancipation Proclamation took effect in 1863, enslaved people in Texas had to suffer for two extra years until the news made its way to them. Galveston was the final place to get word of liberation.
This year, the city marked the day with a parade and march, a reenactment of the reading of General Order No. 3, and the christening of the 1861 US Customs House as the June Nineteenth Museum, to be opened next year.
Locals and visitors of all backgrounds came together to commemorate the occasion in the place where it all began.
TAG24 NEWS spoke with participants on the ground to learn what Juneteenth means to them. Here's what they had to say.
Juneteenth: A symbol of liberation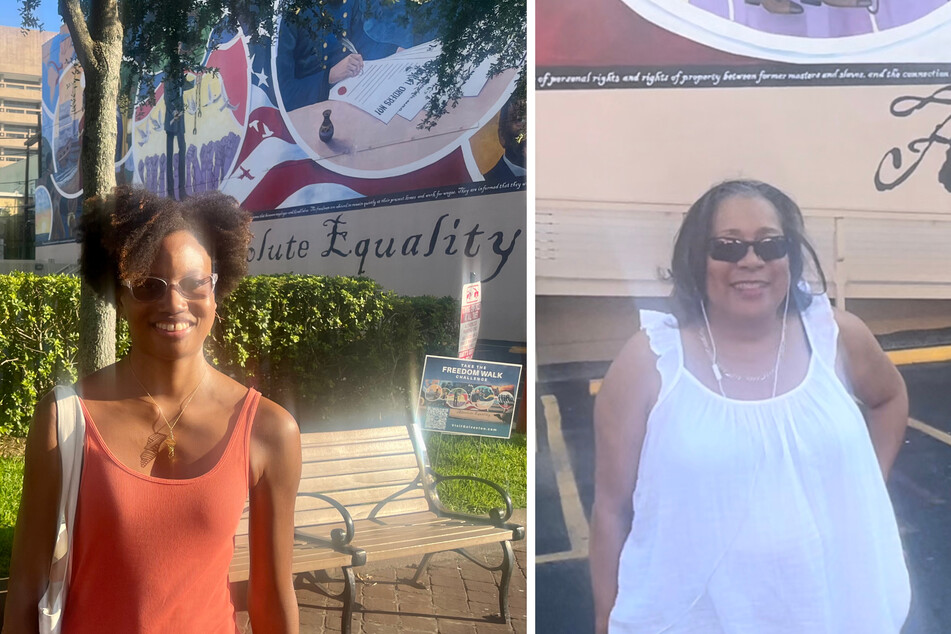 Jeanelle Sims came down from Chicago to experience Juneteenth in the place where it began.
When asked what Juneteenth means to her, Jeanelle responded, "Freedom."
"It's a double-edged sword because it was initially proclaimed in 1863, and then two years later, we got the announcement and freedom was actually sort of given – begrudgingly," she continued.
"It's freedom, but it's also knowing that it took a long time to process – a lot longer than it should have. It's a begrudging acceptance of freedom for Black Americans in this country."
Her aunt, Eleanor, also from Chicago, echoed, "Juneteenth means freedom and equality for all people, regardless of race, color, creed, or religion. To me, especially for my people – African Americans – we're free from slavery."
"I love it be because shouldn't anybody be anybody's slaves."
Juneteenth: An incomplete freedom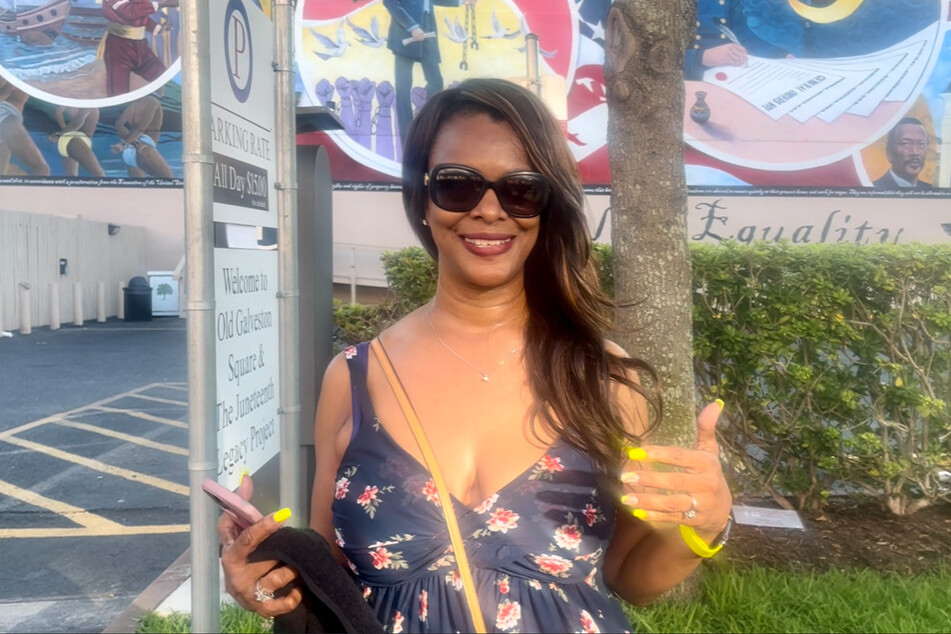 Though Juneteenth is an occasion to celebrate, many pointed out that there is still a lot of work to be done to reach true freedom.
Stephanie Kerr from Fresno, Texas, explained, "The Emancipation Proclamation was signed in 1863. I kind of had back-and-forths about it because I know that we were freed so that we could fight in the Civil War. That's my hang-up about it," Stephanie explained.
"But I wanted to come here today because this is the place of origination when they found out about it," she added.
"That's what it means to me: We're free-ish, sort of."
Juneteenth and the long road ahead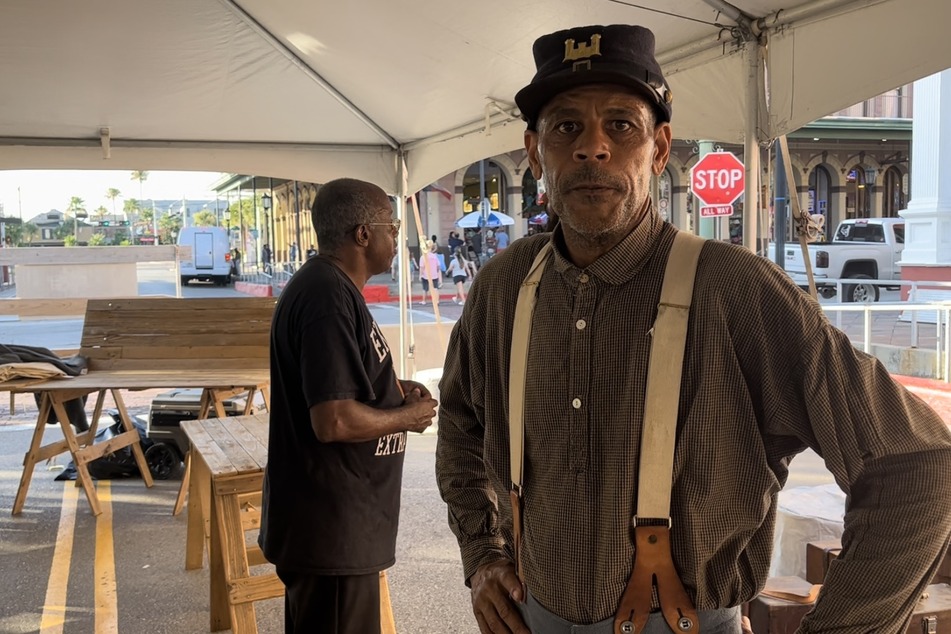 Allen Mack, also known as Private Mack when in character during historical re-enactment performances, was out on the streets educating the public about the 1st Corps d'Afrique engineers from Louisiana, who arrived in Texas in 1863 and stayed until the end of the Civil War. He has played these roles for the last 11 years.
When asked what Juneteenth means to him, Mack answered, "It gives us an opportunity to try to come together as a people, as a country. Just watching here the crowds of people listening to us talk, it really gives me hope that maybe there will be some bringing together of all the races in this country."
Nevertheless, when it comes to the ongoing fight for racial and reparative justice, he emphasized that the path won't be easy: "The way the country is and the way things stand, I don't think [Juneteenth] is going to be the thing that's going to push reparations."
"I think it's going to be up to the younger generation to see this and push this agenda forward," he insisted.
"If the races start to come together because of [Juneteenth], I can truly see it doing it, but until then, I think we've got a long road to hold."
Cover photo: Collage: TAG24 / Kaitlyn Kennedy