AOC and other lawmakers arrested outside Supreme Court during protest for abortion rights
Washington DC - Democratic representative Alexandria Ocasio-Cortez and at least 15 other lawmakers were arrested outside the Supreme Court building on Tuesday.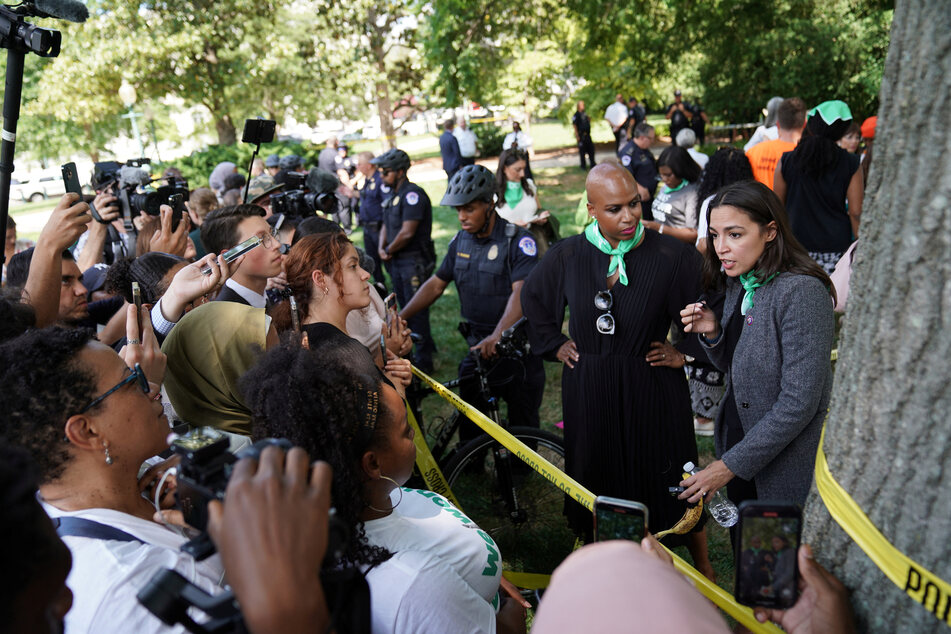 According to a tweet from the US Capitol Police, demonstrators were breaking the law by blocking traffic on First Street. After three warnings, law enforcement began making arrests.
"We made a total of 34 arrests for Crowding, Obstructing or Incommoding," the police said in another update. "That arrest number includes 16 Members of Congress."
Videos were quickly shared on social media of lawmakers such as Alexandria Ocasio-Cortez (AOC) and Ilhan Omar being arrested.
In one video, AOC can be seen raising a fist in the air as cops escort her away.
The demonstration was for abortion rights, and comes almost a month after the Supreme Court overturned Roe v. Wade.
New York Representative Carolyn Maloney, who was also arrested, said in a statement, "There is no democracy if women do not have control over their own bodies and decisions about their own health, including reproductive care."
Other representatives reportedly arrested include:
Alma Adams of North Carolina
Cori Bush of Missouri
Katherine Clark of Massachusetts
Ayanna Pressley of Massachusetts
Bonnie Watson Coleman of New Jersey
Veronica Escobar of Texas
Sara Jacobs of California
Barbara Lee of California
Jackie Speier of California
Andy Levin of Michigan
Rashida Tlaib of Michigan
Jan Schakowsky of Illinois
Nydia Velazquez of New York
Cover photo: REUTERS