Giannis Antetokounmpo throws tantrum – and a ladder – in beef with Sixers' Montrezl Harrell
Philadelphia, Pennsylvania - Giannis Antetokounmpo, one of the "nice guys" of the NBA, is dealing with his first big controversy after he nearly knocked over a staff member at the Sixers' arena with a 12-foot ladder.
The league's two-time MVP is under fire for a temper tantrum that was fueled by Milwaukee's 110-102 loss to Philadelphia at Wells Fargo Center Friday night.

The strange episode featured the Bucks superstar, 76ers reserve center Montrezl Harrell, and a 12-foot ladder, and it culminated in Giannis slamming the ladder from out of a staff worker's hands.
Following his second straight poor performance at the free throw line – 4-for-15 – Antetokounmpo took to the court for a post-game free throw practice, which seemingly didn't go well with Harrell.
After Giannis made seven consecutive shots – part of his routine of hitting 10 in a row – Harrell took the ball and refused to give it back.
That was never going to be the end of it. The Milwaukee big man took two more balls from Philadelphia's locker room and returned for more court drama. By that time, arena workers had placed a huge ladder up in front of the basket where the NBA champion was practicing.
That led to a short physical struggle between Giannis and staff members, and it all came to a head when the 27-year-old angrily slammed the ladder to the ground.
Giannis and Harrell both remain unrepentant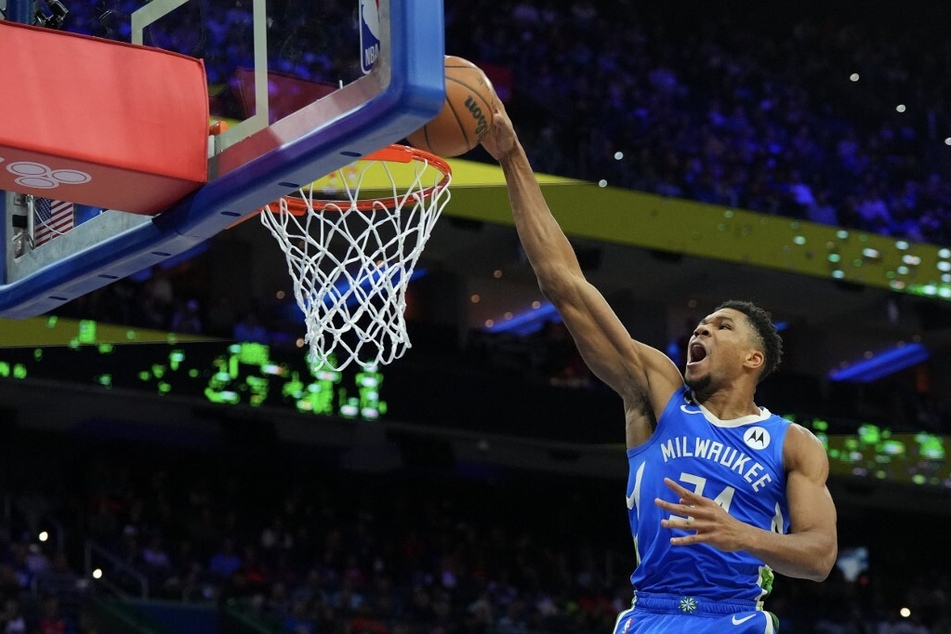 "I respect every player," Antetokounmpo told ESPN after the incident. "I know some players don't play now, they want to get some extra work, want to work on their skills and stuff, and I said, obviously we can shoot together. They said, they told me no, this is their court, I should leave."

He added: "Came and took the ball away from me and I was very surprised. I feel like it's very unprofessional. I would never take the ball away from a professional athlete when he's trying to do his job."
Harrell later took to Twitter to give his side of the story, tweeting: "I ask the man can he get off the court so I can workout they had to change the court over he ignore me so hey that's what you get! Respect is respect! GOODNIGHT!"
Giannis, meanwhile, insisted he had no intention of throwing the ladder at anyone.
"I went back out there to shoot and there was a ladder in front of me," he said about shoving the ladder to the ground. "And I said, 'Can you please move the ladder? And they said, 'No.' I said, 'Can you guys please move the ladder?' They said, 'No.' I was like, 'Guys, I have two more free throws, can you please move the ladder?' And they said, 'No.'"
"I don't know if I should apologize because I don't feel like I did anything wrong, except the ladder just fell. I feel like it's my right for me to work on my skills after a horrible night at the free throw line."
Cover photo: MITCHELL LEFF / GETTY IMAGES NORTH AMERICA / GETTY IMAGES VIA AFP