Arch Manning and Maalik Murphy get their flex on in Texas football's quarterback room
Austin, Texas - Texas football's quarterback room is looking stronger than ever with student-athletes Maalik Murphy and Arch Manning proving they aren't afraid to put in the work.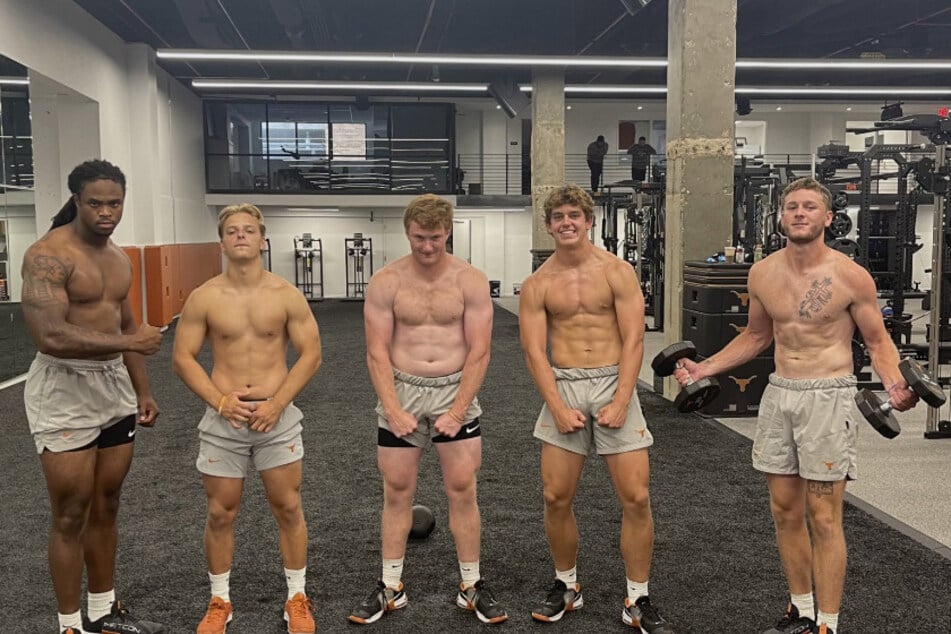 Another day, another major flex – literally – from Texas football's weight room.
On Friday, the Longhorns' backup quarterback Maalik Murphy posted a comical photo collage on Twitter featuring four photos, three of which are an old picture of the pope raising his hands.
The fourth snap in the collage, which is the image the pope appears to be holding, is a pic featuring several shirtless Texas student-athletes, including Murphy and freshman quarterback hopeful Arch Manning.
One of the notable things about the group picture isn't the fact that each athlete is ripped in their own right, but rather just how much Murphy towers over the other four players – Manning included.
This is something many social media users took notice of, with one replying: "Yeah, no one is gonna be sacking Maalik… I got a strong feeling about that."
Another said: "Maalik, you guys look like you've been putting in work! Looking forward to seeing you stiff-arm pass rushers into the ground before completing deep throws wearing Burnt Orange down the road, young man!"
Though head coach Steve Sarkisian named Quinn Ewers the starting quarterback going into the 2023-24 season, it's clear he has some competition in Murphy!
Cover photo: Screenshot/Twitter/SmvOperator