CJ Stroud and Jaxon Smith-Njigba boast NFL skill sets on Ohio State's Pro Day
Columbus, Ohio - With the Carolina Panthers in the building for Ohio State football's Pro Day, quarterback CJ Stroud made sure to show up and out on the field!
Since the Panthers traded with the Chicago Bears for the No. 1 pick in the 2023 NFL Draft, Stroud has emerged as the team's likely favorite to be snatched up first.
Case in point? The Panthers flew almost the entirety of their top office team of owners and recruiters – 11 strong to be exact – to watch Stroud at Pro Day on Wednesday.
The Panthers contingent also met extensively with Stroud on Tuesday night, reportedly accompanied by a private dinner. The two-time Heisman finalist is also said to be set to visit the Panthers in Charlotte prior to the Draft in April.
Reuniting with his former standout receiver Marvin Harrison Jr. on Wednesday, Stroud lit up the field throwing absolute dimes.
After impressing Panthers representatives, experts, and football fans, the internet buzzed over his second stellar showing, following the NFL Combine.
"CJ Stroud makes it look effortless! He can make any throw on the field," one Carolina fan tweeted.
"CJ Stroud saved his best throw of the day for last as he ended his Pro Day workout with this beauty!" another fan noted on Stroud's final pass of the day.
Pleased with his performance, the future NFL quarterback believes he has done all he can to land in the big league.
"I think I did everything to this point in my control really well," Stroud said following his workout. "I did everything on the field, I felt pretty good. All glory to God. That's the reason why I am here."

Ohio State Buckeyes receiver Jaxon Smith-Njigba has an incredible Pro Day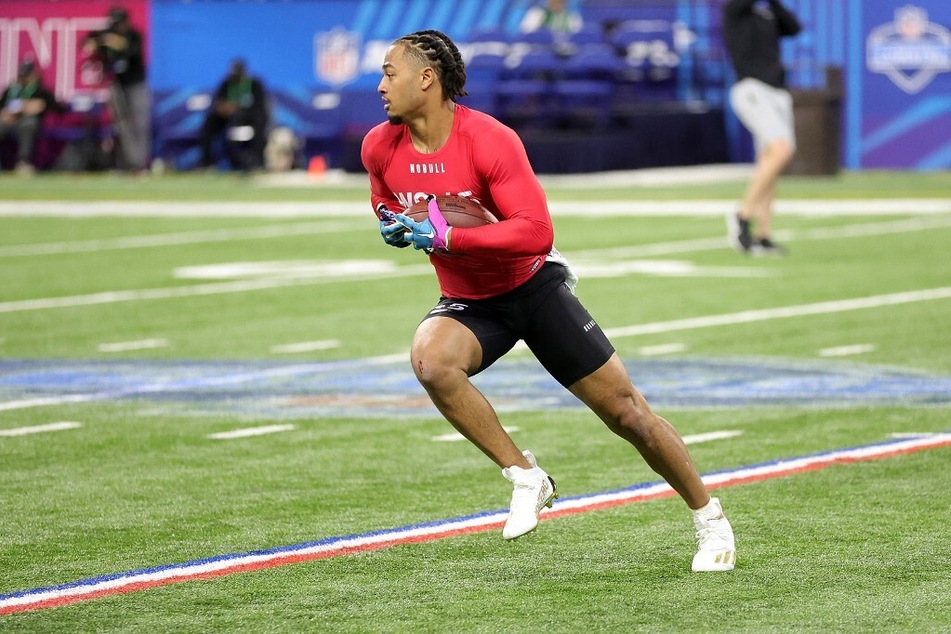 Following his own incredible showing at the NFL Combine, Jaxon Smith-NJigba showcased his elite athleticism at the Buckeyes' Pro Day as well.
The Buckeye standout upped his Draft stock by clocking in the 40-yard dash in the 4.48-4.52-second range - putting any doubts about his speed to rest.
Smith-Njigba's 40-yard dash adds to his outstanding Combine results, in which he led all receivers with a 6.57-second three-cone test and 3.93-second short shuttle.
Like Stroud, the 21-year-old also met with an NFL team on Tuesday night – the New York Giants. He admitted playing for the team would be a "dream come true."
"Great people, great conversation, great coaches," Smith-Njigba said of the Giants. "They're on the come up, you saw it with them last year in the playoffs.
"It would be a blessing to play in the Big Apple in New York. It would be a blessing and a dream come true."
Hoping to hear their names called early, CJ Stroud and Jaxon Smith-Njigba will travel to Kansas City, Missouri, for the 2003 NFL Draft, set for April 27–April 29.
Cover photo: Stacy Revere / GETTY IMAGES NORTH AMERICA / Getty Images via AFP