USC's Heisman winner Caleb Williams reveals the Trojans' top players this spring
Los, Angeles, California - As the reigning Heisman Trophy winner, Caleb Williams knows what it takes to win. On Tuesday, the Trojan quarterback had no issues revealing which of his teammates are winning on the field this spring.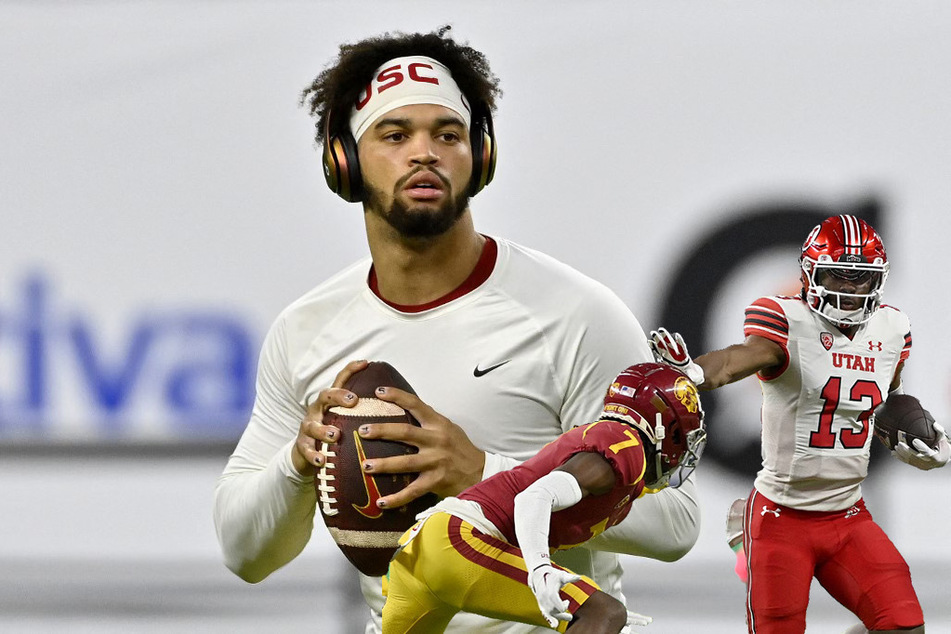 Last season, the Trojans just narrowly missed the College Football Playoffs (CFP) after losing to Utah at the Pac-12 championships – their second-straight loss to the Utes that season.
USC's defeat was largely a reflection of their struggling defense on the field.
Turning a page on the past, Trojan quarterback Caleb Williams has recently been impressed by many of the USC defenders this Spring camp, giving fans insight on what's to come next season.
"So far Jacobe Covington has been doing well. Domani Jackson is doing well. Obviously Calen Bullock, he's been doing really well. Anthony Lucas made a pretty good play during our last practice, which I don't know how he made it. He made a pretty good play on the run," Williams told reporters following a Spring practice.
"Mason Cobb has been doing well. Tackett Curtis, he's my boy. He's a hard worker and he just goes at it every chance he gets," Williams added.
With a high-powered offense led by a Heisman quarterback, the Trojans biggest setback to reaching their first CFP ever under the modern system will be their defense.
If the team can make a huge turnaround in terms of its defense, the program may become a big threat on the field next season!
Malachi Nelson, Dorian Singer, Zachariah Branch standout on the Trojans offense
Freshman Malachi Nelson, better known as "young pup QB" if you're asking Williams, is finding his offensive groove according to the QB1 Caleb.
Regarding wide receiver power duo Dorian Singer and Zachariah Branch, Williams said, "Dorian Singer makes some insane catches. Zachariah Branch has great speed."
USC football is currently preparing for its annual Cardinal and Gold spring game set for April 15 at noon local time.
Cover photo: Collage: David Becker / GETTY IMAGES NORTH AMERICA / Getty Images via AFP