Aaron Rodgers owns Bears again as Packers bounce back from Week 1 loss
Green Bay, Wisconsin - Aaron Rodgers showed that he still owns the Chicago Bears after leading the Green Bay Packers with two touchdown passes in a 27-10 victory at Lambeau Field on Sunday.
Running back Aaron Jones was outstanding with two touchdowns for the Packers, who bounced back from their 23-7 Week 1 loss to the Minnesota Vikings. Green Bay have now won their home opener in 10 consecutive years.
Rodgers was the center of attention, given his history against NFC North rivals Chicago, improving his all-time record against the Bears to 24-5. On Sunday, he had two touchdown passes, completing 19-of-25 for 234 yards, meaning in his past four games against the Bears, he has 14 touchdowns with no interceptions.
The Packers quarterback brought up his 450th career passing touchdown – becoming only the fifth QB in NFL history to achieve that – for Jones' first as Green Bay piled on three second-quarter touchdowns after Justin Fields had run into the endzone to give the Bears an early lead.
In the second half, Rodgers also tied a career-high 14 consecutive completions, matching a mark he set back in 2014 against the New York Jets.
Packers seal the win with big plays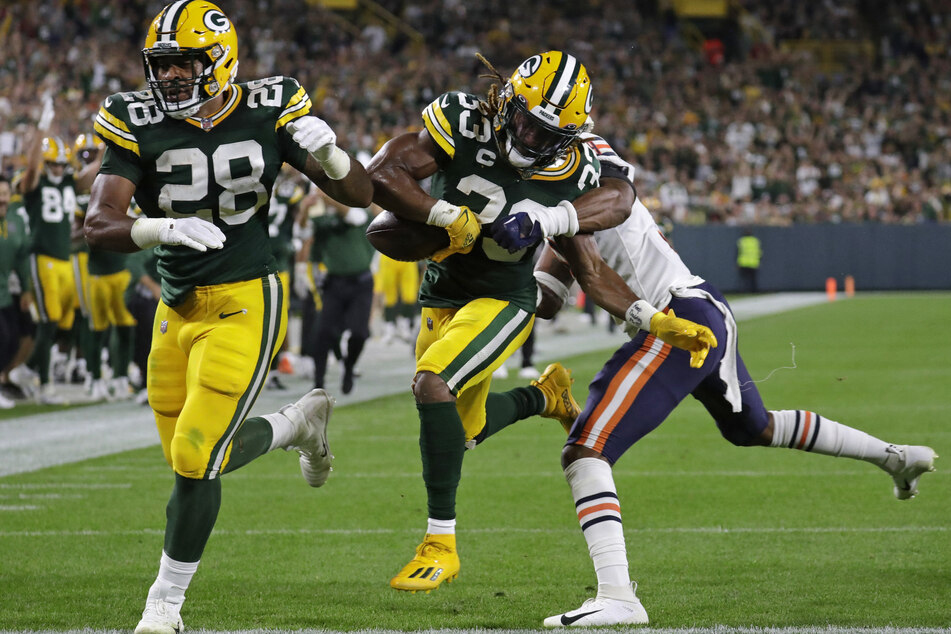 Beyond Rodgers' contribution, Green Bay had almost 200 rushing yards from Jones (15 carries for 132 yards) and AJ Dillon (18 carries for 61 yards), adding variety to their offense.
Wide receiver Sammy Watkins had three receptions for 93 yards including a fourth-quarter 55-yard gain to flip the field.
Jones got the first "Lambeau Leap" of the season after weaving his way into the endzone, before he also ran around the edge from Rodgers' pass to open up a 17-7 lead.
Rodgers found Randall Cobb to pick up 20, before sending a laser to Allen Lazard for their third TD before half-time.
Fields, who twice fell short of a running touchdown on the goal-line in the fourth quarter, completed seven-of-11 attempts for 70 yards with one interception, with David Montgomery running 122 yards from 15 carries.
Jaire Alexander's late interception sealed the win for the Packers.
Cover photo: REUTERS