Katie Ledecky makes history with 20th world medal
Budapest, Hungary - Olympic athlete Katie Ledecky won her 17th world championship title, bringing her world medal count to 20.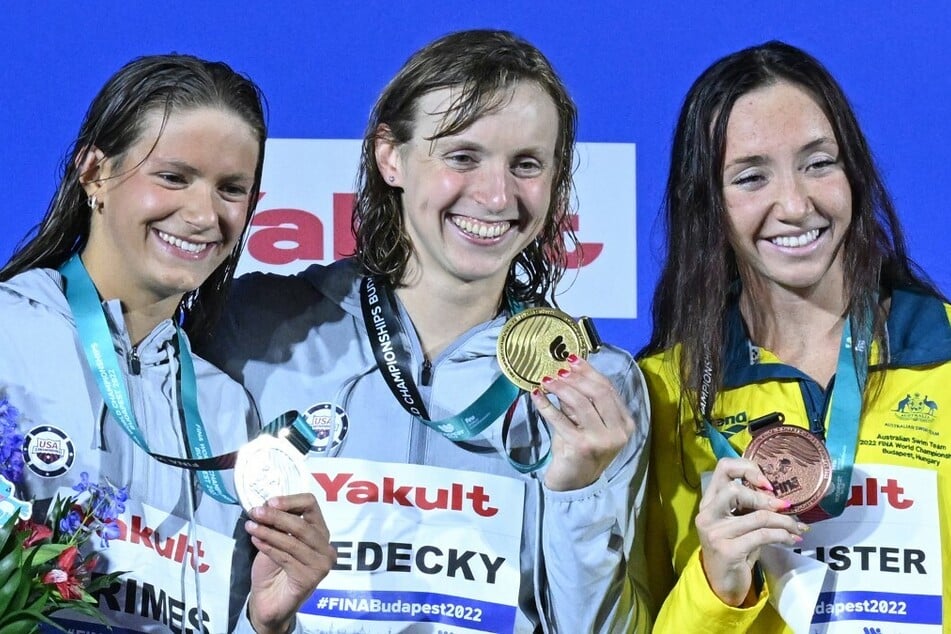 Katie Ledecky added to her gold medal collection on Monday after an impressive swim for the 1500-meter freestyle championship title at the FINA World Championships.
The Olympian's latest victory in the pool extended her winning streak. She now has six more titles than Simone Manuel (25), who sits in second place for most world champion titles by a woman swimmer.
Ledecky, who won the women's 400-meter freestyle on the opening day of the championships, cruised to gold with a time of 15 minutes and 30.15 seconds.
The 25-year-old American finished over 14 seconds ahead of compatriot Katie Grimes (16) who took silver. Australia's Lani Pallister (20) won bronze.
Ledecky is now a four-time world champion in the 1500-meter freestyle and holds the 13 fastest times in the history of the event, including the world record.
Her time on Monday was 8.73 seconds faster than any swimmer in history of a different name.
Ledecky is still in the running to become the most decorated woman swimmer
Ledecky's win on Monday granted the legendary swimmer her 20th world championship medal, tying the women's record set by Natalie Coughlin (39).
The only athletes with more world championship medals than Ledecky are Americans Michael Phelps (36) and Ryan Lochte (37).
"I don't count [medals]," Ledecky said in a post-race interview. "It's pretty wild because I feel like just yesterday I was in Barcelona at my first worlds like Katie [Grimes] is now."
Ledecky has two more events left at the World Aquatic Championships: the 4x200-meter freestyle relay on Wednesday, and the 800-meter freestyle on Friday and Saturday.
In the latter, Ledecky could become the first swimmer to win five consecutive world titles in a singular event.
After the 2022 World Aquatic Championships, Ledecky will have a chance to win more medals and become the most decorated woman swimmer in history.
Cover photo: Ferenc ISZA / AFP