Police rescue infant locked in dangerously overheated car
Duncanville, Texas - In mid-August, a Texas cop rescued a baby from a dangerously overheated car and police have now released the video of the dramatic incident on YouTube.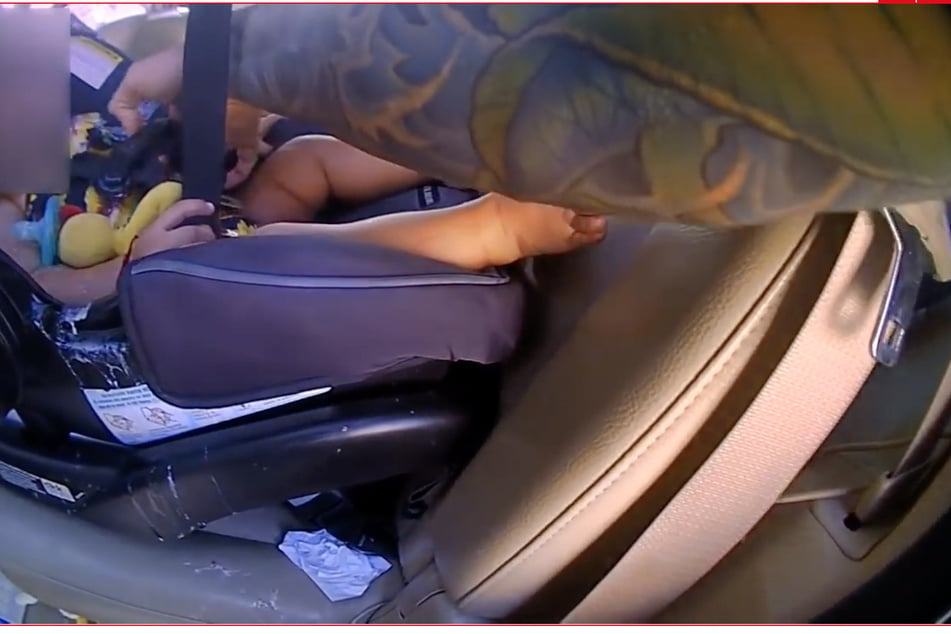 On August 17th, officers of the Duncanville Police Department responded to an alarming call. A baby was left in a car in the middle of the sweltering summer heat. According to accuweather.com, the temperature that day was 91 degrees and a concerned citizen dialed 911.
When Officer Pinilla arrived at the scene, the infant was already sweating and covered in vomit, according to a later police press release on Facebook.
Pinilla's body cam recorded the incident and the video was later posted on the City of Duncanville's YouTube channel.
The recording shows the baby screaming loudly in the back of the brown car. It's not clear whether the windows are at least partially rolled down.
The officer first checks all four doors, but they are locked. Officer Pinilla then uses his baton to  smash the passenger window, which is a safe distance from the distressed baby.
The car's alarm system goes off.
The cop quickly opens the back door of the car, lifts the child from its seat and tries to calm it down.
Pinilla had already called for a paramedic by that point. He then sat the not yet one-year-old in his air-conditioned patrol car and waited for medical help.
The baby's mother has since been identified. She claims it was all an unfortunate accident. The case is now being reviewed by Child Protective Services and a Dallas County grand jury will determine whether a civil or criminal prosecution is necessary.
The Duncanville Police Department praised the rescue operation: "Due to an alert and concerned citizen calling, and due to the definitive, quick actions of Officer Pinilla, both of whom will undoubtedly be regarded as heroes by the rescued infant for the rest of its life, a tragedy was averted."
The video of the police operation
Police urge caution
The same Facebook post included a warning to all parents: even at the comparatively mild temperature of 70 degrees, closed vehicles can quickly turn into burning-hot ovens.
It would only take half an hour for the inside temperature to pass a scorching 100 degrees, according to the police.
Cover photo: Screenshot/YouTube/City of Duncanville