"Fire whirls" threaten Joshua tree desert as York Fire scorches
Joshua Tree, California – A huge wildfire was raging out of control through the environmentally sensitive Mojave Desert on Monday, with "fire whirls" threatening the Joshua trees that are found almost entirely in the southwestern United States.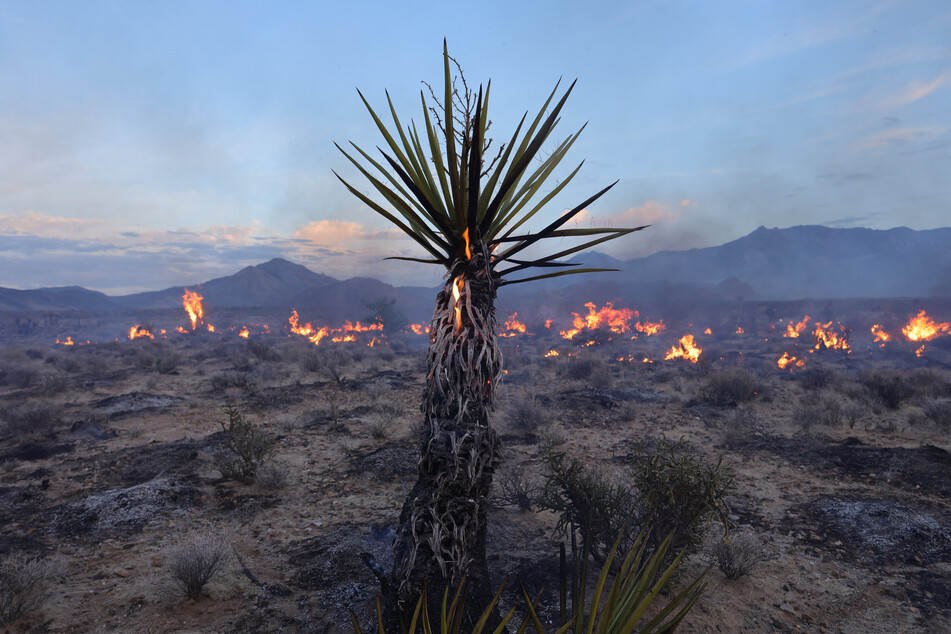 Around 77,000 acres have been scorched since the York Fire erupted on Friday, fuelled over the weekend by high winds and soaring temperatures.
More than 250 firefighters have been deployed to try to quell the blaze, according to the Bureau of Land Management, the federal agency in charge of the area.
"Firefighters on the north side of the fire observed fire whirls, also known as whirlwinds," the agency said.
"They have the potential to spread embers over long distances and can start new fires ahead of the main fire front.
"Additional fire whirls can change direction suddenly, making them unpredictable."
The blaze is a potential disaster for the Mojave Desert, a protected area known for its biodiversity.
The region is home to tortoises, foxes and lynx, as well as a large number of Joshua trees, a kind of flowering yucca that can survive for hundreds of years, but has little natural resistance to fire.
The plant, which can grow up to 50 fee), is emblematic of the desert US West and became globally famous after the 1987 album The Joshua Tree by U2. Now it is a popular area for retreats and vacations.
Human-caused global warming is already threatening the species, whose population was badly hit by a 2020 wildfire that killed 1.3 million of them.
Parts of the region have been sweltering for weeks, with temperatures in Phoenix topping 110 Fahrenheit for 31 consecutive days.
Cover photo: DAVID SWANSON / AFP