Dominatrix walks man on a leash while shopping at the supermarket
Los Angeles, California - What a sight: a 21-year-old dominatrix caused a stir when she went shopping with a man on a leash.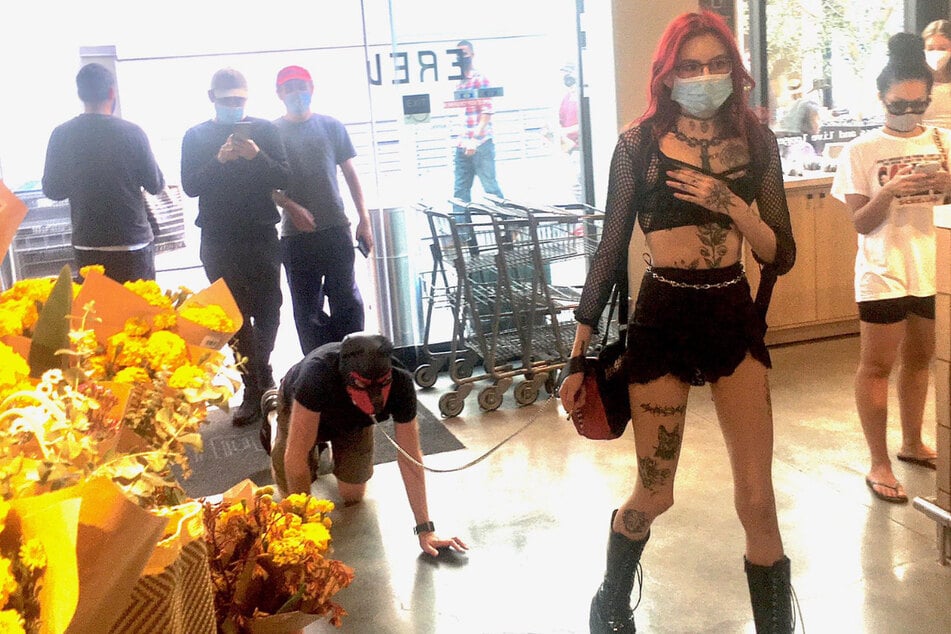 A photo of the odd couple was posted to Twitter on Sunday and has since then had more than 100,000 likes. It shows a young woman with red hair, lots of tattoos, and flashy leather platform boots.
But it's not her outfit that's attracting all the attention – it's the man on a leash that she's dragging behind her. He is wearing a leather bondage mask and crawling on all fours like a dog.
The internet was fascinated. But what in the world is going on?
As it turns out, the young lady is a dominatrix with the stage name Mistress Lark. She is 21 years old and, according to her Instagram profile, she works as a musician, a pen and ink illustrator, and occasionally as a strict mistress for submissive men who like to be dominated.

On her social media account, Mistress Lark keeps her followers updated by regularly posting pictures and videos of the walks she takes her human pets on.

"Lots of cameras and attention."
Daily Dot interviewed Mistress Lark and asked her how the viral photo came about. 
"I just wanted some juice," was her initial ironic answer but of course this doesn't explain why she had to bring the man-dog along with her.
In the end, she did give the real reason for her unusual shopping session: the dominatrix had been out with her sub and her friends to shoot some videos.
They then stopped at the supermarket. "Lots of cameras and attention, but the security let us through." 
Shortly after taking the pictures, they were all politely asked to leave the shop.
Professional dominatrix at 18
The young woman revealed that she left her parents' house at the age of 17 after being sexually abused by a member of her family.
A year later, she started working as a professional dominatrix, which led her to making a living as Mistress Lark.
Cover photo: twitter.com/paultao