Model cups tiger's testes but doesn't get the expected response
Chiang Mai, Thailand - She grabbed him by the sack! A Thai model is currently facing criticism because she touched a tiger indecently at the zoo.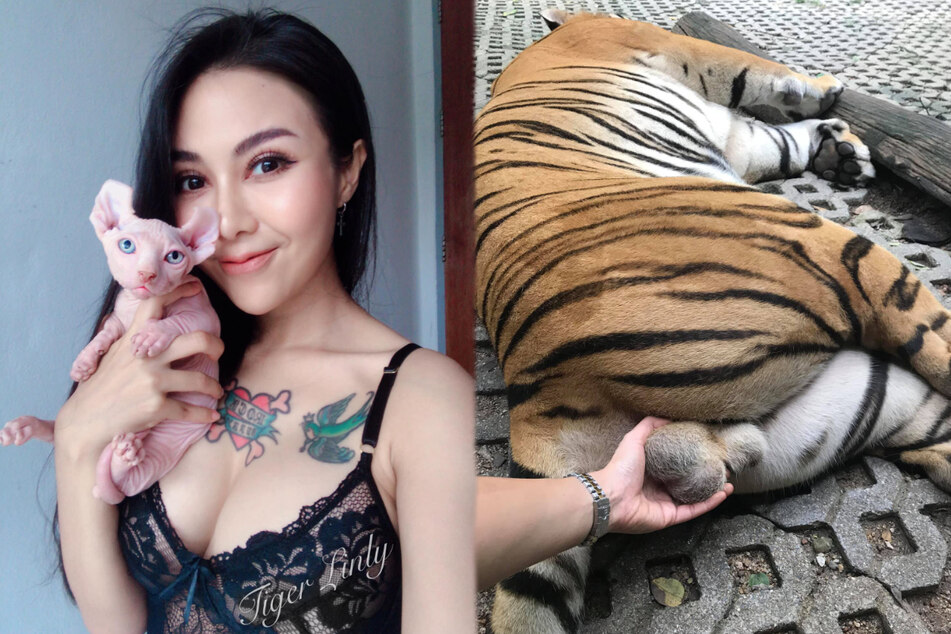 Sometimes you have to grab the bull by the horns, but grabbing a tiger by his tender bits is something else. That's exactly what Thai model Waraschaya Akkarachaiyapas did, and then she posted the photos online.
Her Facebook channel has multiple pictures of her clutching the testicles of several big cats at the Tiger Kingdom Zoo in the city of Chiang Mai.
Not only does she hold a tiger's and a leopard's manhoods, she also captured the moments and shared them with her 50,000 Facebook subscribers. If she had known what kind of response she would get, maybe she wouldn't have shared.
The model finds her animal groping funny, according to media reports, but not everyone thinks it's amusing. One user wrote: "This is so rude. The tiger did not allow you to touch his privates. You have no right to do that."
Other thought it was not only disrespectful of the animal, but also dangerous: "This is dangerous. If the tiger had reacted angrily it could have attacked you." She ended up receiving considerable flack from users, who were generally baffled.
Tourists can touch "every part of the animal's body"
Thai zoos have been repeatedly criticized for apparently sedating their animals so that tourists can take selfies with the otherwise dangerous creatures.
After criticizing Waraschaya Akkarachaiyapas' photos, Pirom Cahntama, the head zookeeper of the Tiger Kingdom Zoo in Chiang Mai, claimed that his staff closely monitors encounters between animals and humans and that touching the tiger's privates is not allowed.
That said, tourists are allowed to touch "every part of the animal's body" as long as a specialist is present. After this kerfuffle, the zoo manager promised that "no visitor will ever touch this part of the tiger again."
Sexy pics with and without animals
The model, who didn't expect the backlash, has dismissed it and still claims that she is an animal lover. It's clear that she likes to pose with all different kinds of her four-legged friends.
In addition to her photos with animals, she also posts sexy photos of herself in bikinis and very tight underwear. Hopefully she won't be rubbing animal rights activists the wrong way in the future.
Cover photo: facebook.com/tiger.linly.7