Russian journalist interrupts news broadcast on state TV to protest Ukraine war
Moscow, Russia - With a protest poster and loud shouts, a Russian journalist working for a state-run new channel interrupted the main evening news broadcast to protest against the war in Ukraine.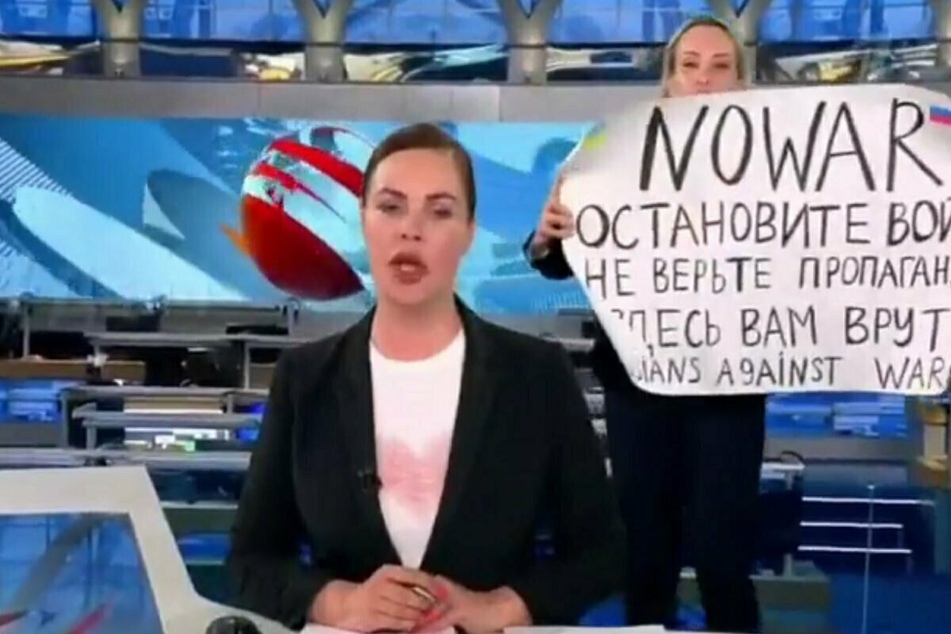 During the live broadcast on Monday at 9 PM local time, the woman – since identified as Marina Ovsyannikova, an editor at Channel One – suddenly jumped into the picture behind news anchor Ekaterina Andreyeva and held a sign reading "Stop the war. Don't believe the propaganda. You are being lied to here."
She shouted loudly several times, "No to war, no to war, no to war!" The broadcast then broke off and images from a hospital were shown.
The video clip immediately went viral on social media. Russian opposition members in particular praised the woman for her courage.
"What courage really means," pianist Igor Levit wrote on Twitter.
In Russia, media are forbidden from calling the Russian invasion of Ukraine a "war" or an "invasion." Instead, the official term is "special military operation." Those who break with this order can face severe consequences, including up to 15 years in prison if they are considered to have spread "fake news."
A second video spreading far and wide on social media shows Ovsyannikova announcing her protest action in advance.
"What's happening in Ukraine right now is a true crime. And Russia is the aggressor. And the responsibility for this crime lies only on the conscience of one person, and that person is Vladimir Putin," she says in the clip, adding that her father is himself Ukrainian.
Ovsyannikova is said to have been arrested. In a statement, Channel One Russia spoke only of an "incident" during the program Vremya (Time) and announced an internal investigation.
UPDATE, March 15, 12:00 PM EST:
Photos of Marina Ovsyannikova in court with a lawyer have surfaced, easing fears over her whereabouts.
Russian media reported that she has been charged with organizing an unauthorized public event and fined 30,000 roubles ($280).
Initially, supporters feared that the editor could be convicted of defaming the Russian army under a controversial new law. This would carry with it up to 15 years in prison.
Kremlin spokesperson Dmitry Peskov had dismissed Ovsyannikova's protest as an act of "hooliganism" earlier in the day.
Cover photo: Screenshot/Twitter Кира Ярмыш