Ukraine war: Kyiv imposes curfew as Moscow bans Biden and US officials from Russia
Kyiv, Ukraine - There's a glimmer of hope in the Ukraine war on Tuesday, as negotiators from both sides come back together for a second day of talks.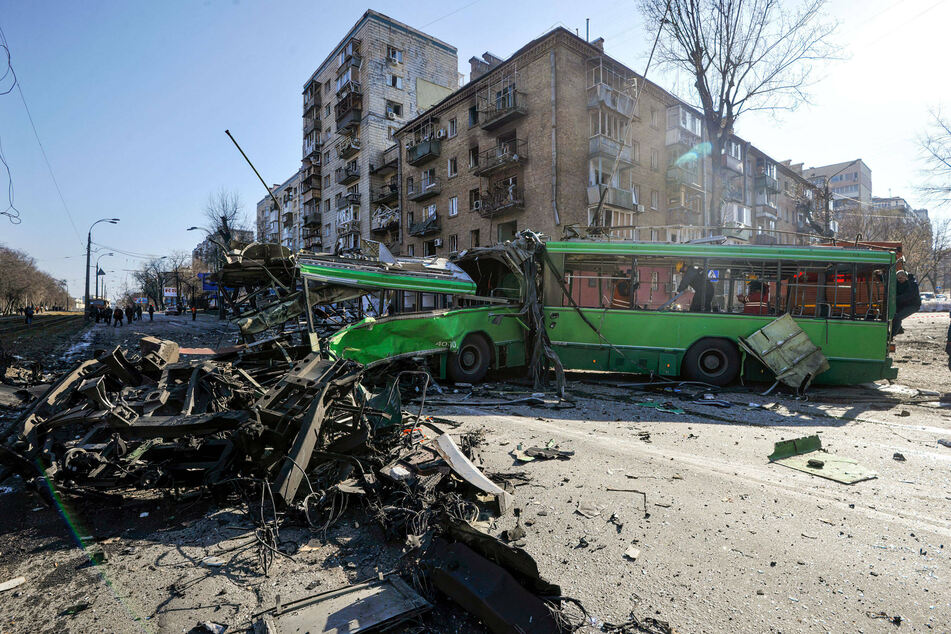 But as the invasion continues into its 20th day, Russia is also hinting at taking population centers while UN Secretary General António Guterres worried openly about nuclear war, which he now thinks is "within the realm of possibility."
Mostly, Monday's developments highlighted how both sides have become stuck. Despite Moscow's threats, US intelligence noted that it seemed to be making little progress in its brutal and illegal campaign.

Against this backdrop, the fighting continued, with thousands of civilians trapped and seeing few good options.

In the embattled south-eastern city of Mariupo, only about 160 cars managed to escape the siege. Ukrainian Deputy Prime Minister Iryna Vereshchuk told the news agency UNIAN that only seven of the ten planned humanitarian corridors to evacuate civilians from contested areas were working and evacuations from Mariupol had largely failed.
Meanwhile, in the eastern city of Donetsk, at least 20 people died and 28 were injured by fragments of a Ukrainian missile, according to pro-Russian separatists in the region. Local separatist leader Denis Pushilin said children were among the victims. Ukrainian officials said the missile was clearly of Russian design.
According to High Commissioner for Human Rights Michelle Bachelet, 636 civilian deaths have been confirmed in the war as of Monday, including 46 children, but the actual toll was sure to be far higher.
Here are the day's latest developments as they come in.
UPDATE, March 15, 6:20 PM EST: Ukrainian civilians reportedly taken hostage at Mariupol hospital as Russia bans over 300 top Canadian officials
The Parliamentary Assembly of the Council of Europe expelled Russia, as Moscow announced it was bowing out of the European council which upholds human rights, democracy, and the rule of law. Russians will no longer be able to bring cases to the European Court of Human Rights, and the move paves the way for the Russian government to re-introduce the death penalty.
Governor Pavlo Kyrylenko said Russian troops have entered a hospital on the outskirts of Mariupol and taken around 400 patients and staff hostage, according to the Kyiv Independent.
In addition to banning top US government personnel from Russia, Moscow has also banned Canadian Prime Minister Justin Trudeau and 300 other top Canadian officials, including nearly every member of the Canadian Parliament.
UPDATE, March 15, 5:15 PM EST: Russia bans Biden and US officials as NATO calls leaders summit for next wek
Russia has imposed entry bans on President Joe Biden and other US government officials, in response to US sanctions imposed on the country. Russia's economy has been set back by a decade due to the sanctions the West has piled on, according to the White House. The Foreign Ministry in Moscow published a blacklist of 13 names on Tuesday, including Secretary of State Antony Blinken and Secretary of Defense Lloyd Austin.
The White House poked fun at the list, saying Russia incorrectly sanctioned President Biden's late father, Biden Sr, instead of the president, who is a Junior.
Meanwhile, Biden will join an EU and NATO leaders' summit in Brussels next week on March 24 to discuss a joint response to the war in Ukraine, an EU official confirmed on Tuesday. Such a move is extremely rare for a US leader.
The EU has imposed a fourth round of sanctions targeting wealthy Russians and has banned luxury goods exports from the bloc.
Russia will present its own resolution on the humanitarian situation in Ukraine to the United Nations Security Council, the Russian representative to the UN, Vasily Nebenzya, announced to journalists in New York on Tuesday.
The paper will call for a "negotiated ceasefire," as well as the safe evacuation of civilians and unhindered access for humanitarian assistance, yet said it would only be possible if "the conditions that were put forward by Russia are implemented." These include the "demilitarization and de-nazification of Ukraine, no threats coming from that country to Russia, no joining NATO," Russia said. Experts doubt that the resolution will gain sufficient support among UN members to even be put to a vote in the council.
The former nuclear power plant Chernobyl is once again hooked up to power supplies, according to Belarusian officials. "The power supply of the work areas is coming from the Belarusian energy system at the moment," according to the Economy Ministry in Minsk.
Marina Ovsyannikova, the Russian state television journalist who staged an unprecedented protest against Russia's war on Ukraine live on air on Monday evening, was fined just 30,000 roubles, the equivalent of $280, by a court in Moscow. Many feared she would face the full force of a harsh new law that punishes defamation of the Russian army or the spreading of "fake news" with up to 15 years in prison. Kremlin spokesperson Dmitry Peskov condemned Ovsyannikova's actions as "hooliganism," but said that the matter was for the broadcaster itself to settle. At least four journalists have been killed and more than 30 injured in Ukraine since the start of Russia's invasion, Ukrainian human rights leader Lyudmyla Denisova said on Tuesday.
The UN also confirmed that around three million people have now fled the war in Ukraine.
UPDATE, March 15, 4:45 PM EST: Ukrainian government is "cautiously optimistic" after Russia has "changed its tone a bit" in negotiations amid continued fighting on the ground
A Ukrainian government official said they are beginning to see progress in its negotiations with Moscow on ending Russia's invasion. Talks have been growing "more constructive" after two days of discussions via video, and Russia has reportedly "changed its tone a bit." The Ukrainian delegation said it was "cautiously optimistic," but that a breakthrough could only be achieved by the countries' presidents, Volodymyr Zelenskyy and Vladimir Putin.
Kyiv Mayor Vitali Klitschko has imposed a curfew on the city from 8 PM Tuesday to 5 AM on Thursday, local time. The move comes after several residential areas were struck by Russian forces in the early hours of Tuesday. Most residents are only allowed to leave their homes to seek safety in shelters and bunkers. Russian troops are trying to encircle the Ukrainian capital from several sides.
On the ground, the Ukrainian military says forces have repelled a Russian advance on the besieged port city of Mariupol, which has been subject to intense aerial bombardment for days. About 150 attackers were killed and two tanks and several armored vehicles destroyed, the General Staff of the Armed Forces of Ukraine said on Tuesday. The battlefield claims could not be independently confirmed.
At least seven people were killed and three injured in a Russian attack on a school near the southern Ukrainian city of Mykolayiv, local civil defense said. While the attack took place in the village of Zelenyi Hai on Sunday morning, the recovery and clean-up operations completed on Tuesday, the authority said.
The number of casualties has risen significantly after an attack on a television tower near the north-western Ukrainian city of Rivne, the government says. 19 people had been confirmed dead and nine others wounded as of Tuesday morning, regional governor Vitaliy Koval told the Rada TV channel.
The main hospital in the western Ukrainian city of Lviv is struggling to cope with the volume of wounded children arriving from elsewhere in the country, the UN children's agency UNICEF says.
UPDATE, March 15, 12:35 PM EST: Fox News photojournalist killed
A Fox News cameraman was killed after coming under fire near Kyiv, according to the network.
Pierre Zakrzewski was travelling with correspondent Benjamin Hall near Horenka on Monday when their vehicle came under fire. His fixer, Ukrainian journalist Oleksandra Kuvshynova, was also reportedly killed.
"He was profoundly committed to telling the story and his bravery, professionalism and work ethic were renowned among journalists at every media outlet," read a Fox statement. "He was wildly popular – everyone in the media industry who has covered a foreign story knew and respected Pierre."
Hall was injured and remains in hospital. No details about his condition are available. Zakrzewski's death comes days after video journalist Brent Renaud also died while covering the Ukraine war for Time.
UPDATE, March 15, 12:30 PM EST: Ukrainian army says Russian advances repelled
The Ukrainian military claims to have repelled Russian advances on several fronts, including near Kyiv.
Russian forces failed to break through Ukrainian defenses north of the capital, the General Staff of the Armed Forces of Ukraine said. Attackers also staged an unsuccessful attempt at taking the city of Makariv west of Kyiv, it added.
Advances were also repelled in eastern Ukraine, among other places near the city of Lysychansk. Russian forces suffered losses and retreated, according to the Ukrainian officials.
Attackers also tried to establish themselves in the nearby town of Rubizhne in the Donbass region. And the trapped south-eastern port city of Mariupol was under constant attack from multiple directions with artillery and fighter jets.
And there's another update on the number of people killed after this morning's rocket attacks on Kyiv. The death toll now stands at four.
UPDATE, March 15, 10:00 AM EST: Negotiations in progress
Negotiations to bring an end to the war between Ukraine and Russia were continuing on Tuesday, according to the Ukrainian side.
"They have already been continued," the head of the Ukrainian delegation David Arachamiya told the Ukrayinska Pravda newspaper on Tuesday, though he did not give any further details. There was no immediate confirmation from the Russian side.
Both sides met on Monday via video link for their fourth round of negotiations. On Monday afternoon, the Ukrainian presidential advisor Mykhailo Podolyak announced that the talks had been suspended until Tuesday.
Ukraine is demanding an end to the war and a withdrawal of Russian troops from its territory. Moscow is demanding that Kyiv recognize the annexed Black Sea peninsula of Crimea as Russian territory and the eastern Ukrainian separatist areas as independent states.
Conditions mentioned before are also demilitarization and "denazification," a term widely believed to mean wholesale regime change.
UPDATE, March 15, 9:30 AM EST: European leaders head to Kyiv
The leaders of Poland, the Czech Republic, and Slovenia were on their way to Kiev on Tuesday, despite the renewed attacks on the Ukrainian capital.
Polish Prime Minister Mateusz Morawiecki, Czech Prime Minister Petr Fiala and Slovenian Prime Minister Janez Jansa were en route by train to the city, with officials in Warsaw confirming that they had crossed the border into Ukraine and had passed the western city of Lviv.
The European delegation, which also includes Morawiecki's deputy, Jarosław Kaczyński, plans to hold talks with Ukrainian President Volodymyr Zelensky and Prime Minister Denys Shmygal.
Meanwhile, the death toll after Russia's morning attacks on Kyiv has risen to three, according to the Ukrainian State Emergency Service.
UPDATE, March 15, 4:30 AM EST: Two killed in strike on Kyiv
Ukrainian media and local officials reported that several civilians were killed in overnight attacks by Russian forces.
Four died in the eastern city of Rubizhne in the Luhansk region, the UNIAN agency reported on Tuesday. The attacks destroyed a facility for visually impaired children, the city hospital, and three schools.
Rubizhne is close to the major city of Severodonetsk, around which pro-Russian separatists and Ukrainian troops are currently fighting fierce battles.
In the capital Kyiv, a total of four residential buildings across multiple districts were hit by rockets in the early morning, according to the local civil defense.
At least two people were killed and another injured. Some 25 residents were rescued from the buildings.
According to reports, the entrance to a Kyiv metro station was also fired upon. It is suspected that this attack was aimed at a nearby ammunition factory.
UPDATE, March 15, 4:00 AM EST: The devastation in Mariupol
More than 2,000 civilians – 2,357 to be precise – have been killed in the occupied Ukrainian port city of Mariupol so far, local authorities said early this morning.
The south-east Ukrainian city with some 400,000 inhabitants has been besieged by Russian troops for days and cut off from the rest of the country. Ukrainian authorities reported severe aerial attacks on the city on the Sea of Azov. Russia says it is only attacking military targets there, which flies in the face of all available evidence.
The Mariupol mayor's advisor, Petro Andriushchenko, called the situation in the city "inhumane."

"No food, no water, no light, no heat," he said. He said he fears there will be many more deaths. With the increasing intensity of attacks, the number of deaths could reach 20,000, Andriushchenko added.
Cover photo: IMAGO / ZUMA Wire