Ukraine war: All evacuations canceled ahead of in-person peace negotiations
Kyiv, Ukraine - No escape corridors for the evacuation of civilians will be possible in Ukrainian cities on Monday, the 33rd day of the Russia's invasion, due to the threat posed by the Russian military, according to the country's deputy head of government.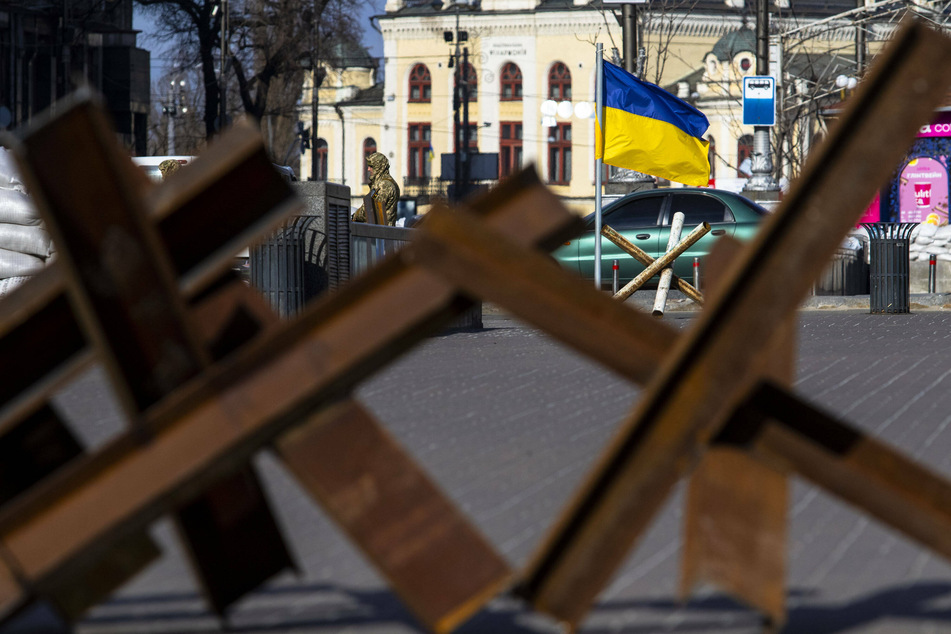 Deputy Prime Minister Iryna Vereshchuk said there was intelligence about possible "provocations" in those areas.

Ukraine has accused Russia for weeks of sabotaging the evacuation of civilians from particularly contested areas. Russia blames Ukraine for the repeated failure to agree on safe corridors.
Ukrainian newspaper Pravda cited various regional administrations as saying that Russian shelling was ongoing in various parts of the country.
In the region around Kiev, there have been missile strikes and fighting along a freeway.
In Chernihiv in the north, Ukrainian soldiers repelled Russian attacks during the night. Extensive destruction has left the population there without water, heating or electricity, as Russian troops continue to surround the city. Infrastructure had been destroyed by "active fighting" but efforts are under way to repair the damage, administration chief Viacheslav Chaus wrote on Telegram.
Mayor Vladyslav Atroshenko said the city was "completely devastated" by Russian troops, in comments on Saturday. He said more than 200 civilians have been killed in recent weeks and that more than half of the city's original 285,000 residents had left.
The regions of Zhytomyr and Kharkiv were also hit with rockets and bombs overnight.
Meanwhile, after about two weeks of peace negotiations in an online format, the delegations from Ukraine and Russia wanted to meet again in person.
The next meeting was set to take place in Istanbul, the Turkish presidential office said on Sunday evening after a call between Putin and his Turkish counterpart, Recep Tayyip Erdoğan. No date was given. Russian delegation leader Vladimir Medinsky had earlier said that a meeting was planned for Tuesday and Wednesday. Ukrainian negotiator Davyd Arakhamia also confirmed that a face-to-face meeting was planned, although he said it would begin on Monday.
Delegations from both countries begun negotiations shortly after the start of the war. After three face-to-face meetings in the border area of Belarus, the talks were held via video link.
TAG24 has the day's latest updates and development as they come in.
UPDATE, March 28, 12:00 PM EST: Kharkiv mayor announces new levels of destruction
Nearly 1,180 multi-story residential buildings in the eastern Ukrainian city of Kharkiv have been destroyed by weeks of Russian air and ground attacks, the mayor said on Monday.
In addition, more than 50 kindergartens, nearly 70 schools, and 15 hospitals have been destroyed, Kharkiv Mayor Ihor Terekhov said, according to Ukrainian news agency UNIAN.
Within 24 hours, Russian troops had shelled Kharkiv almost 60 times with artillery and mortars, he said.
Kharkiv had about 1.5 million inhabitants before the war began and is Ukraine's second largest city after Kiev.
According to Terekhov, the residents of bombed-out houses are being housed in remaining schools, kindergartens as well as basements and underground stations.
Despite the attacks, supermarkets in the city remain open, and all necessary food is available, he said.
Kharkiv is also being supplied with humanitarian aid from other cities, plus a shipment of medicine worth $880,000 has also arrived from the United States.
"Kharkiv is a Russian-speaking city," the newspaper Ukrayinska Pravda separately quoted Terekhov as saying. He said many residents had friends and relatives in Russia.
"People could never have imagined in their worst dreams that Russia would attack Ukraine and Kharkiv," Terekhov said.
UPDATE, March 28, 5:00 AM EST: Zelensky gives long interview to Russian journalists
In an interview with Russian journalists on Sunday, Ukrainian President Volodymyr Zelensky accused Russian President Vladimir Putin of delaying peace negotiations between Kiev and Moscow.
In the approximately one-and-a-half-hour video conversation published by the independent website Meduza on Sunday evening, Zelensky once again demanded the withdrawal of Russian troops from Ukrainian territory.
Only then could there be security guarantees for Ukraine, which in turn would be the basis for Ukraine's renunciation of NATO, as demanded by Moscow, the Ukrainian head of state said. Zelensky also renewed his announcement that only Ukrainian citizens could ultimately decide by referendum on a possible neutral status for Ukraine.
Zelensky also said: "Today, this month, there has been a global, historical, cultural split. This is not just a war. I think it is much worse."
The Russian journalists who conducted the interview included a reporter from the well-known Moscow daily Kommersant. In addition, a question was asked on behalf of the editor-in-chief of the opposition Novaya Gazeta, Dmitry Muratov. Both papers initially did not publish Zelensky's statements after threats from the Russian media supervisory authority Roskomnadzor.
"Roskomnadzor is notifying Russian media of the need to refrain from publishing the interview," the watchdog said. Roskomnadzor also said it would review all media outlets that carried the Zelensky interview in order to determine "the extent of responsibility and response measures."
Cover photo: IMAGO / ZUMA Wire