Ukraine war: EU interior ministers set date for meeting on Ukrainian refugees
Kyiv, Ukraine - Ukraine still holds key areas of the country which Russian forces are trying to take, President Volodymyr Zelensky said, 23 days into Russia's sustained assault.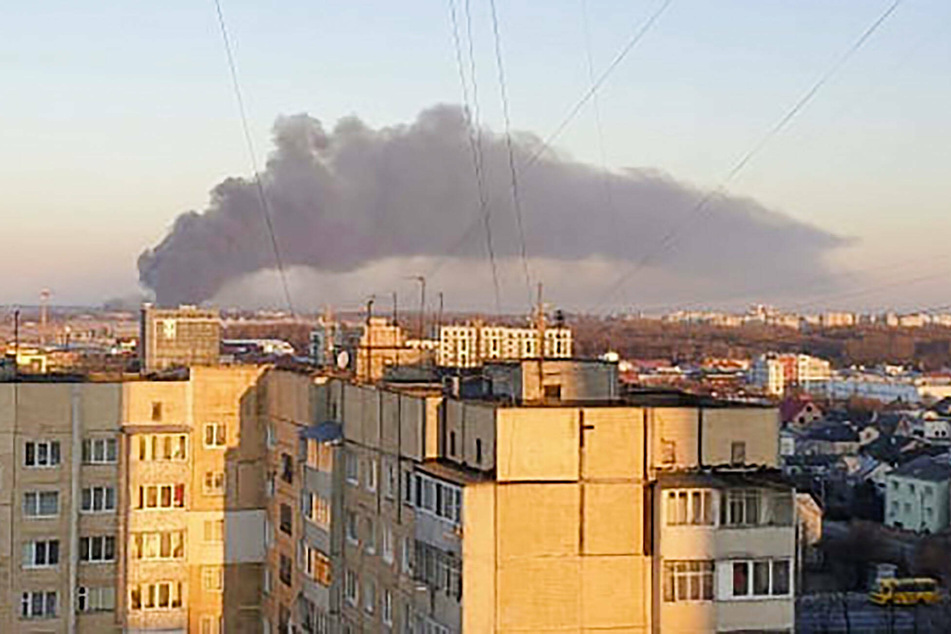 Ukrainian troops responded to every attack by Russian units, said Zelensky in a video message published on Telegram early Friday.

Zelensky said that residents in cities like Mariupol in the south, Kharkiv in the east and Chernihiv in the north, which are besieged by Russian troops, would not be left in the lurch.
From the army to the church, everyone was doing everything they can for the Ukrainian people, the president said, promising: "You will be free."
He also thanked US President Joe Biden for his "new and effective" help.
Meanwhile, there were indications that the bombed theater in the besieged Ukrainian city of Mariupol may have contained even more people than previously thought. Ukrainian member of parliament Serhiy Taruta wrote on Facebook early Friday that least 1,300 people may have been sheltering in the building when it was bombed on Wednesday. Taruta said the claim was based on the accounts of people who had been inside and have since left Mairupol.
According to Ukrainian member of parliament Olga Stefanishyna, around 130 civilians were rescued from the theatre on Thursday. The exact number of people killed and injured remain unclear, she wrote on Facebook.

Meanwhile, as casualties mount, the US and Russia wrangled over whether the term "war crimes" was appropriate, an indication that this issues will run and run long after the fighting ends. A day after calling Russian President Vladimir Putin a "war criminal," Biden told people at a St Patrick's Day speech that the Russian president was a "murderous dictator."
Russia had earlier on Thursday rejected an order from the International Court of Justice to halt the use of military force in Ukraine and it's pretty safe to assume it would not cooperate with a UN probe into war crimes.
With the invading forces mostly stalled, according to US and UK intelligence, the Ukrainian military said it has launched operations to flush the Russian military out of the outskirts of the capital Kiev. But the war is now stretching further into the country's west, as missiles hit Lviv for the first time.
Follow along with TAG24's coverage of Friday's latest developments.
UPDATE, March 18, 4:50 PM EST: EU interior ministers set for March 28 meeting on Ukrainian refugees
The refugee crisis prompted by Russia's invasion of Ukraine will be the topic when the interior ministers of the EU's member states gather on March 28, according to a Friday statement.
The focus will be on ways to provide material and financial support for the countries taking in the refugees, as well as ways to defend the bloc's external borders. Another focus will be on how to take in refugees currently in Moldova, a non-EU member that borders Ukraine.
According to UN estimates, roughly 3.1 million people have fled Ukraine since the February 24 invasion.
More than 2 million of them have escaped to Poland.
UPDATE, March 18, 3:55 PM EST: Lviv mayor appeals for international help with refugees
The mayor of the western Ukrainian city of Lviv, Andriy Sadovijy, has appealed for international help to take care of the hundreds of thousands of war refugees in his region.
The most urgent need is for money to supply people with food and medicine, and to build container houses, mobile showers, and toilets, Sadoviy reportedly told the Süddeutsche Zeitung daily on Friday.
"After all, we can't keep people in a gym or on a theater stage forever."
Several Russian missiles hit the Lviv airport on Friday. The World Heritage city is about 50 miles from the border with NATO member Poland.
According to Sadoviy, Lviv and the surrounding region have each taken in around 200,000 refugees.
He was skeptical about a possible peace agreement with Russia, saying, "A treaty with Russia is at best worth only the paper it is written on."
"Russia was, is and always will be our neighbor. And Russia was, is and will always be a threat to us," Sadovijy said.
UPDATE, March 18, 11:00 AM EST: Hundreds still trapped in rubble of Mariupol theatre, Zelensky says
Two days after the heavy bombing of a theater in the besieged Ukrainian port city of Mariupol, hundreds of people are still buried under the rubble, according to President Volodymyr Zelensky.
"Despite the shelling, despite all the difficulties, we will continue the rescue work," he said in a video message from Kiev on Friday.
On Thursday, 130 people were rescued from the building. It is still unclear how many people were injured or killed.
"Many doctors were killed" in the efforts to rescue and treat people from the building, said lawmaker Serhiy Taruta.
UPDATE, March 18, 11:00 AM EST: Chinese president says Ukraine war isn't what he wants to see
China and the US should work together for peace, according to President Xi Jinping.
"The crisis in Ukraine is something we don't want to see," Xi said in a phone call with US President Joe Biden, according to Chinese state broadcaster CCTV.
As permanent members of the UN Security Council and the world's most important economies, both countries should not only advance Chinese-American relations, but also "assume international responsibility" and "make efforts for peace" around the world, Xi was cited as saying.
UPDATE, March 18, 10:30 AM EST: Putin stages "patriotic rally" in Moscow stadium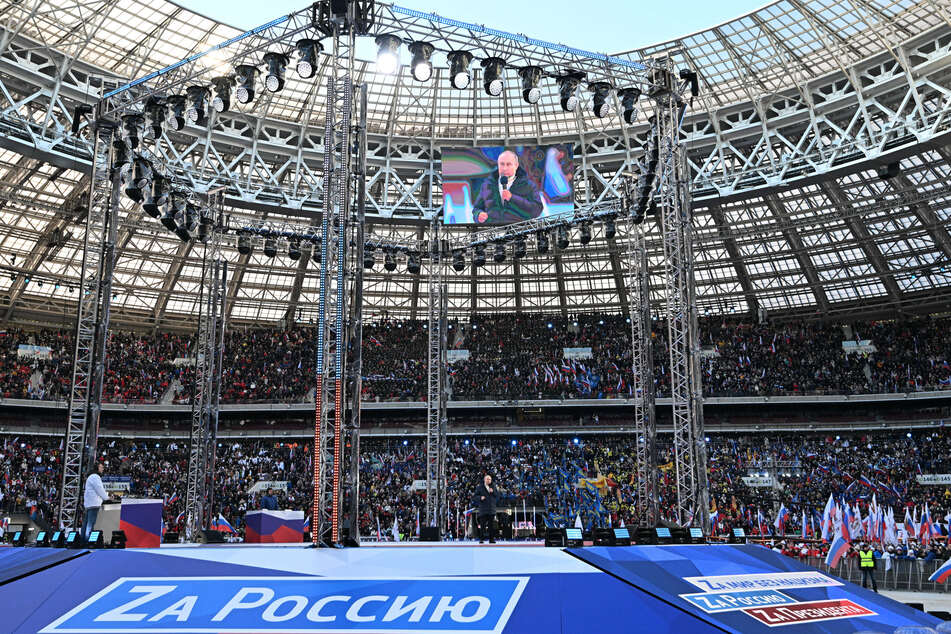 President Vladimir Putin praised the "special military operation" in Ukraine as a "heroic" mission by the Russian army during a glitzy rally at a Moscow stadium on Friday.
Putin spoke before tens of thousands of cheering Russians at Moscow's Luzhniki Stadium, where people waved the Russian state flag and flags with the letter Z, which has become a pro-war symbol.
He said the Kremlin's plans for Ukraine would be implemented.
The crowd shouted: "For Russia. For the win." Above the stage on which Putin appeared was written: "For a world without Nazism."
The rally was held to celebrate the eighth anniversary of the annexation of the Black Sea peninsula of Crimea on March 18, 2014.
There have been reports that many rally attendees were bused in from surrounding areas for the event. Employees of state companies and institutions also seem to have been pressured into going, according to the BBC Moscow bureau's Will Vernon.
UPDATE, March 18, 10:00 AM EST: Russia accused of more deadly shelling
Reports of fatalities keep pouring in on Friday morning. Two more people have been killed and six injured in the shelling of the city of Kramatorsk in the Donetsk region of eastern Ukraine, according to local authorities.
Pavlo Kyrylenko from the region's coordination center blamed the Russian army for the attack.
"The Russians are not capable of conducting a fair war between armies, so they keep shooting civilians," he posted on Telegram on Friday.
According to Kyrylenko, missiles hit a residential and an administrative building in the morning.
UPDATE, March 18, 9:00 AM EST: More casualties in Kyiv
One person was killed and 19 wounded in an attack on a residential neighborhood in the Ukrainian capital Kiev, Mayor Vitali Klitschko said.
Among the wounded in Podil district were four children, he said in a video posted on Telegram on Friday.
He accused Russian troops of shelling residential buildings, kindergartens and a school.
UPDATE, March 18, 8:00 AM EST: Russian attacks reach Lviv in west
Russian forces hit areas near Lviv's airport in western Ukraine on Friday morning, according to mayor Andriy Sadovy and witnesses.
The airport itself was not directly struck, but an aircraft repair facility was destroyed, he wrote on Telegram. No casualties were initially reported.
Sadovy called on residents to be prepared to respond to air raid sirens and not to circulate photos of the impact site.
Lviv is close to the border with Poland, a member of NATO and the European Union.
In Russia's grinding war against Ukraine, now in its 23rd day, the fighting has remained comparatively quiet in Lviv and the city is full of internally displaced refugees.
Cover photo: IMAGO / Kyodo News