Ukraine war latest: Russia blocks Instagram as US holds call with Ukraine amid troop advances
Kyiv, Ukraine - The Russian invasion of Ukraine has already caused $119 billion in damages, Ukrainian Deputy Economy Minister Denys Kudin said on Friday as the fighting showed no sign of ending, with Ukrainian forces fighting to halt Russian efforts to take key cities.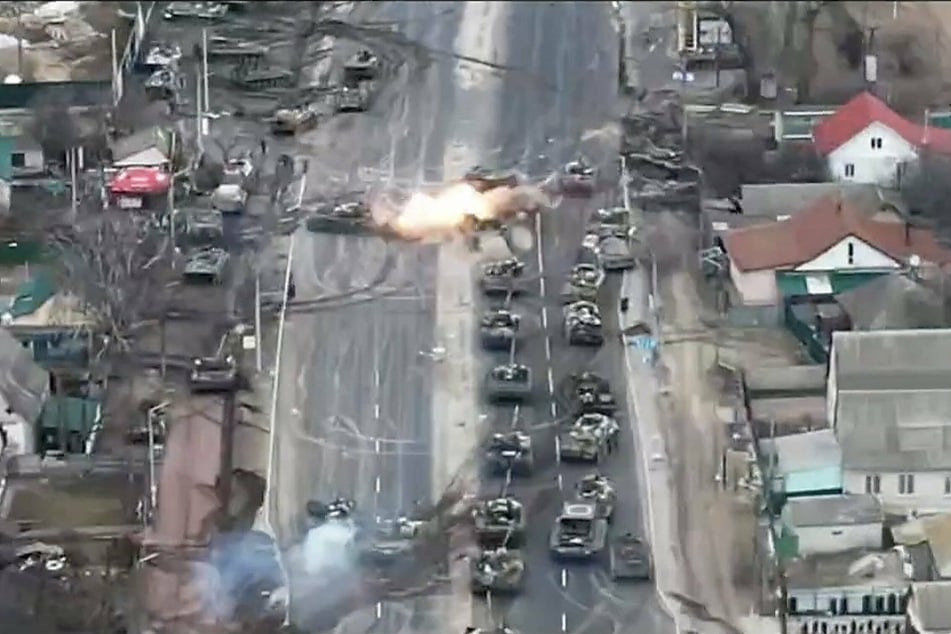 Speaking to the Ukrinform news agency, Kudin said the figure is climbing every day, noting that it counts both direct damages and indirect ones, like loss of business.

The loss of life, meanwhile, is worsening every day, as encircled Ukrainian cities suffer constant bombardment and lack of necessities. The port city of Mariupol in the south has been particularly affected, with conditions on the ground being described as "apocalyptic" and "medieval."
Kharkiv in the east continues to be pummeled. According to Reuters, who cited the regional governor, a psychiatric hospital was hit, while the mayor said 48 schools have been destroyed so far.
The northern city of Chernihiv has now also been encircled, The New York Times reported, while Russia's brutal offense is now encroaching into the western parts of the country too. The Guardian highlighted air raids in Lviv, which has been spared the worst of the invasion so far.
Meanwhile, the infamous column of stalled Russian vehicles heading to Kyiv has reportedly dispersed and fanned out, in apparent preparation of an assault on the capital.
Here are Friday's latest developments as they come in.
UPDATE, March 11, 6:10 PM EST: Joe Biden hails Ukrainian bravery after phone call with Zelensky
President Joe Biden hailed the bravery of the Ukrainian people on Friday after his phone call with their President Volodymyr Zelensky.
"As I do every time we speak, I told him the United States stands with the people of Ukraine as they bravely fight to defend their country," Biden said. "And they are doing that."
The White House said the call focused on the US effort to ramp up aid and to help Ukraine military hold off the Russia attack.
"Biden highlighted how the United States is continuing to surge security, humanitarian, and economic assistance to Ukraine," the White House said in a statement.
Zelensky has won worldwide plaudits for his courageous leadership amid the invasion. He has refused offers to be evacuated to safety outside Ukraine, saying he prefers to stay and fight alongside his people.
Meanwhile, explosions were reported in the cities of Lutsk, Dnipro, and Ivano-Frankivsk, Ukrainian authorities said.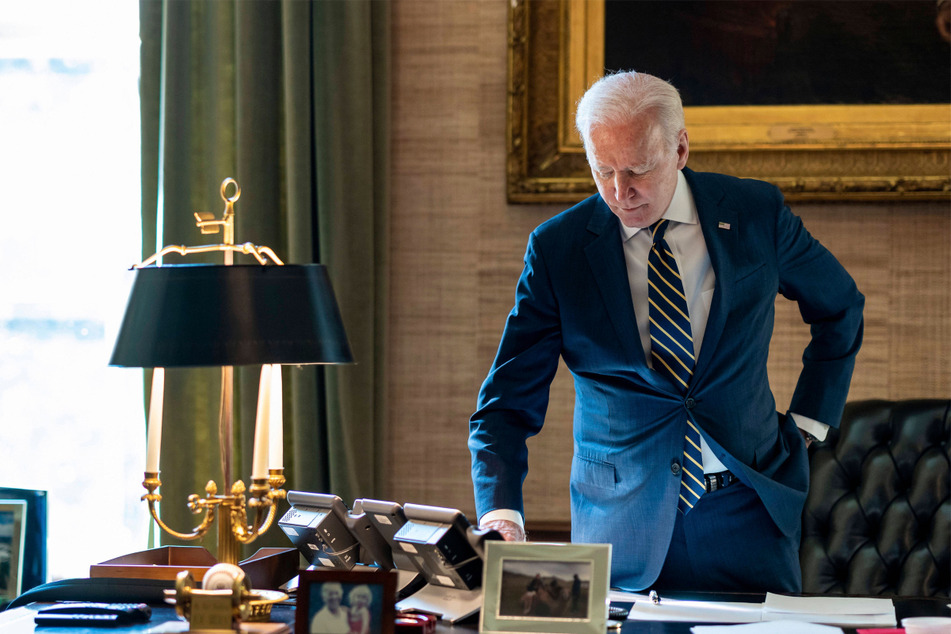 UPDATE, March 11, 3:45 PM EST: Russians continue advance, Instagram is banned, and EU and US announce more sanctions
US President Joe Biden announced that his government has planned to impose further sanctions on Russia, including revoking the country's "permanent normal trade relations" status and banning the import of seafood, vodka, and diamonds. The president said it would additionally block Russia's ability to borrow funds from leading banks, and that G7 allies would soon make similar announcements. Washington will also stop the export of certain luxury goods that are purchased by Russian elites, including high-end watches, apparel, alcohol, and luxury vehicles.
It came just before Biden had a phone call on Friday with Ukrainian President Volodymyr Zelensky.
The Pentagon confirmed that the convoy of Russian military vehicles outside the Ukrainian capital of Kyiv is dispersing, but that does not mean it is going away. "We believe they've moved off into tree lines to try to better disguise the vehicles," an anonymous US official said. They also said Ukraine's air defense is standing strong, but that the country was more focused on defending itself from the ground.
Russian warplanes have destroyed 82 Ukrainian army facilities, a Defense Ministry spokesperson in Moscow said. The claims could not be independently verified.
According to the Russian side, pro-Russian separatists have continued their advance in the eastern Donetsk region and have reportedly captured the town of Volnovakha. Yet, there was still no confirmation from the Ukrainian side of the capture.
Russia is insisting on its demands regarding the advance of NATO infrastructure on Russia's western borders and Ukraine's actions in the Donbass, Kremlin spokesperson Dmitry Peskov said on Friday. In a change in sentiment, President Putin said there have been "certain positive changes" in the "practically daily" negotiations about bringing an end to the fighting, and noted the "massive blow" to the Russian economy.
The mayor of Melitopol, Ivan Fedorov, has allegedly abducted by Russian troops, according to Kyrylo Tymoshenko, deputy chief of staff for President Volodymyr Zelensky. Reports are still being verified.
Instagram has been blocked in Russia, just like fellow social media platforms Facebook and Twitter. The Russian media regulator Roskomnadzor made the announcement in a statement, saying Instagram had been used to spread calls for violence against Russian citizens and soldiers, after allowing some changes in its policies to speak out against Russian oppression. A spokesperson for Meta said the phrase "Death to Russian invaders" was permissible - sparking widespread outrage in Moscow.
The UN confirmed that the number of people who have fled Ukraine since the start of Russia's invasion has now exceeded 2.5 million. It also said on Friday it has received "credible reports" of Russia using cluster bombs in "populated areas" of Ukraine.
EU leaders unleashed a fourth round of hard-hitting sanctions on Russia and promised more military aid to Ukraine on Friday, the final day of talks at an informal summit in Versailles. The EU will send an additional $550 million in military aid to Ukraine. In addition, while its leadership said Ukraine is "part of the European family," it maintained that fast-tracking its application into the EU was unlikely. The EU also announced plans to completely phase out its dependence on Russian gas, oil, and coal by 2027.
UPDATE, March 11, 8:00 AM EST: Putin to recruit fighters from the Middle East
More than two weeks after invading Ukraine, Russian President Vladimir Putin has advocated sending volunteers to help pro-Russian separatists in the Donbass region in the far east of the neighboring country.
"As you see, there are people who want to come on a voluntary basis, especially not for money, and help the people who live in the Donbass – well, you have to meet them halfway and help them move into the combat zone," Putin told a meeting of the National Security Council on Friday.
Defense Minister Sergei Shoigu said that more than 16,000 people had already come forward from the Middle East alone to fight for the "liberation movement" of the self-proclaimed Luhansk and Donetsk People's Republics.
Shoigu also spoke in favor of a further transfer of military units and "of course these new, modern complexes" to Russia's western borders. Putin ordered a Defense Ministry report on the matter. "Based on the results of its discussion, we will make a relevant decision in the near future."
In the same breath, he also deplored the deployment of "mercenaries from all over the world" in Ukraine.
UPDATE, March 11, 7:30 AM EST: Zelensky says 100,000 people evacuated over past days
Nearly 100,000 people have been evacuated from Ukrainian cities in the past few days, Ukrainian President Volodymyr Zelensky said in a video message.
But he said the port city of Mariupol and nearby Volnovakha remained surrounded by Russian forces. Zelensky accused Russia of shelling the escape corridor and a collection point of people fleeing Mariupol on Thursday.
The Ukrainian president also charged that Moscow was doing everything possible to deceive Ukrainians in the cities besieged by Russian units. He called on citizens with contacts to Mariupol residents to tell them not to give up the battle for the city.
Zelensky also commented on Russia's allegations that Ukraine is developing biological weapons.

"No chemical or other weapons of mass destruction are being developed in my country," he said. "The whole world knows that and so do you."
Ukraine had reached "a turning point" in its attempts to repel the invasion, he added.
UPDATE, March 11, 6:30 AM EST: New escape routes announced
There are new escape routes for the evacuation of civilians from embattled areas of Ukraine, according to Deputy Prime Minister Iryna Vereshchuk.
In the port city of Mariupol in the Donetsk region, which has been under siege for days, she said: "We are waiting and hoping that today this route will work."
Trucks carrying aid and empty buses were heading from Zaporizhzhia towards Mariupol, she said. In the Donetsk region, an attempt is also to be made to bring people from Volnovakha to Pokrovsk. In the Kharkiv region, there will again be a corridor between the embattled small town of Izyum and Lozova.
The Zaporizhzhia region now has two routes from Polohy and Enerhodar towards the regional capital. North of Kyiv, there are plans to bring people into the capital. From three villages in the north-western Kyiv region, buses are to take refugees west to Zhytomyr.
According to the United Nations, more than 2 million people have already fled the Eastern European country since the war began more than two weeks ago.

Cover photo: IMAGO / ZUMA Wire