Ukraine war: Russia extends Mariupol ceasefire prospect as Biden pledges more Ukraine aid
Kyiv, Ukraine - The Ukrainian government is hoping for the establishment of three humanitarian corridors in the country's south-east on Wednesday, the 35th day of Russia's invasion.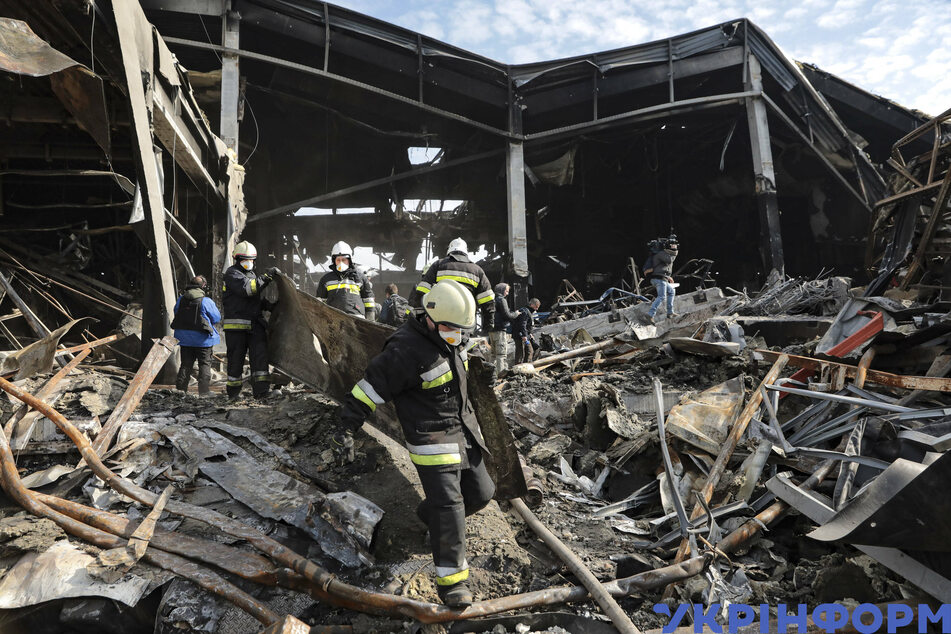 Civilian escape routes are to be set up in the cities of Berdyansk on the Sea of Azov and in Melitopol, Deputy Prime Minister Iryna Vereshchuk announced.

Buses would travel to the embattled cities. Privately owned cars could join the bus convoy. Aid supplies would also be brought to the cities.
In addition, a corridor for the escape of civilians from the nuclear power plant city of Enerhodar to Zaporizhzhya was agreed upon.
According to Vereshchuk, proposals for humanitarian corridors for 97 settlements in nine regions were handed over to the Russian delegation at peace talks in Istanbul the day before.
During Tuesday's negotiations, Moscow promised to scale back its military activity near the capital Kyiv and the northern city of Chernihiv, but the statements were met with caution. President Joe Biden said he would not evaluate the statements until he could "see what their actions are."
"Let's just see what they have to offer," Biden said at the White House. Until there is actual change, pressure on Moscow would continue with "strong sanctions" and support for the Ukrainian military, he added.
The US Defense Department was also skeptical about the announcement, calling it a tactical maneuver. An official warned of the possibility that fresh attacks could take place in other parts of the country.
A small number of Russian troops were moving north of Kyiv away from the capital, in what the Pentagon sees as a "repositioning, not a real withdrawal," said spokesman John Kirby. "We all should be prepared to watch for a major offensive against other areas of Ukraine."
Here's the latest news on Wednesday as it comes.
UPDATE, March 30, 4:55 PM EST: Russia holds out prospect of ceasefire in Mariupol for Thursday
Russia said it has offered a ceasefire in the embattled Ukrainian city of Mariupol this Thursday for the evacuation of civilians.
"Russia's Armed Forces declare - exclusively for humanitarian purposes - a ceasefire on March 31 from 10 AM (local time)," Major General Mikhail Mizintsev said on Wednesday evening, according to Interfax agency. The temporary ceasefire was intended to allow civilians to flee the embattled port city on the Sea of Azov first to Berdyansk to the west and then on to Zaporizhzhia.
The Ukrainian side has until 6 AM on Thursday morning to declare a ceasefire and inform Russia, the United Nations, and the International Red Cross in writing. Ukraine and Russia have repeatedly accused each other of sabotaging the escape of residents from Mariupol.
UPDATE, March 30, 4:45 PM EST: Biden pledges another $500 million in aid to Ukraine
President Biden told Ukrainian Presiden Zelensky on a call on Wednesday that the US will provide an additional $500 million in "direct budgetary aid" to Ukraine. The two spoke on the phone for an hour as Zelensky updated Biden on negotiations with Russia, battlefield reports, and "a new package of enhanced sanctions" according to the Ukrainian leader.
A Russian missile attack has destroyed an oil depot in Dnipro, a central Ukrainian city, according to regional council chairman Mykola Lukashuk.
New satellite imagery has revealed the scale of damage to Mariupol after Russia's invasion of the country. The imagery, captured on Tuesday by Maxar Technologies, a geospatial intelligence company based in Colorado, includes a before and after comparison showing buildings damaged and destroyed, with debris and wreckage strewn across roads. Maxar also captured images of multiple apartment buildings having been destroyed, in addition to its theater.
UPDATE, March 30, 4:05 PM EST: French president confirms attack on Red Cross in Mariupol as Ukrainian First Lady says she is not giving up hope
Russia's Defense Ministry confirmed on Wednesday evening that its troops near the Ukrainian capital Kyiv and the northern city of Chernihiv have begun regrouping, adding that the troop redeployment was being carried out to enable "the operation to fully liberate the Donbass."
Kremlin spokesperson Dmitry Peskov said on Wednesday that there had been no breakthrough in the peace talks between Moscow and Kyiv in Istanbul on Tuesday. However, he said it was positive that the Ukrainian side had for the first time submitted written proposals.
Ukraine had indicated it was ready to renounce joining NATO and to adopt a neutral status - if granted security guarantees by third countries to include the US.
According to British intelligence, Russian units suffering heavy losses have been forced to retreat to Russia and allied Belarus this week in order to reorganize and resupply. It added that Russia was likely to compensate for its reduced ground capacity with "mass artillery and missile strikes."
Also on Wednesday, the Russian military claimed to have destroyed two ammunition depots in the eastern Ukrainian region of Donetsk with ground-to-ground missiles. The Ukrainian army had stored ammunition for its rocket artillery in the village of Kamyanka, a Defense Ministry spokesperson said in Moscow, adding that a total of 64 Ukrainian military objects were destroyed within 24 hours.
French President Emmanuel Macron condemned an attack on the Red Cross in the besieged port city of Mariupol. "Today, a Red Cross building in Mariupol was hit," Macron tweeted on Wednesday. "The International Red Cross is a neutral and impartial actor that must not be targeted."
Olena Zelenska, the wife of Ukrainian President Volodymyr Zelensky, said she is not giving up hope for an end to the war despite the oppressive situation in Ukraine.
"The fact that my family and I are being hunted feels like a bad action movie," Zelenska, a former comedy scriptwriter and mother of two, told the German newspaper Die Zeit. Nevertheless, she still had faith: "We will win, and I am sure Ukrainians will return, rebuild the cities destroyed by the Russian invaders and work to restore the economy and infrastructure."
UPDATE, March 30, 11:10 AM EST: Putin demands surrender of Mariupol
French President Emmanuel Macron and his Russian counterpart, Vladimir Putin, had yet another phone call on Tuesday, but as far as the statements published today are concerned, the two were talking past each other.
While the French government insisted that Putin had agreed to think about ways to relieve the suffering of people stuck in Mariupol without food, water, power, or medicine, the official Russian take was very different.
Per the BBC, Russia claims Putin had told Macron that, for the humanitarian crisis to be addressed, "Ukrainian nationalist must stop resisting and lay down their arms."
The fighting around Mariupol has remained fierce, even as the Ukrainian forces are heavily outnumbered. Several attempts at humanitarian corridors have collapsed as both sides accused each other of breaking arangements.
UPDATE, March 30, 11:00 AM EST: At least 15 killed in Mykolaiv attack
At least 15 people were killed by a Russian missile strike on the regional administration building in the southern Ukrainian city of Mykolaiv on Tuesday, according to regional Governor Vitaly Kim's Telegram channel on Wednesday.
The missile tore a massive hole in the administrative building on Tuesday. Kim said his study had also been destroyed, though he had not been there at the time.
Rescue workers initially recovered only three bodies, but by Wednesday that figure had risen to 15. Kim said that an additional 34 people had been injured.
UPDATE, March 30, 8:00 AM EST: Chernihiv under "colossal" attack despite promises of withdrawal
There was already plenty of skepticism of Russian claims that it would significantly reduce its "military activities" around Kyiv and Chernihiv. The latest reports do nothing to dispel them, as Chernihiv Mayor Vladyslav Atroshenko told CNN that his city is coming under "colossal attack" by Russian forces.
Accusing Russia of lying, Atroshenko said it had actually "increased the intensity of strikes" since Tuesday's negotiations.
"Today we have a colossal attack on the center of Chernihiv. Twenty-five people have been wounded and are now in hospitals. They're all civilians. So whenever Russia says something, this needs to be checked carefully," he insisted.
Just over 90 miles to the north of the Ukrainian capital, Chernihiv has been under siege for over a month and suffered horrific civilian losses. Among them was the reported shooting of 10 people who were lined up waiting for bread.

UPDATE, March 30, 6:00 AM EST: Exodus reaches 4 million
More than 4 million people have fled Ukraine in response to the Russian invasion, according to the UN refugee agency.
The official number is 4.02 million, according to the High Commissioner for Refugees. Additionally, about 6.5 million are believed to be internally displaced.
The highest concentration is in Poland, which has seen about 2.34 million arrivals, followed by 609,000 to Romania and hundreds of thousands to Germany, Hungary, Moldova, and Slovakia.
Cover photo: IMAGO / Ukrinform