Ukraine war: Russia says "first stage" of war is over as France and more plan to evacuate Mariupol
Kyiv, Ukraine - As the war in Ukraine enters its second month, some Russian military units have begun withdrawing from their areas after suffering heavy losses, the Ukrainian military said in a situation report released early on Friday.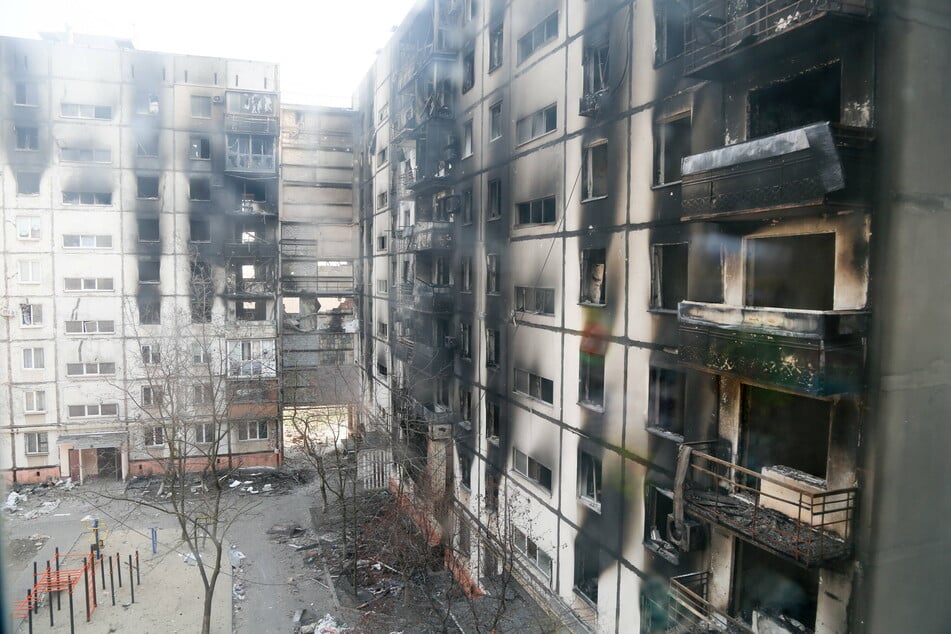 Some Russian units withdrew behind the Russian border after losing more than half of their personnel, the Ukrainian General Staff said.

Oleksiy Arestovych, a senior adviser to Ukrainian President Volodymyr Zelensky, said that Russian troops on the fronts no longer had sufficient resources to attempt further advances, lacking fuel, rations, and ammunition. "The occupier is hungry and barefoot," Arestovych said.
With the Russian invasion of Ukraine entering its second month, the frontlines between the two sides have become "practically frozen," Arestovych added.
Russian units were continuing their blockade of Ukraine's second-largest city of Kharkiv and the major city of Sumy, according to the general staff, and Russian troops were apparently also preparing for a new offensive in Izyum in the Kharkiv region. Moscow is partially managing to maintain a land connection between Russia's Rostov region on the Ukrainian border and the Crimea peninsula, they added.
Ukrainian forces were also attacked in the Dnipropetrovsk region overnight. Russia carried out two rocket attacks on a military unit on the outskirts of the city of Dnipro, a local official said on Facebook.
Meanwhile, reports of possible shelling near the former Chernobyl nuclear power plant were a cause for concern.

The director general of the International Atomic Energy Agency (IAEA), Rafael Grossi, said Russian forces fired on Ukrainian checkpoints in the city of Slavutych, citing information from the Ukrainian nuclear regulatory authority.
This puts in danger "the homes and families of the operating staff who guarantee nuclear and radioactive safety" at the former nuclear power plant, as well as further rotations of employees, it said. There has been no confirmation of the shelling. There were reports early this week of fires burning around the restricted area around the former nuclear power plant.
Here's the latest on day 30 of Russia's brutal war on Ukraine.
UPDATE, March 25, 6:05 PM EST: France, Greece, and Turkey plan to evacuate Mariupol as Russia says "first stage" of war is over
A senior Russian official has said the "first stage" of Russia's military operation in Ukraine had been completed and that forces would now focus on the "liberation" of the eastern Donbass region. The comments by Sergei Rudskoi, the deputy chief of the General Staff of the Russian Armed Forces, were seen as a signal that after one month of war the Kremlin could be scaling back its ambitions.
"The combat potential of the Ukrainian Armed Forces has been significantly reduced, which allows, I stress this once again, to focus the core efforts on achieving the main goal - the liberation of the Donbass," he said. If followed through, Rudskoi's announcement would mean that Russia would now focus primarily on the two eastern areas that have been claimed by Moscow-backed separatists for nearly eight years: Luhansk and Donetsk, known collectively as Donbass, and could signal a move out of main areas of Ukraine.
Yet, CNN has reported that Russia is moving troops into Ukraine from occupied territories in Georgia. Russian troops have also targeted the western Ukrainian city of Vinnytsia by air, according to its mayor. Some rockets hit several buildings, causing significant damage, while others were intercepted by Ukrainian forces mid-flight.
French President Emmanuel Macron announced that the country is planning a humanitarian operation with Turkey and Greece to evacuate people from the devastated south-eastern Ukrainian port city of Mariupol, where over 100,000 residents remain stranded.
There were already concrete talks with the mayor of Mariupol and coordination with Ukrainian President Volodymyr Zelensky, Macron said. Consultation is also necessary with Russia, whose troops have been besieging the city for weeks. The action should start in the next few days, according to Paris.
UPDATE, March 25, 3:52 PM EST: J.K. Rowling responds to Putin
J.K. Rowling has responded after President Putin claimed Russia is being "cancelled" and cited the author as having similarly "fallen out of favor."
"Critiques of Western cancel culture are possibly not best made by those currently slaughtering civilians for the crime of resistance, or who jail and poison their critics," the Harry Potter writer said on Twitter.
"#IStandWithUkraine," she finished the post, and included a link to an article on Putin critic Alexei Navalny.
UPDATE, March 25, 3:10 PM EST: Poland says refugees are "guests" as Biden calls Putin a "war criminal" again
Polish President Andrzej Duda has underlined his country's willingness to help people from Ukraine during the visit from President Biden. "We don't say refugees - these are our guests," Duda said, while thanking Biden for his support in both the military and the humanitarian field.
During the trip, Biden once again labeled Putin a "war criminal," saying he thinks Russia's atrocities "will meet the legal definition of that as well."
UN staff have documented incidents that may amount to Russian war crimes in Ukraine, but are not yet ready to make final assessments, says Matilda Bogner, head of the United Nations Human Rights Monitoring Mission in Ukraine, citing opening investigations.
UPDATE, March 25, 12:00 PM EST: Putin says Russia is being canceled like J.K. Rowling
There are plenty of arguments for calling the term "cancel culture" one big, bad-faith grift, but none are more convincing than hearing Russian President Vladimir Putin apply it to his own country.
Even as his forces have been raining down death and destruction on Ukraine for a full month, Putin sees himself as the victim, as he made clear in a televised speech on Friday in which he compared Russia to J.K. Rowling (seriously).
"Recently they cancelled the children's writer Joanne Rowling, because she – the author of books that have sold 100s of millions of copies worldwide – fell out of favor with fans of so-called gender freedoms," Putin said, according to a translation by the Financial Times' Max Seddon.
"They are trying to cancel our country."
Rowling, of course, has been increasingly and vocally critical of trans rights and legislation meant to expand them, which has alienated a growing number of Harry Potter fans, as well as actors from the movie adaptations of her books.
UPDATE, March 25, 11:40 AM EST: Biden sits down for a slice of pizza with soldiers stationed in Poland
President Joe Biden is in the Polish city of Rzeszow on Friday, about 40 miles from the Ukrainian border, viewing the humanitarian operation for the millions of refugees who have fled the Russian invasion of Ukraine.
Poland has a long border on its east with Ukraine. Some 2.24 million people have fled to the EU country since the start of Russian's offensive just more than a month ago.
Biden is also meeting US soldiers stationed in Poland, whom he thanked and sat down to eat a slice of pizza with.
UPDATE, March 25, 11:00 AM EST: Russia updates its death toll for the first time in weeks
The Russian General Staff on Friday announced that 1,351 Russian soldiers had been killed in Ukraine since the beginning of the conflict just over a month ago, according to the Interfax news agency.
In addition, it said that a further 3,825 Russian soldiers had been injured in the "special operation," the Kremlin's evasive term for the brutal war.
The figures are the first official death toll issued by Moscow since the beginning of March, when number of Russian dead was given as 498.
Experts, however, believe that the Russian military has in reality lost thousands of troops in the conflict so far, with the US estimate being around 7,000 and NATO's rising up to 15,000.
UPDATE, March 25, 7:00 AM EST: "About 300 people" killed in bombing of Mariupol theater
Over a week after the March 16 bombing of Mariupol's Drama Theater, where hundreds of civilians – including children – were sheltering at the time, authorities finally have an approximate death toll. And it's grim.
According to the Mariupol City Council on Telegram, eyewitness accounts led it to believe "about 300 people died in the Drama Theatre of Mariupol as a result of a bombardment by a Russian aircraft."
The devastating statement, expressing equal parts grief and rage, continued: "These fascists of the 21st century were not stopped either by the huge inscription CHILDREN, or by the statements of the people themselves that there were only peaceful people there – women, children, old people. The occupier knew where he was hitting."
"We can restore buildings, but we will never get friends, neighbors, relatives and loved ones back. Blessed memory of all the innocent victims of the insane war waged against Ukraine by the aggressor country, the terrorist country Russia," it concluded.
UPDATE, March 25, 6:00 AM EST: Ukraine recaptures towns near Kyiv
Britain's Defense Ministry has said that Ukrainian forces have been able to re-occupy towns near Kyiv.
In a Friday update, the ministry said that "Ukrainian counter-attacks, and Russian forces falling back on overextended supply lines" allowed Ukrainian forces to "re-occupy towns and defensive positions" up to 20 miles east of the capital.
The ministry added that Ukrainian forces were "likely to continue to attempt to push Russian forces back" towards Hostomel Airfield north-west of Kyiv. The ministry said that "logistic issues and Ukrainian resistance" were also slowing down Russian attempts to circumvent the southern city of Mykolaiv as they attempted to push towards the key port city of Odessa.
The ministry said that "logistic issues and Ukrainian resistance" were also slowing down Russian attempts to circumvent the southern city of Mykolaiv as they attempted to push towards the key port city of Odessa.
Cover photo: IMAGO / ITAR-TASS