Faithful golden retriever is this girl's paw-tector in chief
China - Golden retriever Harry sticks by his young owner – no matter what. His dedication  touched the hearts of millions of internet users.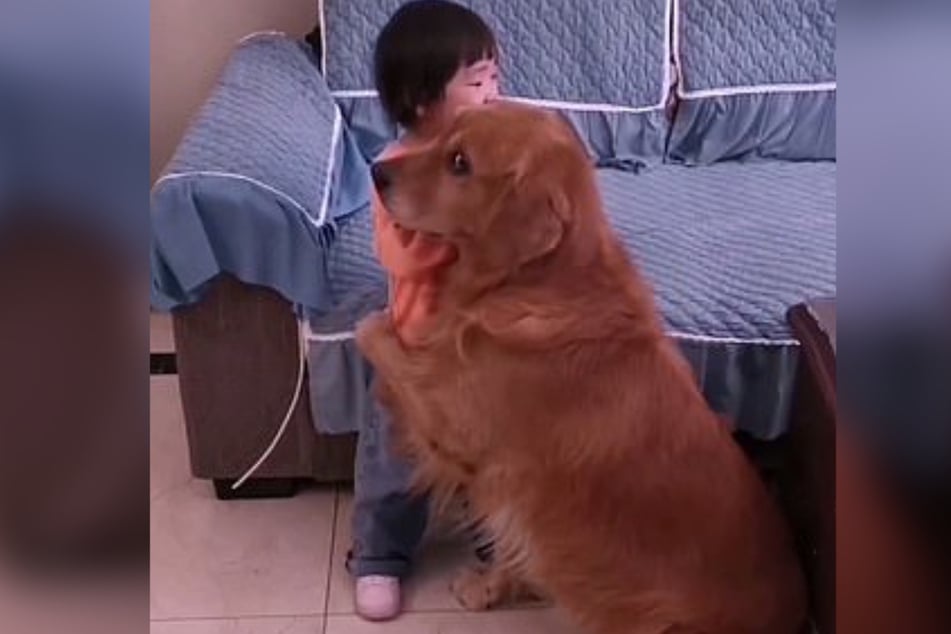 In a clip on the Chinese video-sharing app Douyin, 2-year-old You You is standing next to her best friend as her mother joins them.
She seems quite upset and gives her daughter a little telling off. As You You is getting close to tears, Harry puts his paw on her shoulder in comfort.
When the mother doesn't stop her scolding, the dog decides he's seen enough.
In the video, Harry positions himself between the girl and her mother and begins to snarl. At this point, the mother can't help but laugh and forget all her anger.
Luckily, she captured this special moment on her phone and shared it online.
Dog Harry stands protectively by the girl
"I was just documenting the daily moments of my dog and daughter because Harry is turning six years old soon and getting old. I just wanted to capture these memories so I have something to look back on in the future when he's not here anymore," the mother told Daily Mail.

The reason for her anger was a face cream that the child had opened without her mom's permission: "I was honestly really upset. I'd just bought the cream and half of it was already gone".
On Douyin, the clip quickly went viral and gained millions of likes.
However, some users were skeptical and suspected that the video was staged but Harry's owner insists it's authentic.
According to her, it wasn't the first time that Harry had shown his over-protective side "Whenever we speak to her in a harsh tone, he would come over and try to shield her with his paws. He would protect the child with his life."
Cover photo: douyin/191337486