Baby bonding: new mom shares incredibly touching moment with gorilla at Boston zoo
Boston, Massachusetts - Sometimes the bond between mothers knows no bounds – whether human or animal.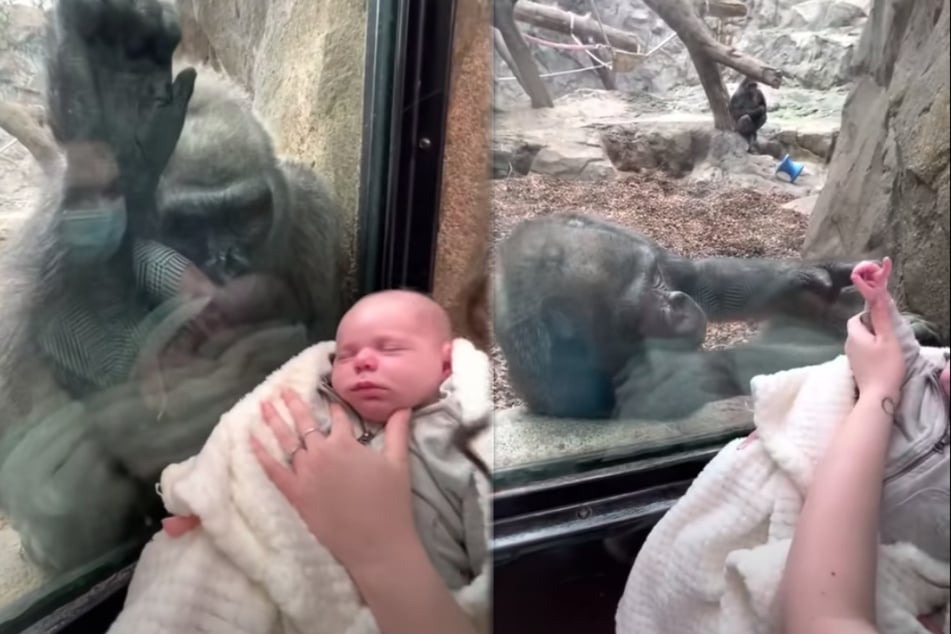 Emmily and Michael Austin visited the Franklin Park Zoo in Boston earlier this month with their five-week-old son Canyon. Arriving at the gorilla enclosure, Emmily stood in front of the safety glass with her baby in her arms. This human baby was intriguing to gorilla Kiki who is a mother to five, her youngest also being a baby boy, Pablo.
No wonder she was apparently magically drawn to the human baby. Emmily said that Kiki watched them from a cave, so she held her baby up for the gorilla to see. "She intentionally moved her head around, and you could see her making direct eye contact with him," the young mother told Boston.com.

Her husband Michael captured the sweet moment on his phone and uploaded the video to YouTube over the weekend.
With success: more than 1.3 million people have already watched the clip.
Video of gorilla mama goes viral on YouTube
In the video, Kiki can be seen looking at the baby, gesturing and pressing her hand against the glass. Pablo climbs over and Kiki picks him up, leaving the two mothers holding their boys up while separated only by a pane of glass.
"I thought it was one of the coolest things I've seen, pretty much ever," Michael said. "It was very emotional for all three of us, I think."
"I think that she felt the same connection with me as I felt with her: a mother of a baby," Emmily said. "We both had these babies with us, and we were looking at each other's babies and how cute and beautiful and small and precious they were… She looked up into my eyes, and I could see so much love."
Emmily plans to visit the zoo again soon for another baby date, and says she wonders if Canyon will grow up to be a zookeeper one day as a result of this special connection.
Cover photo: youtube.com Screenshot