Butcher opens alligator stomach and finds clues to a decades-old mystery
Charleston County, South Carolina - On the Edisto River in Charleston County, an alligator more than 12 feet long was killed because it had wandered onto private property. When the animal was sent to a taxidermist, some shocking items were found inside.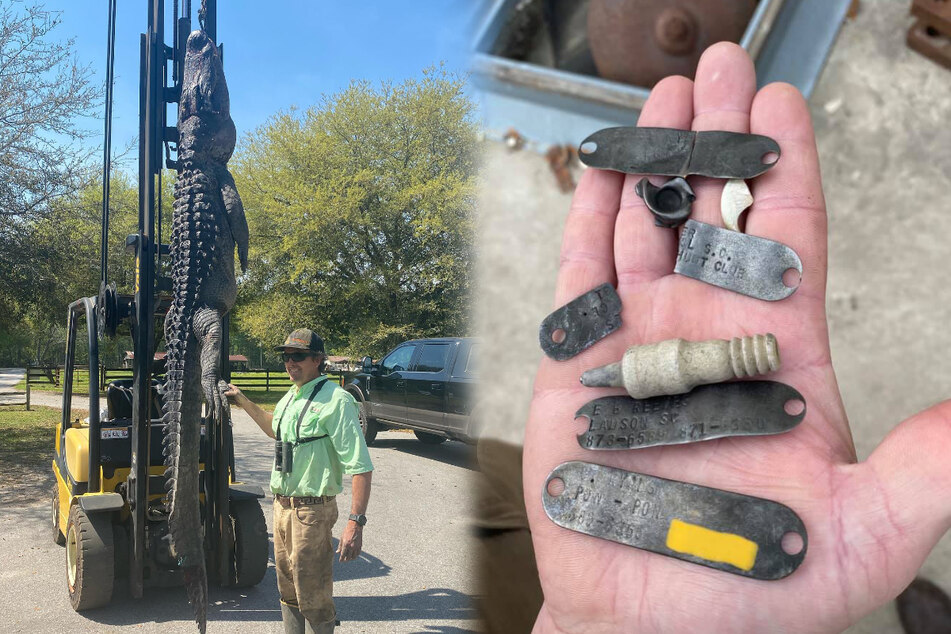 As TV station WCIV reported, the 445-pound alligator was a threat to Ned McNeely's family and animals and had to be killed on Thursday before being taken to Kenneth Cordray's Venison Processing shop.
"We don't usually open up the stomach but we did today," Cordray shared on Facebook. And the decision proved very interesting, indeed.
"5 dog tags, 1 bullet jacket, 1 spark plug, loads of turtle shells, and several bobcat claws were inside," the post continued.
"Two of the tags were legible and one phone number was still working." A phone call then confirmed what the owner had assumed 24 years ago when he had a deer lease in the area: his 80-pound hunting dogs had been taken down by an alligator.
The alligator must have been older than estimated if he was already large enough two decades ago to take down full-grown hunting dogs.
Cordray said in his 10 to 15 years of hunting alligators, this one was the biggest he has killed so far.
McNeely said killing the alligator was one thing, but "I had to get a bunch of ropes and hooks and kayaks and a tractor with a chain to finally get it out of the canal, because it was in probably an eight to nine-foot canal," he explained.
Butcher shares photos of the alligator on Facebook
Now the river monster's hide will be taxidermied in a nine-month-long process. Its meat has been turned into steaks, jerky, and sausage – hopefully without the dog tags!
Cover photo: Screenshot/Facebook/Cordray's