Gator taking a stroll through a Florida suburb caught on camera
Bonita Springs, Florida - What would you do if you spotted a giant alligator in your front yard? For residents of a neighborhood in Lee County, it wasn't a hypothetical question.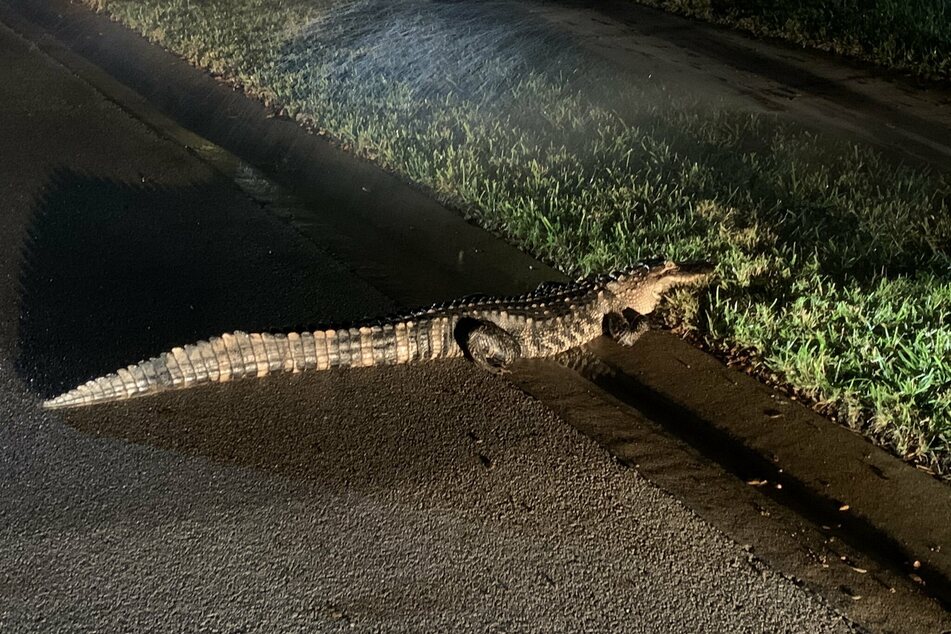 The Lee County Sheriff's Office published several pictures and a video of the wild animal, as well as the efforts to trap it.
The clip shows a 7-foot alligator lying half in the street and half on the sidewalk in front of a house in an ordinary residential area. Fortunately, the animal is calm, but of course, the residents are still afraid.
After a police spokesman offers a sober overview of the scene, a specialist from the Florida Fish and Wildlife Conservation Commission (FWC) arrives and makes short work of the reptile.
Don't worry, the man doesn't kill the alligator. Instead, he slowly approaches the wild animal and skillfully traps it with a catch pole.
The big reptile writhes and fights for a short moment before submitting. The animal specialist hands over the pole to a police officer and sets about tying the threatening jaws of the animal.
The expert hardly needs a minute to get the dangerous situation under control. Take look at the whole amazing episode for yourself!
Alligator surprises occur regularly in Florida
Afterwards, the officers carry the alligator to the FWC specialist's car so that he can remove it and release it far away from the heavily populated area.
The police spokesperson concludes the crazy video by calmly explaining how to behave in case of an alligator sighting.
In coastal regions of Florida, dangerous encounters with wild animals occur fairly often.
Cover photo: twitter.com/leesheriff