Cat burglar steals laundry - and hearts - in hilarious viral story
Houston, Texas - A residential area in Houston has been the target of numerous brazen thefts in recent weeks. While a suspect has been apprehended, attempts at interrogation were unproductive due to that suspect being a house cat.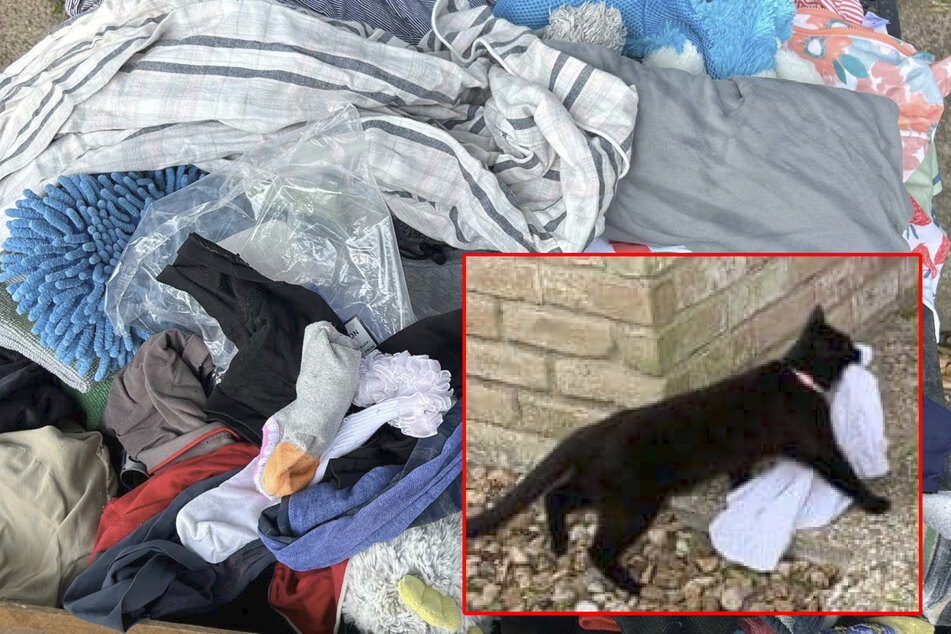 Cleo the cat and his long-suffering owner, Jeanne Picone Wheat, have gone viral for an August 20 Facebook post.
"My cat has been very busy this summer stealing and hiding things from my neighbors' yards. And possibly your homes," she wrote.
The stash of miscellaneous clothes and accessories is shown in a series of photos in the post, which includes "knee braces, rags, yard gloves, a navy bikini, socks, various kids clothes and swimsuits, underwear, [and] [S]panx [shapewear]."
"I have recently found his stash and added it to this collection. And I washed it for you!"
Cleo's scavenging behavior has been ramping up ever since his owners went on summer vacation without him.
Family vacation triggers uptick in neighborhood cat burglaries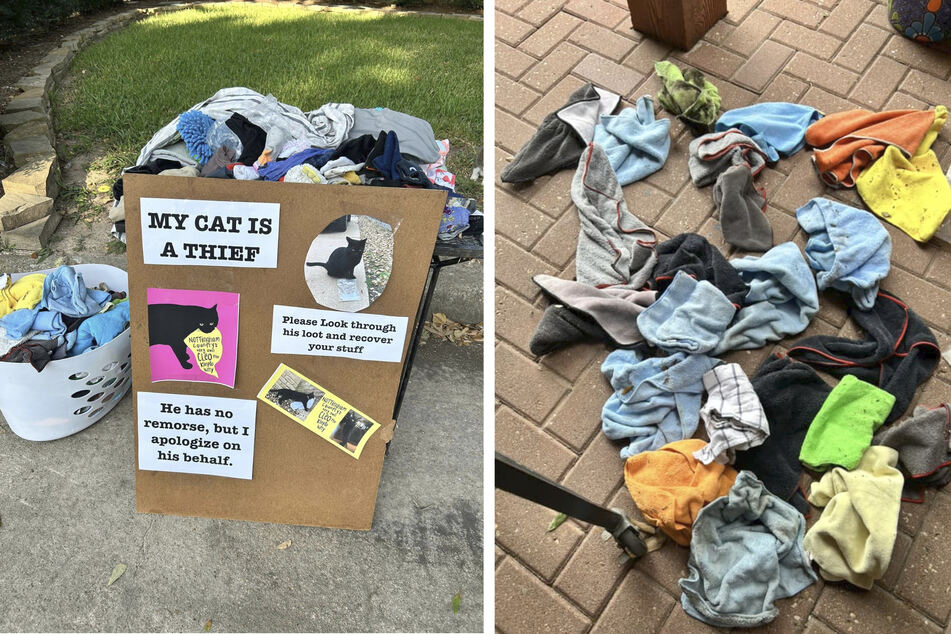 "This summer we were traveling, and he got pretty crazy about stealing," Jeanne told KNS 5 with a laugh. "A couple of neighbors told me he has climbed into their house through their window."

The cat, now nicknamed "Klepto Cat," has already been filmed on surveillance cameras during his exploits and has even been taken to the vet because of the behavior.
But all of that hasn't stopped him from continuing to stir up trouble!
Meanwhile, Jeanne Picone Wheat is trying to return the stolen items back to their rightful owners with a stall outside her front door.
On a large sign, you can see several photos of Cleo with printouts that read, "My cat is a thief" and "He has no remorse, but I apologize on his behalf."
Cover photo: Collage: Screenshot/Facebook/Jeanne Picone Wheat