Cats cause heartwarming commotion over specific cuddle routine
As it turns out, humans aren't the only ones who crave a routine! Two feline friends are making hearts melt on TikTok thanks to one cat's daily cuddle requirement.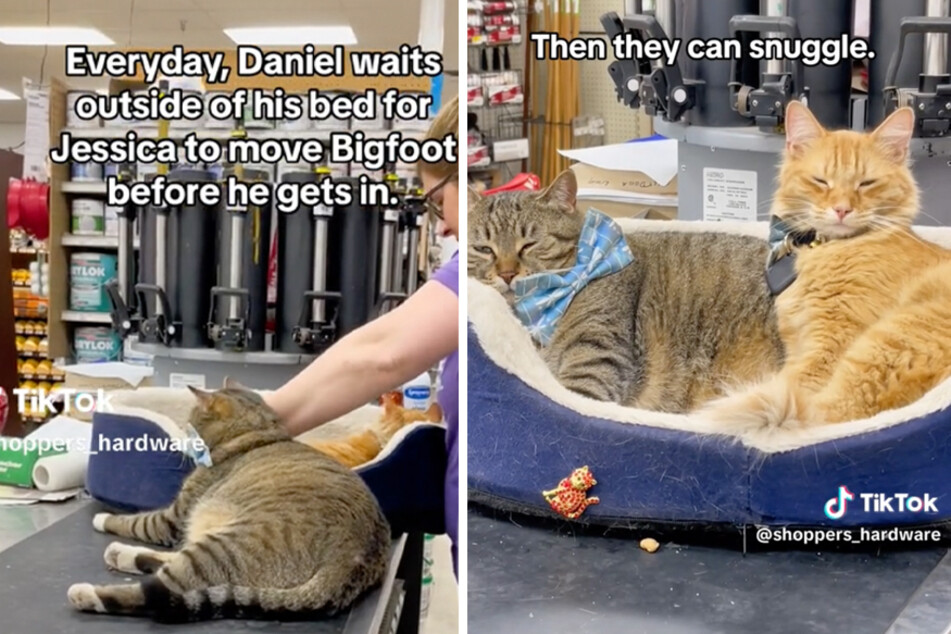 A cat named Daniel is causing quite the stir in a video that's amassed 4.4 million views and counting.
In the sweet clip, Daniel the gray cat is seen laying next to a cat bed on top of the counter, refusing to join his feline friend named Bigfoot in the bed until one specific task was accomplished.
Then, someone comes over to move orange cat Bigfoot out of the bed, allowing Daniel to enter at his own discretion without the presence of another kitten throwing him off his cozy game.
Once this is done, Bigfoot is seen being gently placed inside the bed next to her feline friend Daniel, and the two instantly settle in and start nuzzling up to each other in adorable fashion.
The video itself is captioned, "Every day, Daniel waits outside of his bed for Bigfoot to move Bigfoot before he gets in. I can't with these two." and TikTok users surely found the clip comical yet heartwarming all at once.
With comments like "So precious," "Look at those snuggles," and "Absolutely adorable," it's clear Daniel's hands-on routine is worth the precious outcome.
Cats: they're needy and peculiar – just like us!
Cover photo: Collage: Screenshot/TikTok/@shoppers_hardware