Florida man rescues frightened feline from Hurricane Ian's powerful surge
Bonita Springs, Florida - A Florida man has gone viral on Twitter after his girlfriend posted a video of him saving a cat from Hurricane Ian's unrelenting and forceful path.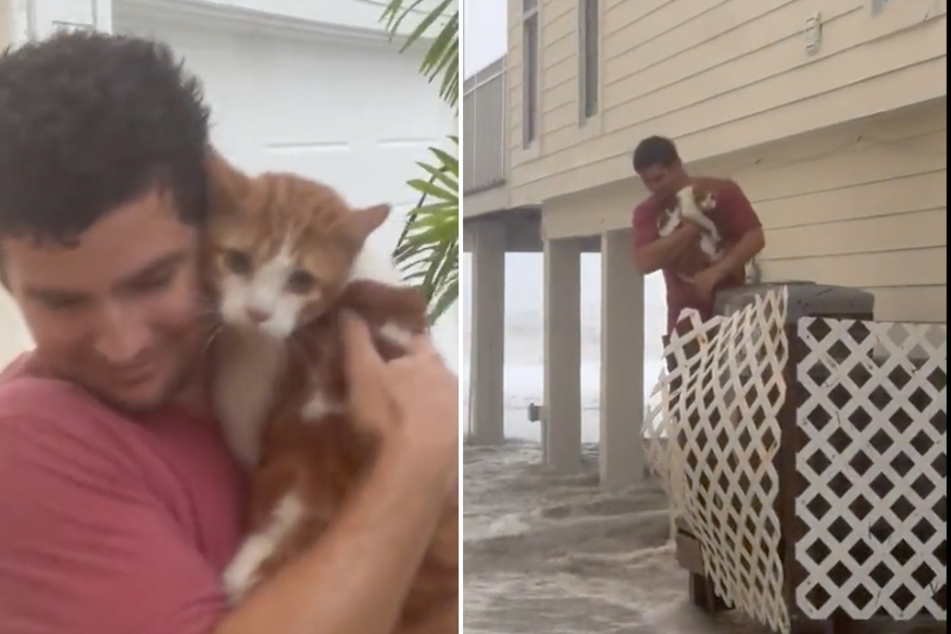 Hurricane cats are apparently a thing in Florida, and the Twitter-verse is starting to understand why. With the catastrophic category 4 hurricane dubbed Hurricane Ian making landfall near Naples on Wednesday, many have turned to social media for updates on the powerful storm system, but one stood out amongst the masses.
In a video posted by Twitter user Megan Scavo, a man who she described as her boyfriend is seen saving a cat who was sitting atop an air conditioning unit outside a house near Bonita Beach, just north of Naples.
As the waves relentlessly crash into the side of the house and the standing water from the storm surge continues to rise, the barefoot man slowly walks towards the understandably frightened feline.
Once arriving at the kitten's location, he reaches his arms out to delicately grab the cat without causing them any more stress. After successfully completing his heartwarming mission, someone in the background says, "look at Michael, saving the kitty!"
Clearly impressed with his cat-saving skills, one Twitter user replied to the original poster, declaring that her boyfriend "is everyone's boyfriend now. I don't make the rules."
It's enlightening to see there are still good people in the world – even in the midst of a category 4 hurricane.
Cover photo: Collage: Screenshot/Twitter/@MeganScavo