Newborn kitten was close to death but now she's enjoying her new life
Cornwall, Canada - Janie was abandoned on the streets, in the blazing heat and without food, just 24 hours after being born. The little kitten suffered from severe sunburn on her entire body and was close to death. But today, she has a new home and is doing better than ever.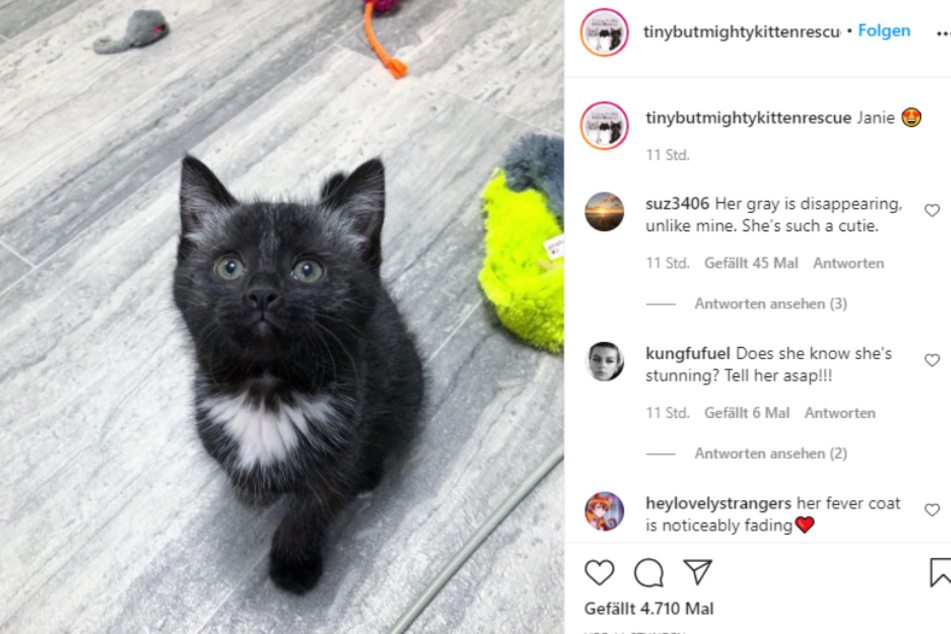 According to the British newspaper Metro, Janie was found on the side of a road in Cornwall, Ontario. She was handed over to a rescue center owned by cat-lover Melissa, who had already saved several cats and kittens with her volunteer work.
Little is known about the cat rescuer herself: the Canadian keeps her identity a secret and does not post photos of herself.
On Instagram, however, she runs the account Tiny but Mighty Kitten Rescue and regularly uploads cute pictures of her success stories. The woman finances her work through donations.
When Janie was brought in, she only weighed three ounces and had to be fed with an incubator for two weeks to recover from the strain. 
Today, Janie is eight weeks old and was well-received by Melissa's other cats. The older June has been playing the role of mom.
The kitten is clearly enjoying her new life with this extended family .
Janie is part of a big cat family
"A miracle & blessing she's with you," wrote one of Melissa's 40,000 followers. Without her commitment, Janie probably wouldn't be alive today.
Cover photo: Instagram Screenshot @tinybutmightykittenrescue