This scary cat is freaking out the internet
Melbourne, Australia - Black cats already have a bad reputation, but this one is giving thousands of Twitter users the creeps with his piercing orange eyes, dark fur, and a tongue that's always on display.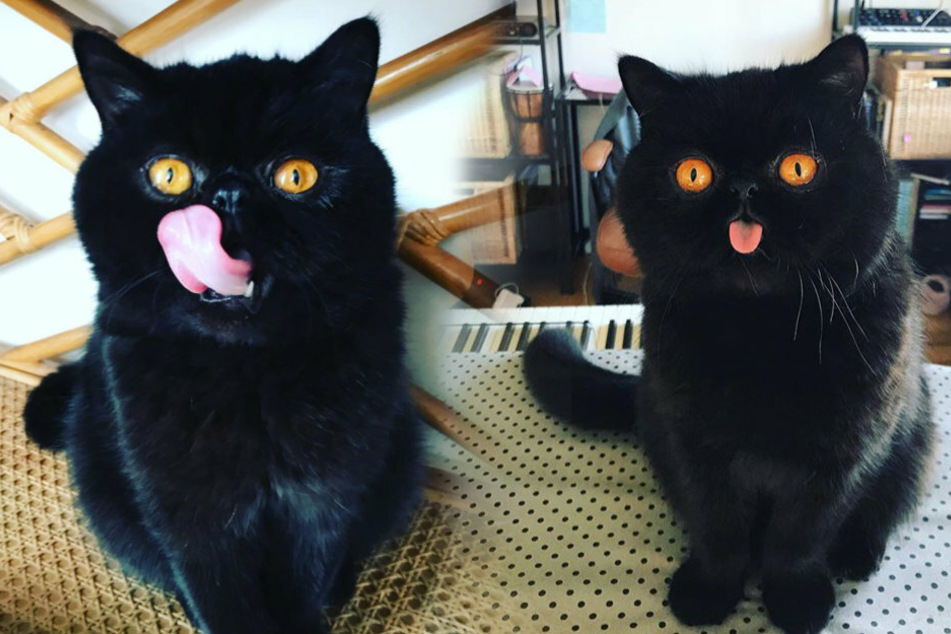 "Every single day I have to gaze upon this eldritch horror," the Australian owner @achebit wrote, as he tweeted out a picture of his strange-looking furry friend cheekily sticking out his tongue.
The internet was fascinated. But it is not just the funny look on the cat's face or his pitch-black fur. What makes this feline so intimidating are his bright-orange eyes that seem to glow and make him look otherworldly.
The tweet already has over 200,000 likes and thousands of users commented on the picture. Some speculated that the cat might be secretly selling magic potions, others think he's planning to take over the world.
His surreal looks made some people doubt whether the images are genuine. In response to accusations of photoshopping, the owner created an Instagram account to prove that the disturbing pet is 100% real. 
The page shows the black fur ball lounging around all day, always with his little pink tongue sticking out. He might look like something straight out of a horror movie, but his eyes weren't this bright from the start. According to his owner, they went from a more mellow yellow to this burning orange around the age of one.
Speaking of horror movies, the cat could hardly have a more fitting name: Gremlin, inspired by the famous little monsters from the 1984 film. As Gremlin's appearance hadn't taken its dark turn yet at that time, the Aussie man couldn't have known just how perfect his choice would end up being.
Gremlin goes viral
The coincidences don't end there. Gremlin's owner is actually an indie developer of horror video games, so his pet is probably a perfect source of inspiration.  
On Instagram, there are plenty of photos that show "Grem" - as his humans call him - in a more flattering light, including a couple of him in his very own cardboard fortress.
Gremlin is clearly an adorable little creature who enjoys a lot of love in his household. Still, one user makes a very point: "Just imagine meeting Grem when you walk around the apartment at night."
Cover photo: Bildmontage/Twitter/achebit/Instagram/goodboigremlin