Adorable dachshund gets covered in suds as he dives into bubble bath
There's nothing more relaxing than a bubble bath, even for dogs!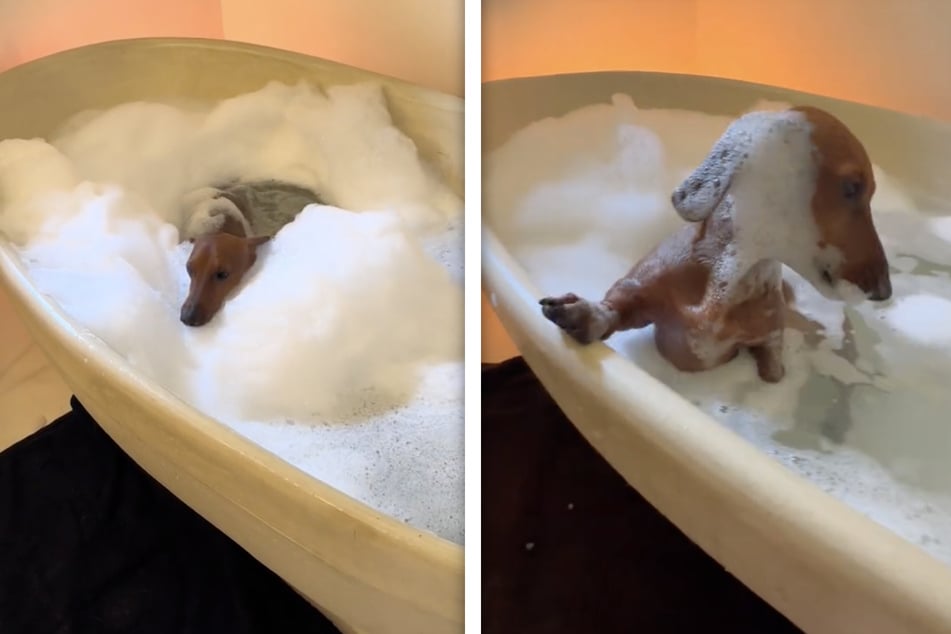 Kiro, a little dachshund, is a real water rat, and his owner loves to share adorable TikTok videos of him happily paddling around the lake in a life jacket.
But the four-legged friend doesn't just enjoy nature baths, as Kiro also loves to relax in the water at home in the bathtub!
Kiro's sudsy swim has gone viral online with over a million views.
In the short clip of his bubble bath, the tiny pup wastes no time dashing into the bathroom and jumping into the tub without further ado!
While the water is still running, Kiro bites happily into the stream of water. He then wades through the foam, and when his owner lifts him out of it, his nose is adorned with a delightful foam beard!
Kiro the dachshund is famous for his love of baths
At the end of the video, the dachshund looks spick and span - and a bit exhausted - as he lies on the bed with his giant cuddly carrot.
Kiro certainly seems to love his baths because, in June, another video of his escapades already made the rounds on TikTok.

Nearly five million users have viewed the sweet clip of Kiro jumping through the bath in high spirits.
For those who want to plan such a luxury bath for their four-legged friend, it must be approached carefully, as only dog-safe soaps should be used.
Cover photo: Collage: Screenshot/TikTok/@__..twigs..__