Beer me! This Labrador's amazing trick made him a TikTok superstar
Indiana - Sit, Down, Stay, Heel – most dog owners will be able to teach their pets these basic commands. But a TikTok user showed us all what's paw-ssible if you train your pooch just right.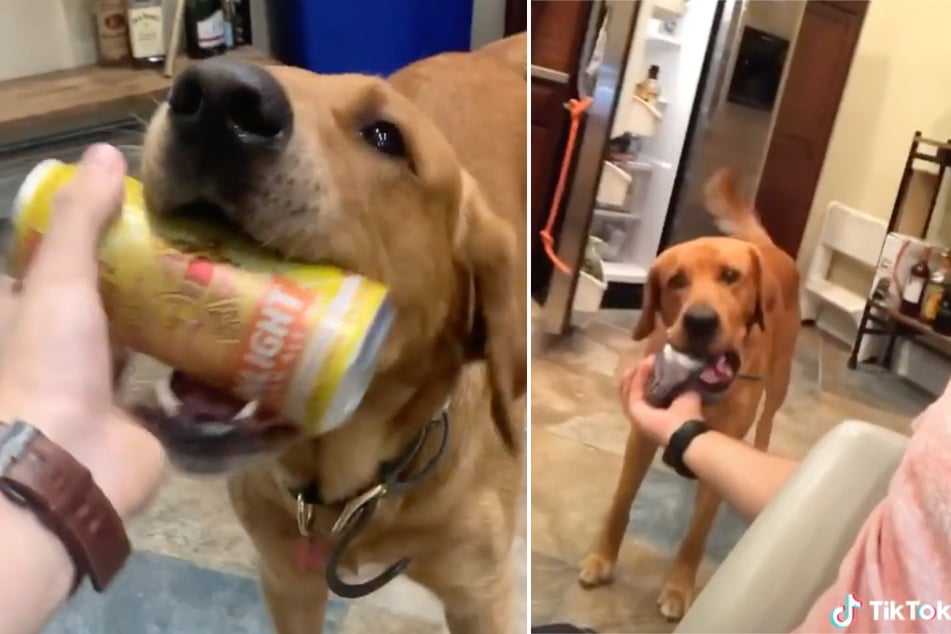 Boone.the.beer.getter is a pretty self-explanatory TikTok account. But just in case anyone was confused, there are plenty of videos that demonstrate Boone's special skill.
In one clip, the handsome hound's owner finishes off a can of beer. The man then taps the table twice with the empty can. That's enough of a clue for his faithful four-legged friend, who instantly knows what he has to do.
The Labrador immediately rushes towards the fridge and pulls on an orange rope to open door. He then snatches a new can and serves his owner another cold one. "Good boy," comes the delighted reply. But there's one more request: "Can you shut that door?" the man asks, and the dutiful dog obliges, shutting the fridge door with the confidence of someone who's done this many times before.
A look at the Labrador's Instagram and TikTok channel shows that the duo has been practicing the beer trick for months.
Until recently, Boone responded to the words "Beer me!", but he has moved up a level and now only needs to hear the double tap of an empty can.
Within less than 15 hours of the upload Boone's hilarious video has already racked up more than 14 million views and 3.3 million likes.
TikTok users are jealous of the well-behaved dog's owner
Over 25,000 people commented under the post, many of them complaining that Boone makes their own pets – or even roommates – look bad in comparison. These are just a few popular examples:

"My dog doesn't even know his own name."
"My dog s**** on the floor."
"My dog does this but instead of getting a drink, he pukes in the corner."
"He's better than my roommate with closing the fridge."
It's clear that this is one special pooch – there's a reason he has over 6 millions followers on TikTok!
But there's good news! Boone's owner announced that he will soon post a tutorial on how to teach your dog this amazing trick.
Cover photo: instagram.com/boone_the_beer_getter und tiktok.com/@boone.the.beer.getter