Dog meets owner's baby for the first time: his reaction lights up the internet
Internet - This little pug obviously has a soft spot for babies!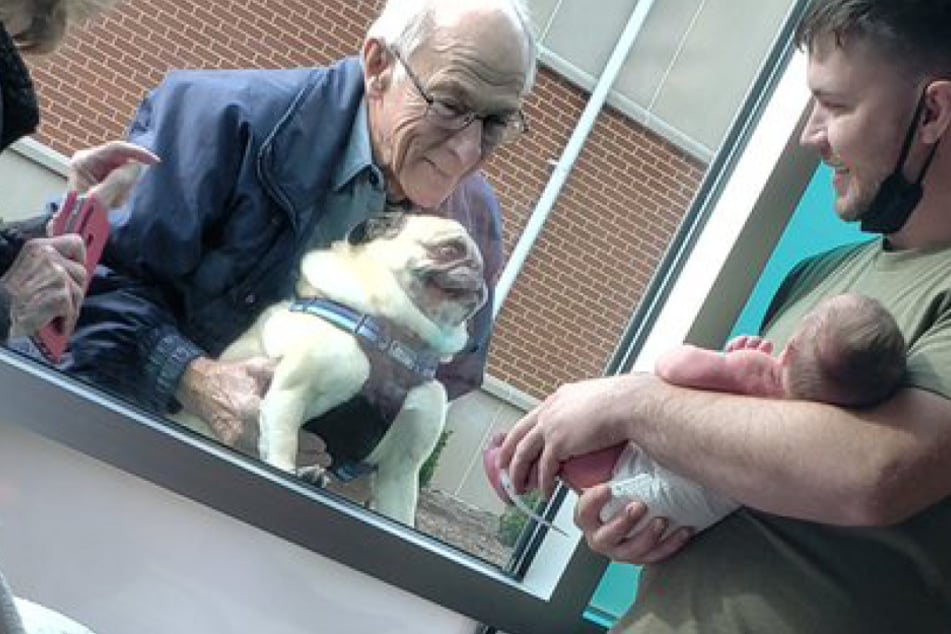 When Twitter user Brianna saw her tiny newborn cousin for the first time, she was delighted.
Her two grandparents were also overjoyed about the latest addition to the family.
Unfortunately, neither of them was able to greet the baby boy personally. Because of the ongoing coronavirus pandemic, they could only meet him through the hospital window.

The visiting grandparents were accompanied by Oz, the dog that belongs to the two new parents.
Brianna decided to tweet out two photos of the encounter, writing "I can't believe these pics are real and this is MY my family."
What she didn't suspect at the time was that this would be the making of Oz as an internet star.
The cute four-legged visitor is clearly beaming at the sight of a new little human to play with and he almost seems to be smiling in the picture.
Twitter users are thrilled about Oz and Brianna's grandfather
No wonder that the post collected more than 1.2 million likes over only two days.
In the replies, users expressed their affection for the little pooch.
One wrote, "The dog in the second pic has me absolutely dying"
"This is the most wholesome interaction I've seen all day," gushed another.
Brianna's grandpa also got a lot of attention. In a clarification tweet, she revealed that the baby is named after him – as well as after her great-grandfather, who was born on the exact same day.
The family will hopefully be together soon, without a glass panel between them, and Oz can properly meet his new best friend.
Cover photo: Dog meets owner's baby for the first time: his reaction lights up the internet