Duck, duck, dog: Labrador plays dad to abandoned ducklings
Stansted, UK - Taking on fifteen orphaned duckies seems like a daunting challenge, but not for this paternal pooch. That's because Fred the Labrador has been there and done that before over his 15-year lifespan!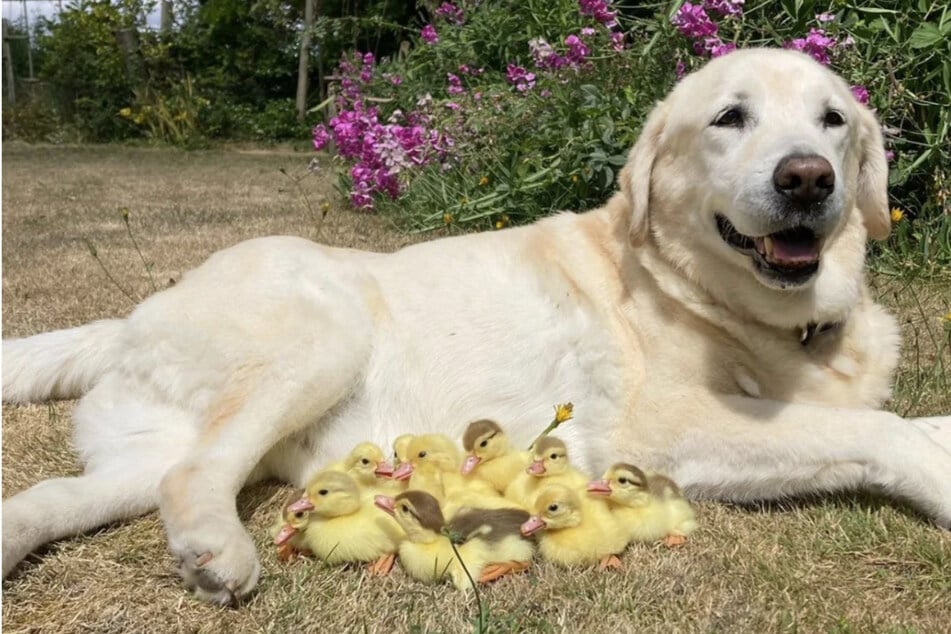 Back in 2018, Fred took in nine abandoned ducklings and looked after them until they were big enough to flap off.

Now this doting dog has taken in a whole new team of fifteen ducks. The little one's mom disappeared one night and sadly didn't come back, despite her babies quacks. But their sad story took a turn for the better when Fred came into their lives.
Fred's owner, Jeremy Goldsmith, is not surprised that his loving lab has once again taken on the role of duckling dad, as the Mirror reported.

Fred is the dog in residence at Mountfitchet Castle, a museum near Stansted in the United Kingdom. Jeremey, who runs the castle, said that "Fred has spent a lot of time at the Castle with the animals and it has become second nature to him being amongst the various rescued animals"
The ducklings immediately took to the big sweet doggo because of his calm and caring nature. They have total trust in their adopted pop and even take rides around the grounds on his back.
Fred is also clearly proud of his raft of ducklings and likes to present them to castle visitors and the staff.
Jeremey says that Fred will take care of his fluffy brood until the ducklings are big enough to fend for themselves in the wild. Then this Lab will bid his little billed bunch adieu.
Cover photo: @mountfitchetcastle/Instagram