Family adopts a new puppy, but this dog is not amused
Internet - Welcoming a new furry family member isn't always easy for an older pet and adjusting to youngsters can take some time. This Australian shepherd certainly didn't hide his feelings about the new puppy on the block.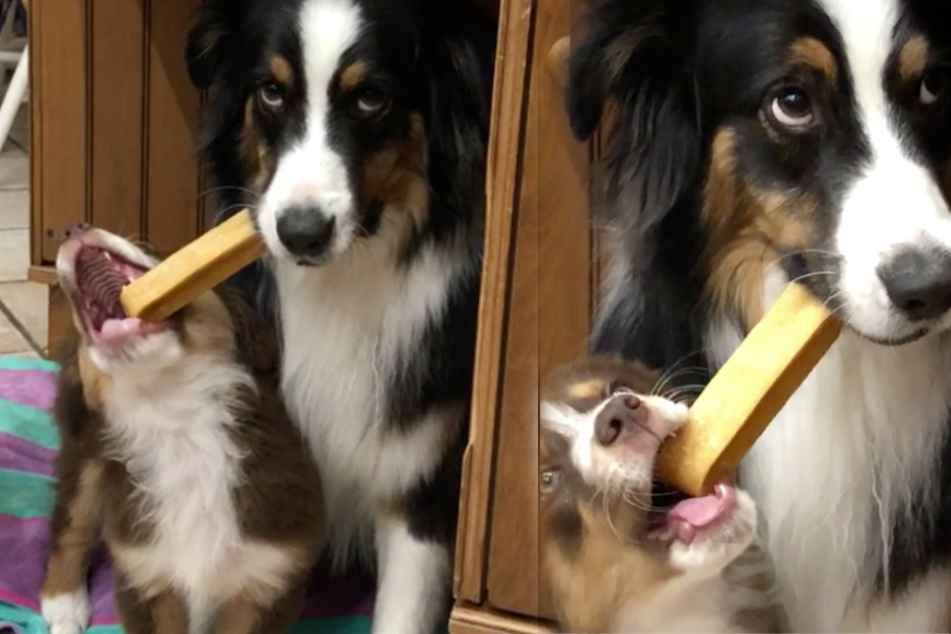 User SkaPlunk filmed his new puppy fooling around with three-year-old dog Kona and shared the footage on Reddit.
The clip shows Kona sitting under a table with a chew stick in his mouth. But he can't really enjoy his treat because it has little puppy Hilo furiously gnawing on the other end.
While Hilo is trying hard to hang onto, jumping up and down, Kona just stands there, as if he's already given up trying to calm down the feisty rascal. But his looks speaks volumes.
The handsome hound gives his owner a cold stare, making it clear that he isn't exactly pleased with the new addition to the family.
SkaPlunk captioned the video: "Our 3 year old Aussie is not amused with the new puppy."
The clip made a big splash on Reddit and already has 37,000 upvotes. Users found Kona's reaction hilarious.
"That look he gives you at the end. Consider it a warning," one joked.
"He'll get back at you for that," another chimed in.
A different user saw a parallel to their own childhood:"So this is what my parents looked like when I ate their food as a child."

Whether or not Kona likes the new puppy, he will eventually have to come to terms with sharing from now on. Or his family could just buy him a separate one...
Cover photo: Screenshot/Reddit/SkaPlunk