Husky hugs: video of dog cuddling toddler to sleep melts hearts on Twitter
Manchester, UK - A boy and his dog are inseparable – even when it's bedtime! Despite the dad's best efforts to get it out of bed, this husky wants to keep cuddling with its favorite human and the resulting video is just heart-melting!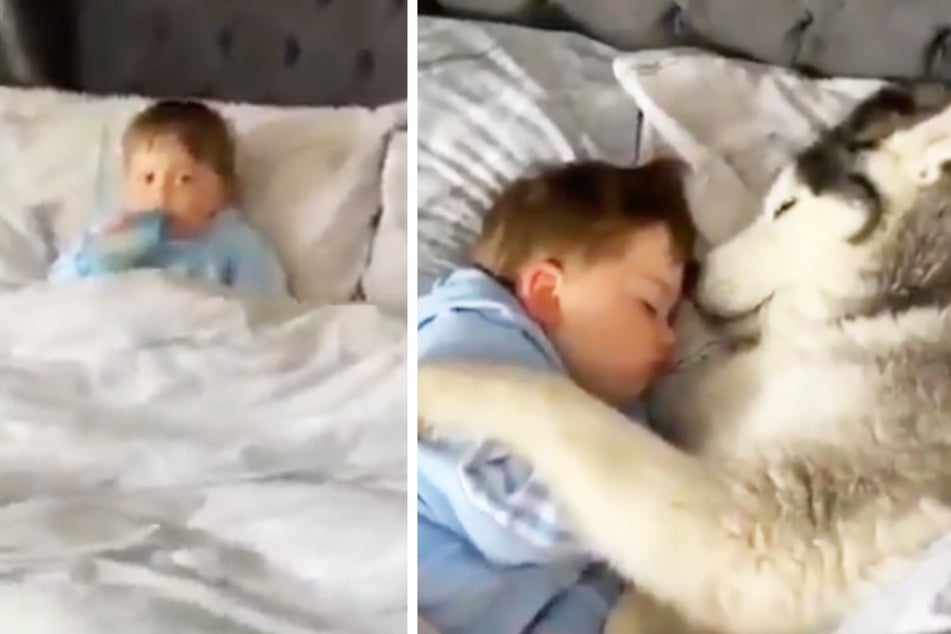 "This is one of the most beautiful things you will see today," tweeted dad Simon Hopkins from Manchester, UK. After watching his 29-second video, most of his followers definitely agree.
The short clip shows the boy in his Pjs, ready for bed. But he has some company: Millie the husky, who is lying next to the toddler.
"Come on! Millie, come!" Simon calls, but the pooch has no intention of moving. It's so soft and comfy after all!
So the man ends up tucking in not just his little boy, but Millie along with him. The husky doesn't seem to mind the blanket and stays put, as snug as ever.
The video then cuts to a scene from later on. As the child snoozes peacefully, Millie moves a little closer to him gives him a tender lick, before extending a paw to complete the most adorable hug.
At the end, both are sleeping peacefully.
Cuteness factor is off the charts
The clip has reached more than 35,000 people on Twitter so far, and while some commenters cringe at the thought of dog hair in the bed, many were smitten.
"OMG gorgeousness overload" and "Well that just melted my heart, how beautiful is that" are just two of the countless adoring replies.
Cover photo: Collage: Screenshot/Twitter/HopkinsBRFC (2)