Poodle's colorful unicorn makeover divides the internet
San Diego, California - Animal cruelty or super cool hairdo? A poodle named Zoe rocks bright pink and blue hair thanks to her owner's very particular grooming skills. But not everyone is into the dog's look.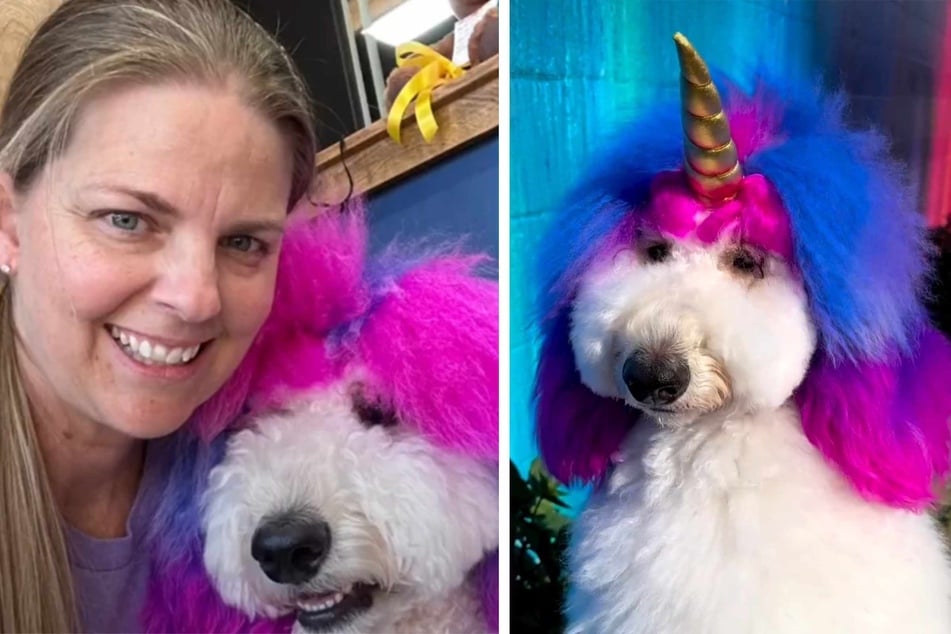 Angela Schoonover began dyeing her dog Zoe's hair as soon as she got her about a year ago.
What started with just the paws turned into a full-body makeover and these days, Zoe rocks a bold pink-and-blue do and a unicorn headband.
But the San Diego pet owner regularly gets accused of animal cruelty, per the New York Post.
"When videos of her go viral, they seem to get a lot of hate," Schoonover said.
Still, she insists the pooch is happy and healthy.
As for the dye job, "it's incredibly gentle, and it just feels like a constant massage for Zoe."
"When people actually meet her in person, they can see exactly how she embodies her look. It's like I can read her mind – she just wants to be a colorful, magical unicorn."
This poodle's owner uses pet safe hair dye
Schoonover told Celebrity Pets she only uses OPAWZ pet-safe dye: "It's super gentle and uses natural plant-based ingredients similar to edible food coloring... These pet-safe dyes have been around for years and haven't caused any health issues."
Keeping Zoe's bold look fresh doesn't come cheap – the eccentric 42-year-old spends more than $500 a year on doggie hair dye.
For Schoonover, though, it's all worth it, especially because the handsome hound loves the attention.
Cover photo: Collage: Screenshot Instagram/angela_and_zoe