Puppy was afraid of other dogs until a new friend entered his life
Perth, Australia - Everybody needs that one friend who's always there to give you unconditional support and in whose company you feel comfortable no matter what. This applies to animals too – just ask Arnold.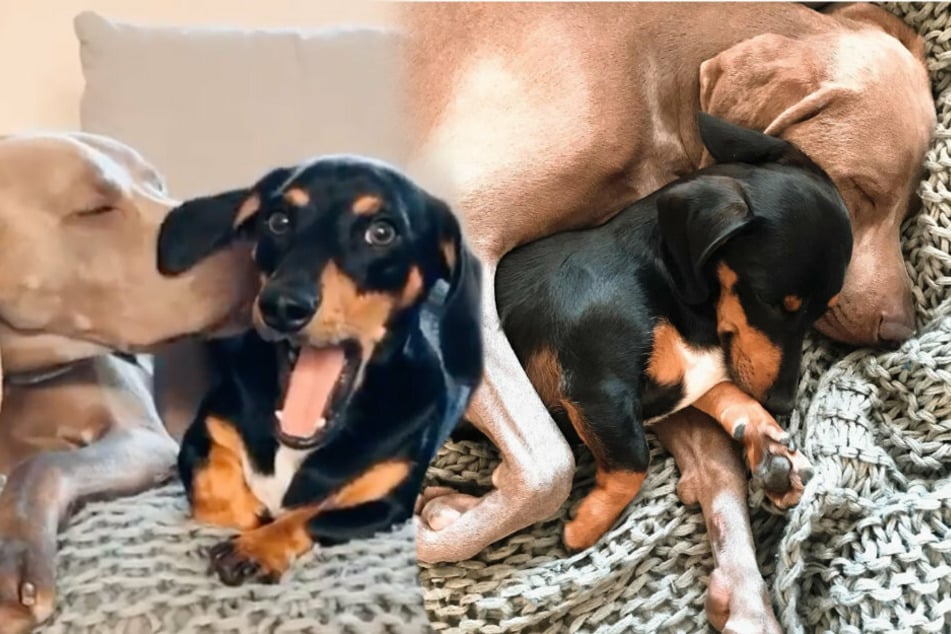 Arnold is a two-year-old Weimaraner from Perth in Australia. When he was only a few months old he experienced something really traumatic: he was attacked by a German shepherd and has since then been afraid of other dogs.
His owners were at a loss about what to do at first. But according to the New York Post, the arrival of the pint-sized Frank, a friendly dachshund, changed everything.
Arnold's owner Carolyn Manalis adopted the adorable pup from a friend, and it didn't take long until Frank became indispensable to Arnold.
"The bond these two dogs have is just insanely beautiful," Carolyn said. "They are so connected and loving and supportive of one another. If one ever cries, the other is here in half a second to check they are okay. Their love is unconditional, regardless of their size or breed."

Despite the one-year age gap and Arnold being 66 pounds heavier than Frank, the tiny dog is bursting with self-confidence. And thanks to this little active fluff ball, Arnold was finally able to overcome his deepest fear. 
Carolyn documents their friendship on Instagram, where the doggos already have over 9,000 followers.
Arnold and Frank are popular on Instagram
"Wherever Arnold is, Frank is at home," Carolyn wrote under a picture of the two pets. In other posts, the Australian proudly announced that Arnold is now much more open with other dogs in the park.
Frank changed Arnold's life, and the story of the two friends is fascinating the internet. The awesome twosome just keeps everyone coming back for more. 
Cover photo: Instagram/Screenshot/Bildmontage/arnoldandfrank