Studly golden retriever preps for doggy date in serious style
Phoenix, Arizona - One golden retriever got spruced up for his very first puppy date in a viral video that will turn your heart into a puddle of mush.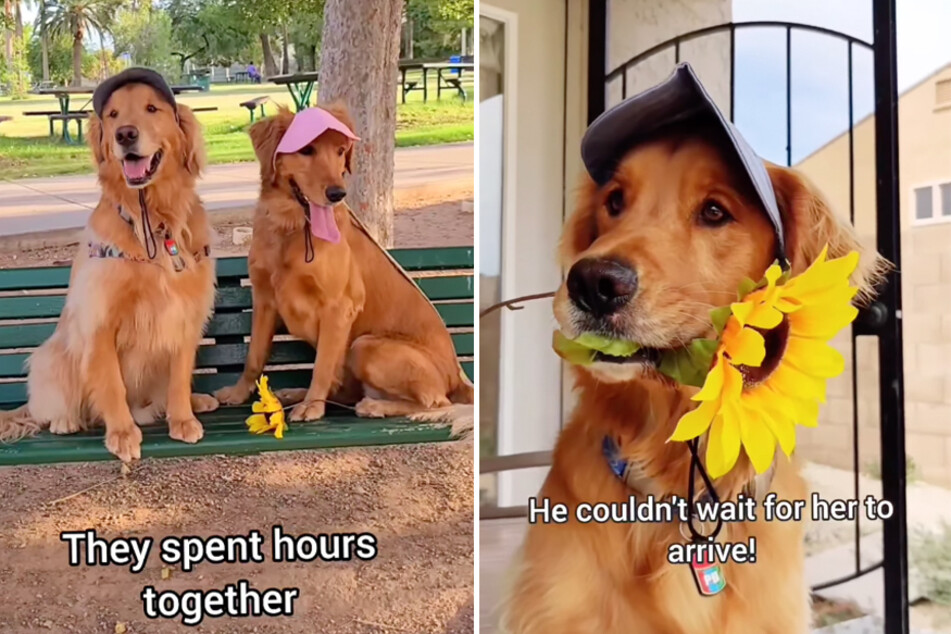 It's not every day you see a video of a dog getting ready for its first-ever puppy date. But when you stumble upon one, it's a must-watch.
Enter Sammy the golden retriever, a handsome Instagram "pup-fluencer" with his own dedicated page that has garnered over 122,000 followers. In one particular video that has 2.7 million views, the adorable doggo is seen prepping for his first doggy date.
To kick things off, Sammy's human gives him a nice shower to make sure he's smelling fresh and looking fluffy in all the right places. Then, the two pals embark on a flower-picking journey, where Sammy quite literally smells the roses until stumbling on the perfect flower for his canine lady love: a sunflower.
Finally, it was time for the date, where he took pup-fluencer Layla the golden retriever to his favorite park. In the video, the two pups, who are respectively sporting pink and blue doggo baseball hats with ear cut-outs, are seen strolling through the park, cheesing on a bench whilst basking in each other's presence, and engaging in a dog-favorite activity: watching the ducks from a safe distance.
From the looks of it, it's safe to say Layla and Sammy had a dang good time!
Cover photo: Collage: Screenshot/Instagram/sammythegolden247