This dog loves taking the stairs two paws at a time
Chicago, Illinois- This dog has a very unusual way of getting down the stairs: he only needs his front paws.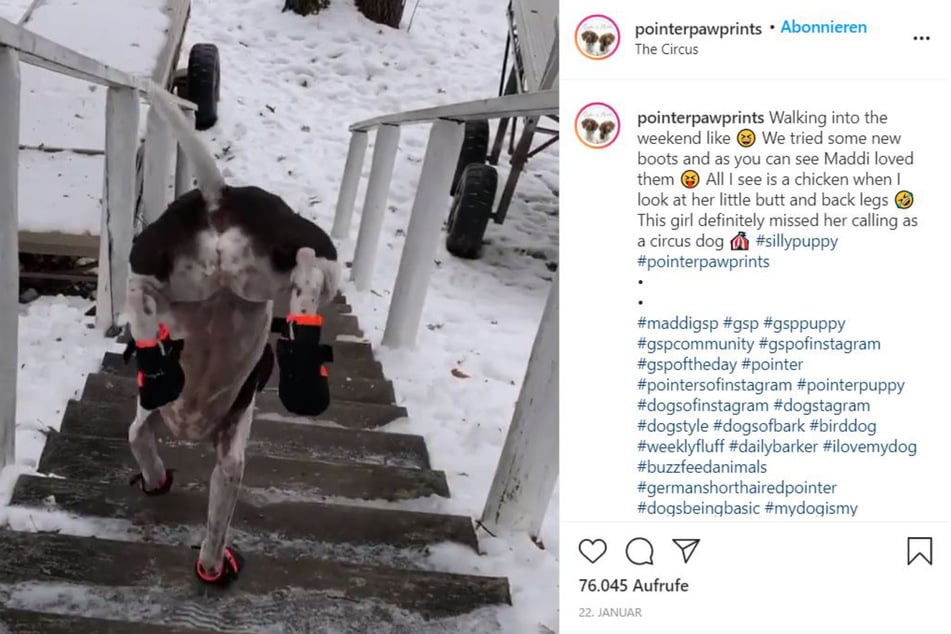 Owner Kelly Krutsch (37) filmed the funny moment, which took place outside her Chicago home.
The clip went viral on Instagram at the end of January. It shows a dog named Maddi descending a flight of stairs in her very own special way.
The Daily Mail reported that Maddi has four fully functioning legs, but she prefers to balance on two or three paws instead of all four.

Kelly said the dog started walking on two legs when she was about a year old. Maddi is a German shorthaired pointer, and she lives with her younger sister at Kelly's house.
Maddi is currently four years old and the clear pack leader. Her sister, Sophie, doesn't run around on two legs. She prefers to watch Maddi's balancing acts with fascination.
Instagram loves the video
The two four-legged friends have a joint Instagram page with 27,000 followers.
The video of Maddi going down the stairs has certainly contributed to their popularity.
The clip has more than 76,000 clicks, and the video has been circulated all across the internet.
The comments in the original post speak volumes:
"Best thing on the internet".

"This is going to make its rounds on the Internet! Priceless"

"Oh, my god the skills."
"Omg!!! This is hilarious, but what talent this girl has!!!"

People can't seem to get enough of this dog's special talent!
Cover photo: Instagram/Screenshots/pointerpawprints