Ukraine's bomb-sniffing dog Patron decorated by President Zelensky!
Kyiv, Ukraine - A big award for a small but mighty dog in wartime – Patron, the little bomb detecting Jack Russell terrier, has been honored with a presidential medal for his efforts during the war.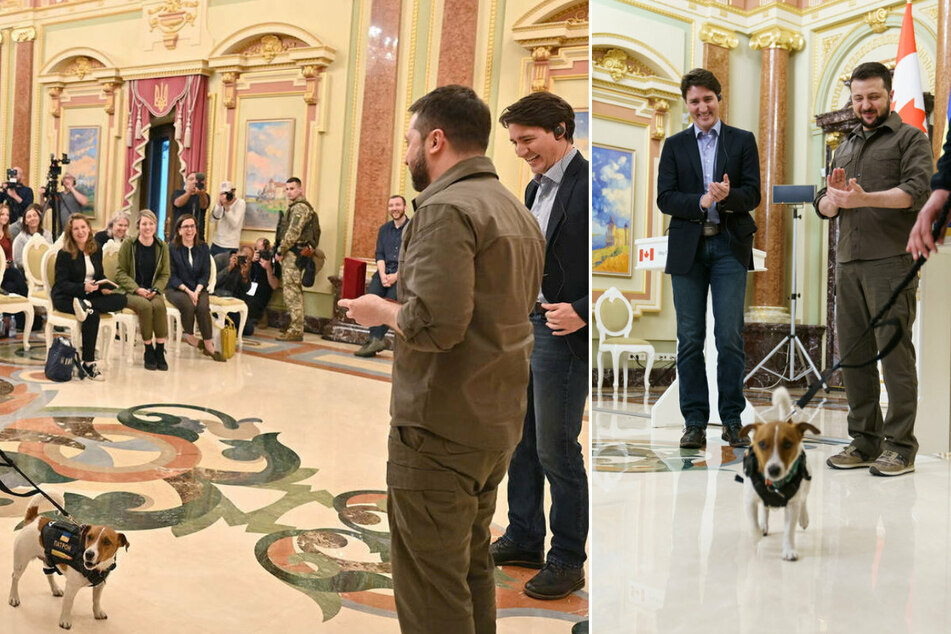 Patron helps sniff out Russian mines and explosives, with his owner and trainer, Mykhailo Iliev of the Civil Protection Service.

Since the beginning of the war, the tiny dog has found more than 200 explosive devices.
So it was only fitting that on Sunday, Ukrainian President Volodymyr Zelensky awarded the bomb sniffing animal extraordinaire a medal for his "selfless service." Canada's Prime Minister Justin Trudeau was also there to applaud the canine hero at the press conference.
"Today, I want to award those Ukrainian heroes who are already clearing our land of mines. And together with our heroes, a wonderful little sapper – Patron – who helps not only to neutralize explosives, but also to teach our children the necessary safety rules in areas where there is a mine threat," Zelensky said in a statement after the ceremony.
According to President Zelensky's official Instagram page the Jack Russel terrier "has already found 236 explosive devices."

Before Patron earned his medal, he became a national symbol and celebrated hero not only in Ukraine, but also online. And the Instagram post of the dog and his trainer receiving their award got more than 300,000 likes in just a few hours. Patron's social media page has more than 210,000 followers.
As the war in Ukraine continues, this heroic pooch will continue to sniff out explosives and save lives.

Cover photo: Collage: via REUTERS