Pilot whales euthanized after mass stranding in Australia
Cheynes, Australia - Australian authorities have euthanized 45 pilot whales following a mass stranding on a beach in Western Australia.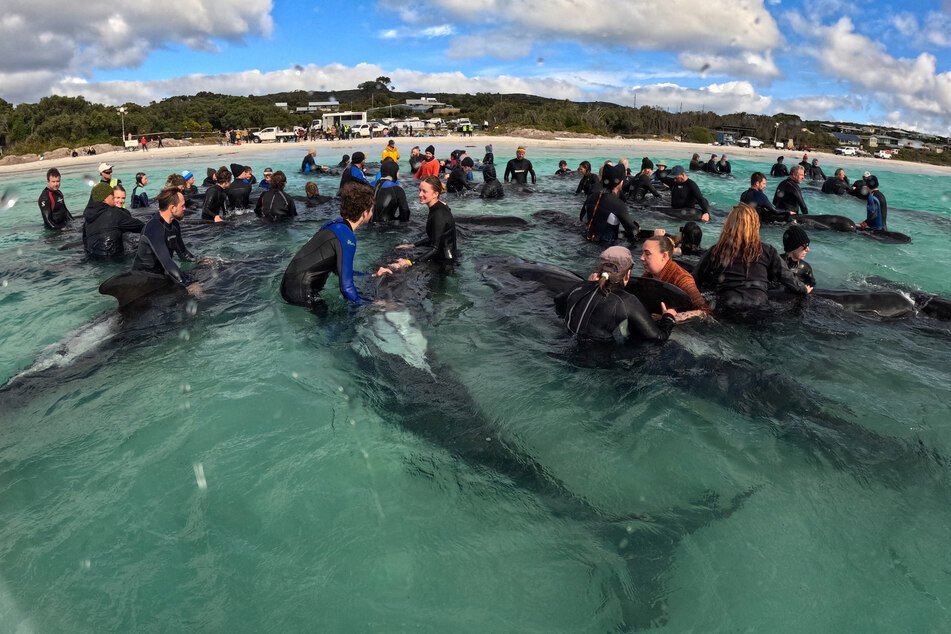 The whales were part of a larger pod of 97 animals who stranded on Tuesday at Cheynes Beach, some 450 kilometres south-east of Perth.

Fifty-two whales died overnight on Tuesday, while rescue efforts were made to return the 45 still alive to deeper water throughout Wednesday.
However the whales re-stranded later in the day, the Parks and Wildlife Service said.
"Sadly, the decision had to be made to euthanise the remaining whales to avoid prolonging their suffering. It was a difficult decision for all involved however the welfare of the whales had to take precedence," the service said.
"We thank everyone who assisted with the attempt to save the whales over the last two days."
Volunteers "worked tirelessly" to save the whales
Some 250 registered volunteers, more than 100 staff from the Parks and Wildlife Service and other agencies had "worked tirelessly in and out of the water," the service said.
The pod was first spotted off the coast late on Monday and spent most of Tuesday huddled together, prompting fears of a stranding.
In September 2020, around 470 long-finned pilot whales were found stranded across four sites at Macquarie Heads on Tasmania's west coast – the largest mass stranding on record in Australia.
Pilot whales are among the species most frequently involved in mass strandings in Australia.
Cover photo: AAP Image/WA Department of Biodiversity, Conservation and Attractions via REUTERS