Wild wetlands! Gator terrifies the internet with its choice of snack
Horry County, South Carolina - This video is not for the faint of heart!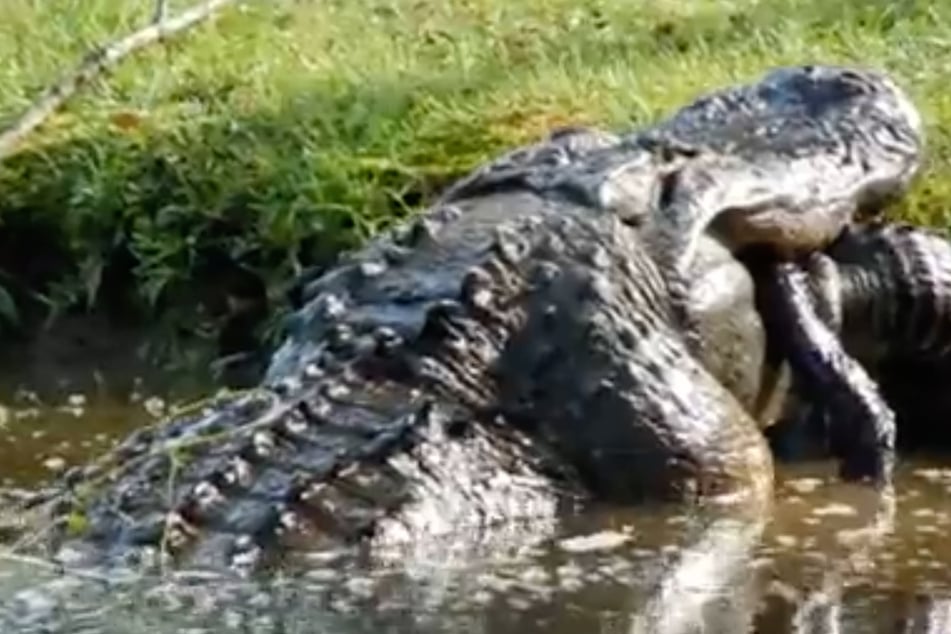 It was an incredible sight.
The frightening, and at the same time impressive moment was caught on camera by a South Carolina man who witnessed the power of the animal kingdom in his backyard.
A giant alligator emerged from the water to devour one of his fellow gators whole– in one piece and without chewing!
Taylor Soper, the man's son, shared the spectacle on his Twitter account shortly afterwards, leaving his followers speechless.
"The snack is a six-foot gator," he captioned the clip. "#Lowcountrylivin."
In the video, the giant reptile emerges gracefully from the water, already clenching the "smaller" alligator in its jaw. It begins to swallow the creature with a jerk of its head, until only the victim's claws are peeking out from between its teeth.
With the unlucky gator said to be six feet in length, It's easy to imagine that the predator must have been much larger.
Soper revealed that the footage was shot right outside his parents' house.

Within no time, the tweet went viral, reaching more than 28,000 likes and 12,000 retweets after just a single day. It has now racked up 4.8 million views and counting.
Twitter users from around the world are fascinated by the footage – and terrified at the same time.
"Eating his own kinfolk!" wrote one user.
"I don't think this yard belongs to your parents anymore," another said. "Please tell me where exactly this happened so I know where I'll never go!"
Taylor stated in a follow-up tweet that the video was taken in Horry County, South Carolina, and that they "saw the one that's getting eaten in this video eat a small baby last weekend."
The chain of gator cannibalism seems to continue!
Will the family ever venture outside again after the wild incident?
Cover photo: Twitter/Screenshot/Soper_TandC