Backstreet Boy Nick Carter's newborn baby under observation after "complications"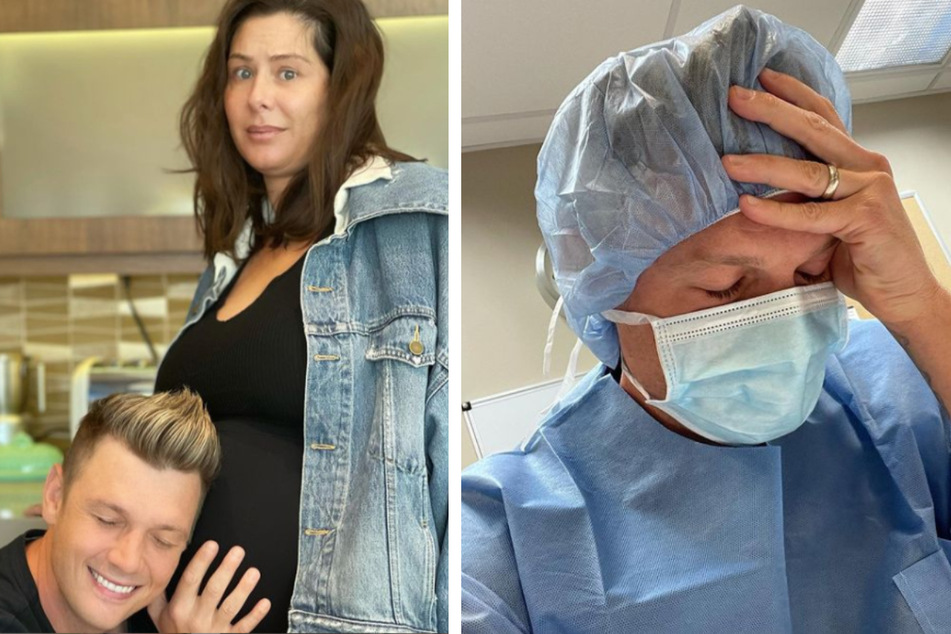 The surprise news that Nick's wife Lauren Kitt Carter (37) was unexpectedly pregnant again delighted fans and followers alike, and also put everyone on high alert.
The couple has previously had several miscarriages and Nick said his wife was "high risk".
The boy band heartthrob, who has captured their journey on Instagram and most often posts about fatherhood, also said the couple didn't find out they were having a baby until five and a half months into the pregnancy.
With a due date in April, it seems the time has now come for the family to welcome their new child.
"Yes I'm a believer. I ask god to give us strength to protect mommy and baby," Nick captioned an Instagram post on Wednesday. He also hashtagged "prayers".
The 41-year-old singer appears in the photo wearing a hospital gown, face mask, and surgical cap and is holding his head in his hand.
Fellow Backstreet Boy Kevin Richardson (49) commented emojis of support, with hearts and prayer hands.
Worried fans asked questions and speculated what the mysterious post might mean.
"Did something happen Nick? Baby and Lauren are ok?" asked one commenter.
Many offered good thoughts and well wishes.
"Sending so much love and positive vibes for you and your family," wrote a fan.
There is currently no word on how the mother-to-be's presumed delivery is going and if all is well.
A third child for Lauren and Nick Carter
The couple is already parents to five-year-old son Odin and daughter Saoirse Reign, who is almost two.

"Three babies. We're so excited," Nick captioned his latest photo of the pair on Monday, with his head resting on Lauren's nine months pregnant stomach.
Before finding out they were expecting in January, the pair first suspected that Lauren may have a tumor. It later turned out to be sweet baby news.
"I'm just happy to be able to give my babies a happy, healthy and peaceful home where they always have their parents in their lives to guide and love them unconditionally," said Nick.
Fans around the world are praying for the couple and anxiously awaiting news that a tenth Backstreet Boy baby has arrived safe and sound.

UPDATE – April 23, 2:00 AM EST: Baby delivered and under observation
So far, so good: Nick Carter and Lauren Kitt welcomed their third child, sometime on Wednesday. The pop star tweeted an update after a rocky first night for the family due to some "minor complications".
The baby is under strict supervision, as Carter confirmed in another tweet, and will have to spend a second night in the hospital. The dad let his followers know that "everything is looking better but we're not out of the woods yet."
Thousands of users sent their best wishes to the worried parents, who thanked everyone for their "love and support."
Cover photo: Instagram/Screenshot/nickcarter