Blast off! Pete Davidson is heading to space
Kent, Washington - Blue Origin, a space tourism venture founded by Jeff Bezos, announced Monday that Saturday Night Live cast member and Kim Kardashian's newest beau Pete Davidson will be part of its next crew headed to space.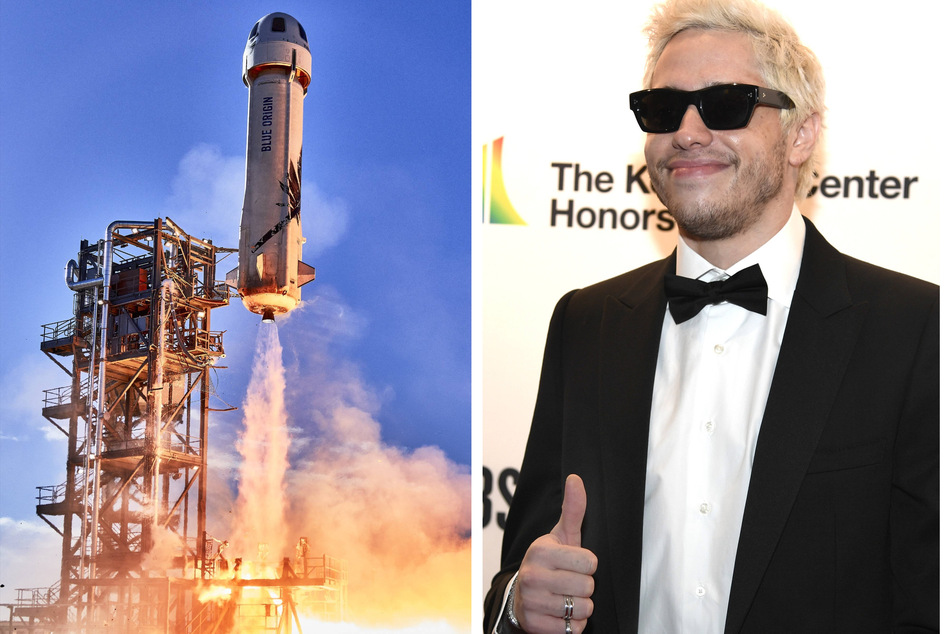 The rocket, called the New Shepard, is expected to blast off on March 23. It will be its 20th mission to date, and only the fourth time the rocket has gone to space with a crew.
Davidson will be an "honorable guest" alongside five other crew members that paid to be a part of the mission. It hasn't been revealed if Davidson had to pay, or how much each crew member paid for their spot on the team. Past seats for a 10-minute ride on Blue Origin have been auctioned for a whopping $28 million.
With each commercial mission, Blue Origin has brought along a celebrity to assist in promoting the event. The last mission in December took Good Morning America and former NFL player Michael Strahan into orbit, and the one before saw Star Trek legend William Shatner become the oldest person in space.
In addition to Davidson, the crew this time around will include investor Marty Allen, SpaceKids Global founder Sharon Hagle, president and CEO of Tricor International Marc Hagle, entrepreneur and world explorer Jim Kitchen, and president of Commercial Space Technologies, LLC Dr. George Nield.
Davidson has made headlines recently for his relationship with Kim Kardashian, much to the ire of her estranged ex-husband Kanye "Ye" West, who continues to make threats and insults about the comedian.
The star has kept quiet about Ye's attacks until his alleged comments on the matter this weekend, and has been notably absent from Saturday Night Live for the past few weeks. He did manage to recently snag a starring role in a new show from SNL creator Lorne Michaels called Bupkis.
It seems like Davidson might be ready to get as far away from the limelight and an angry Ye as he can, even if it means blasting off into space.
Blue Origin will livestream the launch on its website on March 23. Lift off is expected at 8:30 AM CT.
Cover photo: Collage: IMAGO/Cover Images & UPI Photo