Cardi B and Offset promote new McDonald's meal bundle with hilarious TikTok
New York, New York - Cardi B and Offset are still riding high after their McDonald's Super Bowl commercial, and the couple served up a hilarious TikTok to match the viral campagin!
McDonald's first duo celebrity meal features Cardi B's fave, a classic McDonald's cheeseburger with BBQ sauce and a large Coke. Its pair is Offset's classic order: a Quarter Pounder with cheese and a large Hi-C Orange. The meal also comes with large fries and an apple pie. Fittingly, the deal became available Tuesday on Valentine's Day.
Cardi B marked the occasion Tuesday by posting a hysterical TikTok clip of her and Offset leaving a McDonald's with their meals.
In the vid, Offset's arms are full of McDonald's bags, while the Privacy rapper delicately carries just one. The couple marches from the fast food restaurant to their car. Offset's awkwardly holds the door open for his wife and then "helps" her into the car by pushing her in, feet first and screeching.
The silly clip went viral almost immediately, with more than 11 million views and two million likes after less than 13 hours online.
Cardi B and Offset promote their McDonald's meal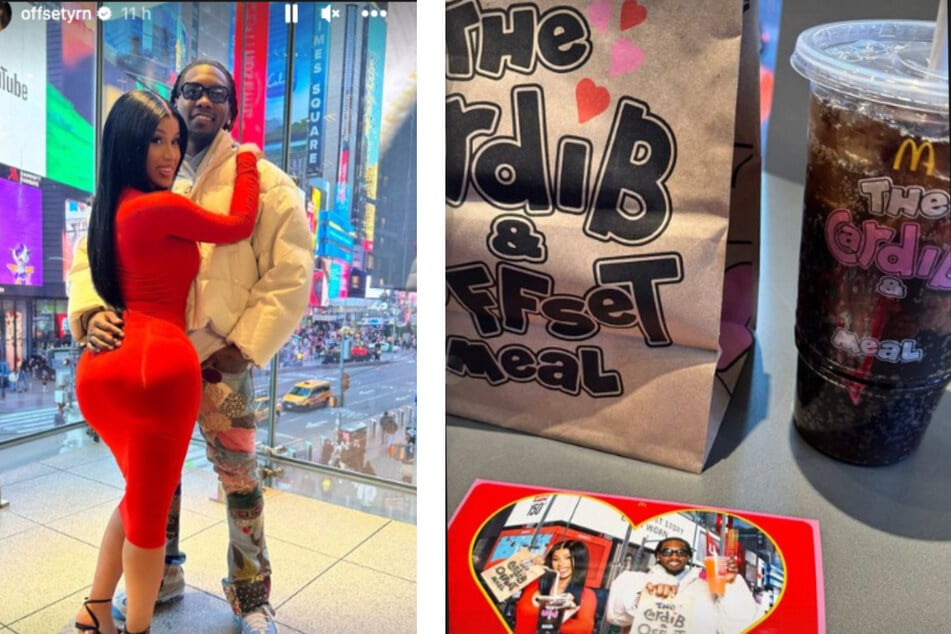 TikTokers gushed over the famous couple's cuteness.
"It's giving Bonnie and Clyde," one user wrote. Another joked that the celebs were "walking out of there like the Hamburgler."
Yet more filled the comments with laughing, crying emoji's and wrote: "They're so goofy in a cute way." "
In particular, Cradi's scream at the end of the clip drew a lot of attention, being described variously as an "eagle call" and "a cat on the fence."
Meanwhile, she and her husband Offset are clearly serious about promoting their McDonald's meal, both on TikTok and in real life, even making a surprise visit to a restaurant in Times Square.
They sure seem to be lovin' it!
Cover photo: collage: Screenshots/ TikTok/ Cardi B