Ranking Taylor Swift's albums from best to worst – Midnights included!
New York, New York - Now that Taylor Swift's 10th studio album Midnights is in the hands of Swifties and music lovers globally, TAG24 figured there was no better time to rank the Grammy-winning artist's albums from best to worst.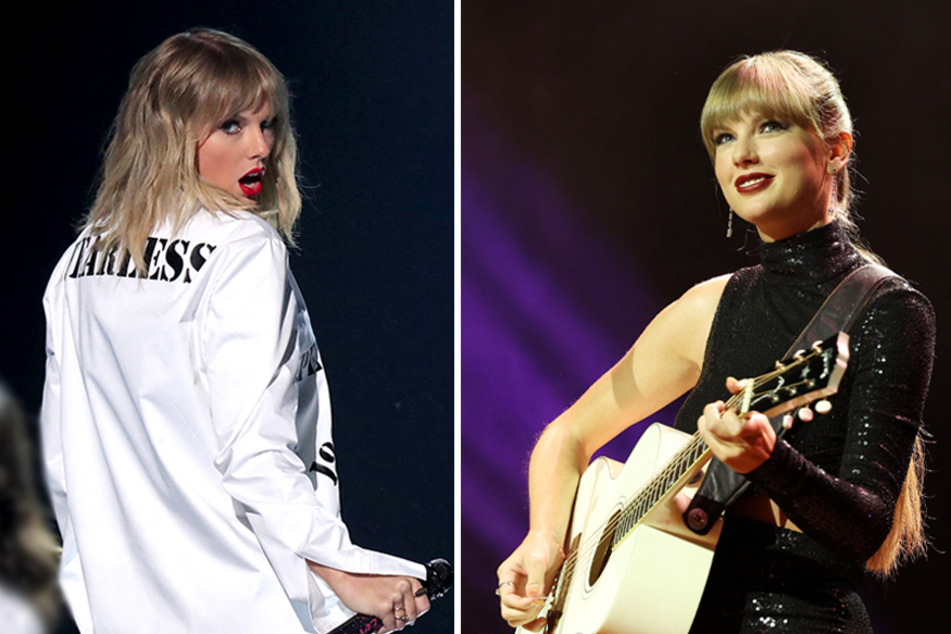 Unless you've been avoiding every corner of the internet – particularly Twitter and TikTok – like the plague, you've probably stumbled on a post or 13 featuring a song from, or a message somehow related to, Midnights.
Swift stunned her fans by confirming a long-held theory about a double album, announcing the Midnights (3am Edition)" a mere matter of hours after dropping her 10th studio album that includes seven additional tracks that match the honest, sometimes self-loathing pop-synth vibe of the project.
But now that we've got a whole new body of work – not just a re-recording – that's a long way removed from the singer-songwriter feel of her last two albums, Evermore and Folklore, there's no better time to get a present-day ranking of T. Sweezy's albums from best to worst.
Before you come for us, we'll preface this list by saying, no, we don't think any T. Swift albums are "bad." We are saying that if we had to rank them, this is the order we'd go with. At least, for the time being.
After all, every Taylor Swift fan knows how her albums have a way of shape-shifting over time, and certain songs you once felt "meh" about turn into your newfound favorites.
Here are TAG24's rankings of Taylor Swift's 10 studio albums from best to worst.
1. Midnights
That's right: Tay Tay's brand-new album gets the top spot on our album rankings, and before anyone starts throwing elbows, we'll briefly explain why. Midnights – especially the 20-track "3am Edition" – fully encompasses every era of Swift.
From the synth-pop vibes of 1989 and the twangy ways of her earlier works like Fearless to the ruthlessness of Reputation and the lyrical ingenuity of Red, Midnights is everything we could've dreamed of – and so much more.
2. Reputation
When Ms. Swift came out of hiding for the release of Reputation in 2017, many Swifties were unsure of how to take the lyrically darker and noticeably bass-heavy version of Swift. And to those Swifties, we have to say – respectfully – that we cannot relate.
Maybe it's because of what our lives looked like at the time of its release, or the fact that it felt like, for the first time in Swift's entire career, she was actually able to be her authentic self lyrically.
Also, can we talk about the Rep Tour?! S-T-U-N-N-I-N-G.
3. Red (Taylor's Version)
While Swift has apparently changed the "loving him was red" narrative to that of "maroon," on Midnights, it doesn't change the fact that Red (Taylor's Version) – because we have to support the queen's re-recordings when possible – is still a relatively flawless album.
Yes, it signals the point where Swift started experimenting with sounds outside the country music world, which some people probably didn't like. But, we are not some people.
We, on the other hand, have no choice but to stan Swift's cross-genre jump.
4. Speak Now
If you can think of this album title without the lyrics "don't say yes, run away now" popping into your head, then...you're better than we are. if that line made no sense to you, maybe throw on the title track for the album to jog your memory.
Either way, Speak Now has some of the most gorgeous songwriting in Swift's catalog. This is the album where Swifties learned they probably needed a dictionary nearby to fully decode what their fearless (get it?) leader was saying. And honestly, we're probably all the better for it.
But with songs like Mean, Long Live, Haunted, and (gasp) Dear John, Speak Now deserves to be in the top 5 of Swift's albums – and that's why it is!
5. Evermore
We know: how can you possibly pick Evermore over Folklore, or vice versa? The answer is actually quite simple: we aren't picking one over the other, but the way that lists work is, well...one must be listed first. So, we chose Evermore to take the No. 5 spot.
With songs that simply slap such as Champagne Problems, Gold Rush, and Willow (particularly her Grammy performance of it), Evermore has more than earned its spot.
6. Folklore
Then, there's Evermore's sister album, Folklore, which Swift surprised fans with on July 24, 2020. Everything we loved about Evermore was obviously present on its predecessor. But, with Folklore, fans were blessed with the crafty penmanship of a young William Bowery AKA her BF Joe Alwyn on the track Betty.
All we're saying is we'll never get over how impressed we are.

7. 1989
If you're scoffing at the fact we put 1989 in the No. 7 spot, let us remind you that we love every single body of work Swift has put out. Honestly, we just couldn't find it in ourselves to put this above Folklore or Evermore, and in the grand scheme of Tay Swift albums, this one doesn't feel as cohesive as the rest. Though, it's definitely one – along with Reputation – that you could throw on during a pre-game or in your Uber on the way to the bar.
Translation: it's a whole vibe, and we'll never not be here for it.
8. Fearless (Taylor's Version)
There's something about this album. It's, how do you say...flawless, and really something. Did we just quote the album's title song? Of course! But in all seriousness, while this album holds a lot of nostalgic goodness for the Swifties who were around when the original album dropped in 2009, it definitely lacks the sonic and lyrical depth that other albums have.

We're not saying that's a bad thing, because it'll never not feel right to scream every single word to Forever & Always and The Way I Loved You.
All in all, we love Fearless! Just not as much as others in Swift's discography.
9. Taylor Swift
Ah, Swift's infamous self-titled debut album. Whether you first heard Tim McGraw one year ago, or 16 years ago when it first dropped, you probably have to do a double take each time. It's no secret that Swift started in country music, and this was widely apparent in her self-titled album from 2006. But, sticking to the country music formula doesn't allow for much creativity in terms of a song's composition.
Yet, everyone has to start somewhere, and this album undoubtedly provided Swift with the step-up she needed to fully break into the music industry at large.
10. Lover
Lastly, there's the doing-way-too-much album that is Lover. We know: it's only 18 songs, and in a time when some artists are pumping out single albums that surpass 30 songs, 18 really isn't much. However, for some reason, it feels like a lot of the songs on Lover repeat themselves, making the album feel a lot longer than it is.
With that being said, we'd be foolish not to point out that Swift's seventh studio album does have a few of our all-time favorite bops on it, like The Man, You Need to Calm Down, Cruel Summer, and Cornelia Street. But, when you're looking at Swift's commendable catalog, this bad boy just doesn't have the same sparkle as the others. Does that mean we don't bump it with the volume maxed out? Of course not, because we totally do.
Let's be honest: if it's got Taylor Swift's name on it, whatever it is – you sign us up.
Cover photo: Collage: JC Olivera & Terry Wyatt / GETTY IMAGES NORTH AMERICA / Getty Images via AFP