"We deserve to be treated like people": Austin Starbucks members voice frustrations
Austin, Texas – Two weeks after the first Starbucks location in Austin filed to form a union, members at the 45th Street and Lamar location followed suit. TAG24 spoke with two members at this location who asked to remain anonymous about frustrations that led to the filing, and what they hope to see change.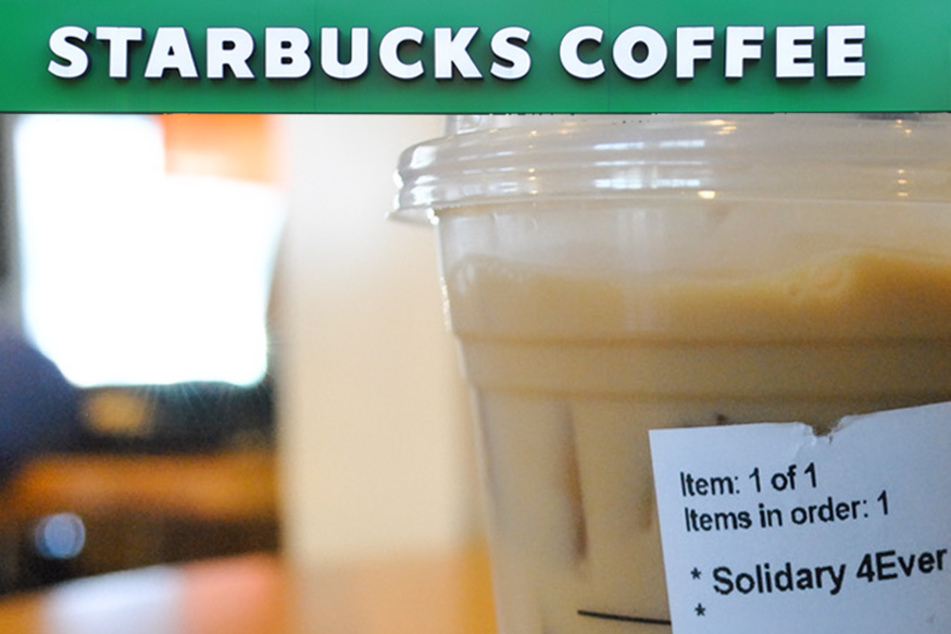 If there's one thing that was wildly evident after speaking with two members of the Starbucks located at 4400 North Lamar Boulevard in Austin, it's that the company has a severe listening problem.
This location was the second in the Austin area to petition to form a union, which was filed on March 21.
Partners at a Starbucks in Buffalo were the first to officially win the right to unionize in December 2021. Since then, many have followed in its footsteps across the country.
"We were watching what all the other partners were doing at all the other stores, especially in Buffalo – everyone's had their eyes on Buffalo," one member of the 45th and Lamar location told TAG24.
"There's been issues going on for months – really big issues that we've all talked about, and that was kind of the point that was like, maybe we should consider this," another member at the location said. "We've tried to address that with our district manager, and nothing is changing."
Similar to the 24th street location near the University of Texas campus, members at the 45th and Lamar Starbucks spoke on their frustrations with how the team is treated by the store manager. Fve people have quit in the last several months specifically because of them.
"It seems like all of us are struggling with them all the time. It's always something," one member said, adding, "The straw that broke the camel's back was that everybody's hours were cut," with another member chiming in to say it happened "kind of out of nowhere."
Slashing hours despite record profits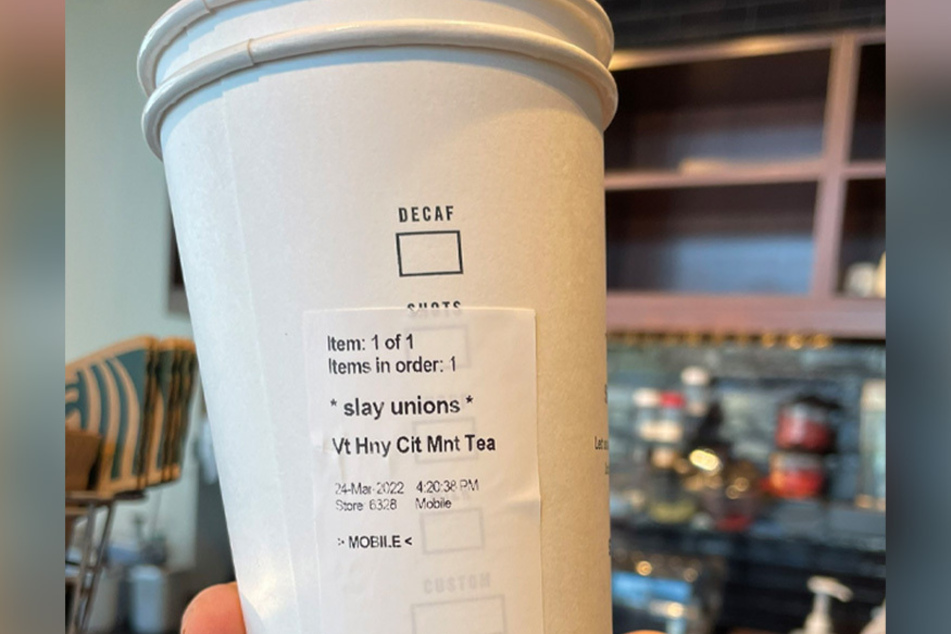 It might seem that having hours slashed is a union-busting tactic, but members told TAG24 "that's something that's actually going on nationwide", and it started long before this location began seriously considering filing to form a union.
Apparently, Starbucks has defended its slashing of hours by saying employees were simply being "over scheduled," and didn't match the in-store demand.
But members at the 45th Street and Lamar location in Austin beg to differ.
"Almost always [when] you walk into a Starbucks, they are drowning," one member said. "They say profits were down, but they most certainly were not. Starbucks has had record high sales and profits."
This isn't how it should be, and members are well aware of that reality. One said the schedule cuts were frustrating because, "We know we need the people running the floor, and there are peak sales every day."
Yet, Starbucks continues to double down with the narrative that it's not cutting labor, it's "matching labor to sales."
"But it's not," one member said, adding that this location in particular has high enough sales to afford to have more people on the floor.
Then there's the store-wide group chat. Nearly every day, there's a message asking something like, "Does someone want to come in for a few hours? We really need help." More often than not, it's the store manager, the same one who refuses to schedule adequately, though there's a clear need.
Rather than scheduling enough people in advance who are all begging for hours, members are told to search around at other locations, despite the fact the store manager is pleading for people to lend a hand on their days off.
"We deserve to be treated like people, not robots"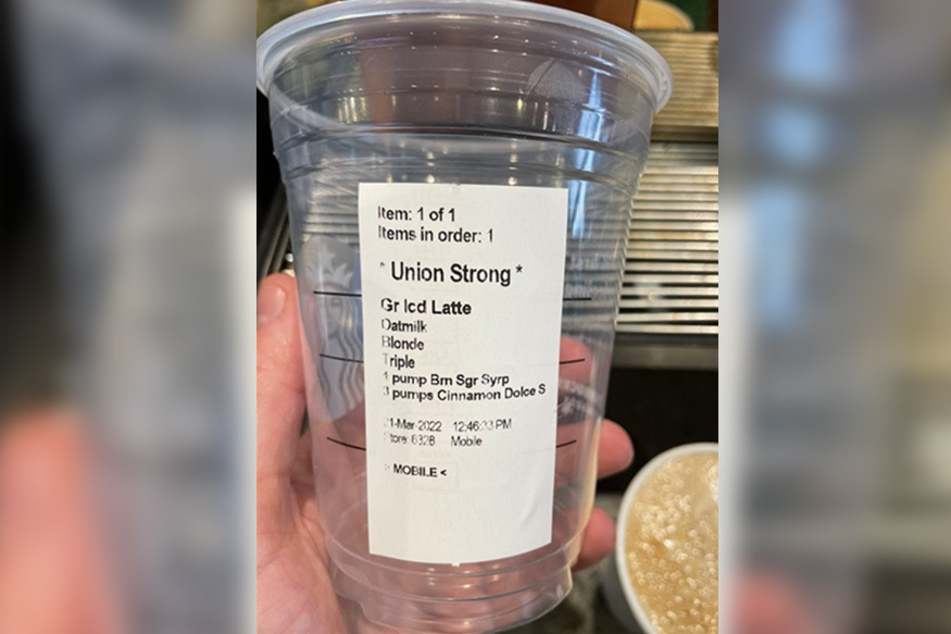 Though many were initially promised 30 hours or more on a weekly basis, members are now getting roughly 10-20 hours per week. At $14 an hour, it's far from sustainable in a high cost-of-living city like Austin.
"$14 should be the minimum for the entire city of Austin no matter what job you have. Anything less than that, you can't do anything with."
Because of this, members who count Starbucks as their main source of income have to acquire side gigs in hopes of being able to pay rent, and maybe get some food in the fridge.
At the same time, this location continues to hire more members on a continual basis, all while failing to give its current employees the hours they were promised.
"It should not be this way," one member said, adding, "We're not treated well at all, and we deserve to be treated like people, not robots."
Another huge concern that drove members to petition for a union stems from Starbucks' "make things right" motto. On the surface, this might seem like prototypical customer service, but it holds a much different meaning in practice.
"There are very interesting people that come to Starbucks, and sometimes they can be dangerous," one member said, citing times when their co-workers have been spit on, had drinks thrown at them, or the countless occasions they've been verbally abused by customers.
"We're expected to be social workers and know how to de-escalate things, and we're not given the training or the pay to be able to do that."
According to this member, it takes several incidents, all of which must be reported by another customer – not the employees themselves – before they can be "removed" from the store.
"We would like to see accountability"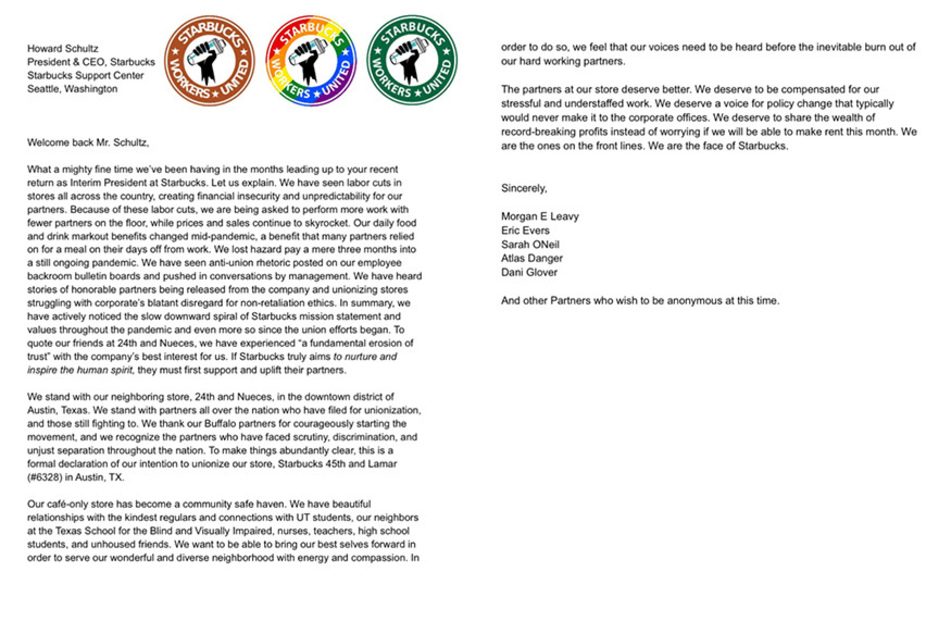 "I think that Starbucks has a culture that perpetuates abuse. Customers are allowed to treat us like we're not human, even though the motto of Starbucks relates to 'human connection,'" one member told TAG24.
"It's something that I take to heart, because I am going to stand up for my baristas. And if it gets me fired, I at least stood up for them. But I shouldn't worry about getting fired, I should be able to tell somebody, 'Don't talk to them this way,'" the member said.
Another member chimed in to say, "We are a very gay store, and we're very proud of it, but there are a lot of partners at this store who use pronouns that may not be obvious to what their appearance is."
They continued, "The amount of times that we get misgendered, despite the fact that we have our pronouns on our aprons," happens fat too often. What's worse is they "don't say anything about it because we don't want to get in trouble."
When asked if they would get in trouble for correcting them, one member quipped, "Yes, people have gotten in trouble for that."
Like the 24th street location, members at 45th and Lamar were told they had to re-sign an attendance form at a last-minute, all-hands meeting.
The meeting itself was held in efforts to "discourage us from wanting to form a union" by toting the "best things" about Starbucks, the benefits, and all the reasons members should "love" their jobs.
Regardless of the company's best efforts, members at 4400 North Lamar Boulevard did file to form a union, and what they want is pretty straightforward.

"We would like to see accountability for our manager and [their] behavior, we would like to see people who need the hours to get enough hours to survive from a company that makes billions of dollars a year."
Another member noted they'd like to see a better raise system and the existence of credit card tipping. It might be 2022, but Starbucks still doesn't allow for tipping on credit or debit cards in-store. The only way to add a tip by card is if you order through the mobile app.
Despite the changes they'd like to see, one member said it best when stating, "nothing has to be 'wrong' to want to form a union."
Cover photo: Collage: Taylor Kamnetz/123RF/miluxian