Greg Casar supports Austin's first Starbucks to file for a union as partners speak out
Austin, Texas – On Thursday, congressional hopeful Greg Casar visited the first Starbucks location to file for a union in the Capital City. TAG24 had the chance to speak with one union member at the location, who shared what led partners to petition and provided insight on Starbucks' union-busting efforts.
Two and a half weeks after partners at Starbucks' 504 West 24th Street location near the University of Texas (UT) campus petitioned to unionize, Casar held a "solidarity brewing" event on its very patio.
The congressional hopeful kicked things off by saying, "We are gathered here today because we know that if we want to improve this economy, if we want to improve this state, if we want to save this democracy, it's going to be because of organized workers working alongside organized labor to reshape and reclaim our state, am I right?" to a resounding cheer.
He proceeded to share that over 150 Starbucks' have announced their intent to unionize, a move that's become wildly popular amongst locations thanks to the bold actions of Starbucks partners in Buffalo who won the right to organize in October 2021.
One partner at the 24th Street location, Lillian Allen, also addressed the crowd of supporters, saying, "We are here today because of what Buffalo got started. We are here to stand in solidarity with the Starbucks workers across the country who have kept this going."
"I am grateful to you all for standing together with us and for listening and for giving us what we are trying to achieve in our workplace, which is a voice," Allen concluded.
Casar then led the crowd of supporters to the counter, where they ordered an endless flow of drinks under the names "solidarity forever," "union yes," and "union strong."
Given that this is Starbucks, baristas must call out the names on every drink when placing them on the pickup counter.
Because partners, what Starbucks calls its employees, aren't allowed to initiate conversations about the union, having customers order drinks with such strong union language allows baristas to be vocal without getting reprimanded for doing so.
Why unionize?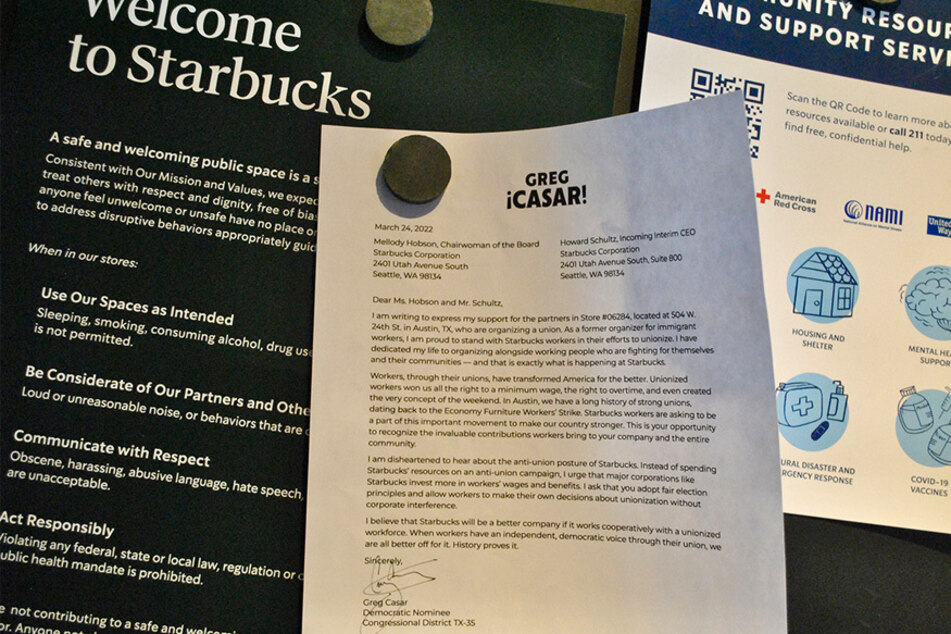 While many were in line for their "solidarity brewing" drinks, Casar placed his official letter of support for the location's partners on the in-store bulletin board.
The letter started with Casar writing, "I am proud to stand with Starbucks workers in their efforts to unionize. I have dedicated my life to organizing alongside working people who are fighting for themselves and their communities – and that is exactly what is happening at Starbucks."
He continued, "I am disheartened to hear about the anti-union posture of Starbucks," adding, "I believe that Starbucks will be a better company if it works cooperatively with a unionized workforce. When workers have an independent, democratic voice through their union, we are all better off for it. History proves it."
While the Starbucks at 504 24th Street in Austin wasn't the first location to unionize, it does have a different make-up from that of a typical Starbucks, union member and partner Amanda Garcia told TAG24.
Due to its proximity to UT's campus, partners at the location, Garcia included, are predominantly students with varying schedules.

When asked by TAG24 what led her and fellow partners to unionize, Garcia said, "As soon as we saw Buffalo taking action, we were like, 'Oh my god,'" adding, "This is actually something we can do."
Many partners had conversations over the months that followed Buffalo's union move. Though much apprehension lingered, growing conflicts with management gave them the push needed to take action.
"We reached a point where our scheduling needs have been consistently not met, and with the semester and this year going back to in person, that is more important than ever to have a schedule that accommodates for student workers that the entire Starbucks is made out of.
"Nothing changes"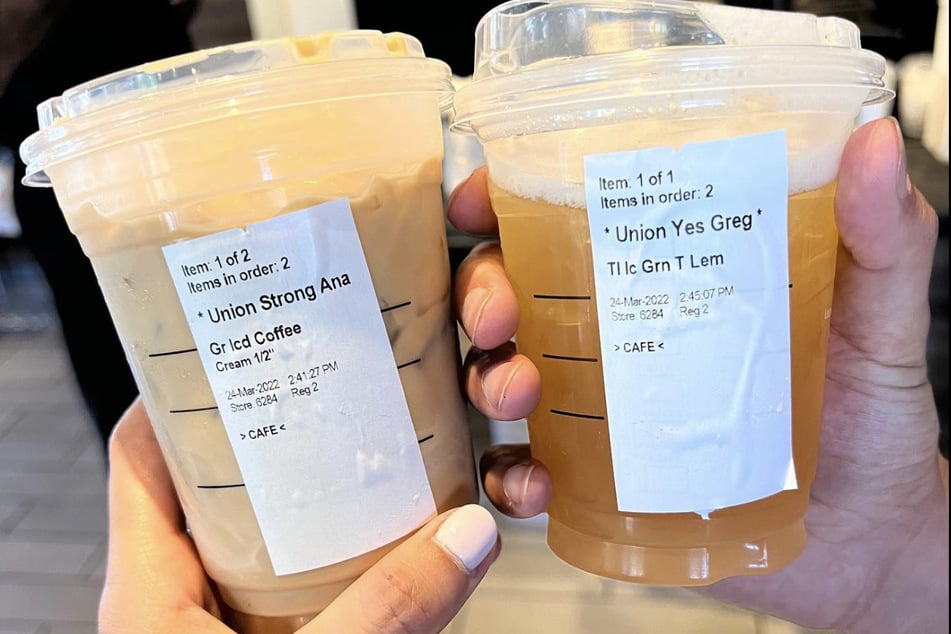 Garcia has been working at this location for about a year. She said that due to its proximity to UT, baristas are constantly slammed. Within her first two weeks on the job, she saw the demand of this location was not being accommodated by adequate scheduling.
This is an issue that likely stems from having an outside hire as the store's manager.
"She doesn't know what it's like to be a barista or a shift supervisor," Garcia said, adding that she is "really out of touch."
"You would expect a manager, especially someone who is in charge of hiring, to know that most of her employees are students and our schedules are not going to be that of someone who has graduated. We don't have full availability."
Garcia then filled TAG24 in about how on numerous occasions, she and other partners had been scheduled for shifts in the middle of class, despite marking they were unavailable during those times.
"As much as we need this job to support ourselves, we have to be students," she said. But when such scheduling conflicts arise, partners are forced to choose between being responsible for their shift, or being a responsible student and attending class.
This paired with the fact that, since this location is near campus, tips are essentially "abysmal."
Despite this, partners are not compensated for the lack of tips college students dish out, nor have they received a bump in pay – which is currently $14-per-hour – that accounts for Austin's sky-high cost of living.
"When you add it up, it makes a significant difference, especially because most of us are college students trying to support ourselves."
Though Garcia said she and other partners have brought their complaints and concerns to managers, "nothing changes."
"No signs that our voices are being valued"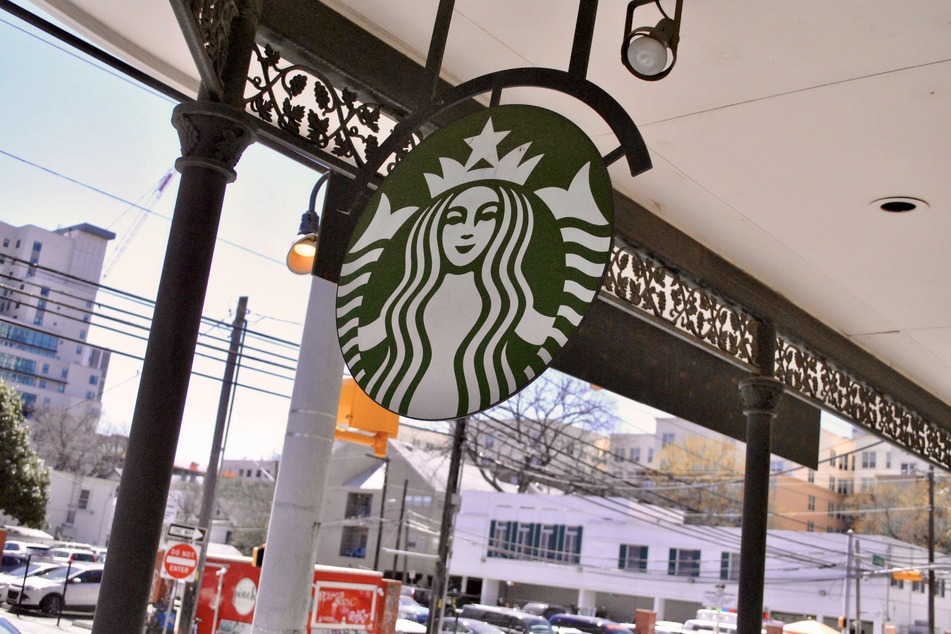 Despite the fact a spokesperson for Starbucks recently told My San Antonio that the company "respects" partners' right to organize and management intends to "bargain in good faith," Garcia said they have not had any meetings with management or leadership regarding the union.
"There are no signs that our voices are being valued."
Starbucks' silence doesn't mean it hasn't caught wind of its petition to unionize, but instead indicates it could be engaging in union-busting, or any action taken by management to prevent or deter employees from exercising their right to organize.
"It's really interesting to me to see how easy it is for them to present these union-busting efforts in such a pleasant way," Garcia said.
Apparently, every partner within the district had to re-sign the same agreement they signed when hired as a way to have them "check-in" with Starbucks' "values" and to start fresh without any dings against them for showing up late or calling out of work,
Though management is positioning the re-signing in a positive light, Garcia and other partners feel it's a way for management to "see or track if we make any mistakes," in regard to dress code, showing up late, or calling out of work.
"They are going to use anything they can as a means to reprimand us if they can't reprimand us for our union efforts."
Garcia added that Starbucks has been engaging in union-busting at nearly every location that has petitioned to unionize, but said she doesn't think its efforts are going to work.
Still, she acknowledged it's "a very efficient way to create tension and cause anxiety around the whole situation," adding, "People who are on the fence [about joining], this is the method Starbucks uses to push them towards a no."
In terms of what partners hope to see change, Garcia said management should, "Let us unionize without participating in the union-busting that [it's] doing," adding that having management who actually listen to employees would be "great."
Garcia also stated the community should continue to stand in solidarity with Starbucks Workers United, adding, "that would be really awesome, because we need the public's support."
The headline of this article has been edited after an earlier version mistakenly described the Starbucks at 504 West 24th Street as having unionized, as opposed to having submitted a petition to unionize.
Cover photo: Collage: Taylor Kamnetz