Valentine's Day: TikTokers have the DIY gift idea you need to wow your love
Valentine's Day is just around the corner! If you're struggling with what to get your boo, TikTok creators have some fun ideas that won't break the bank.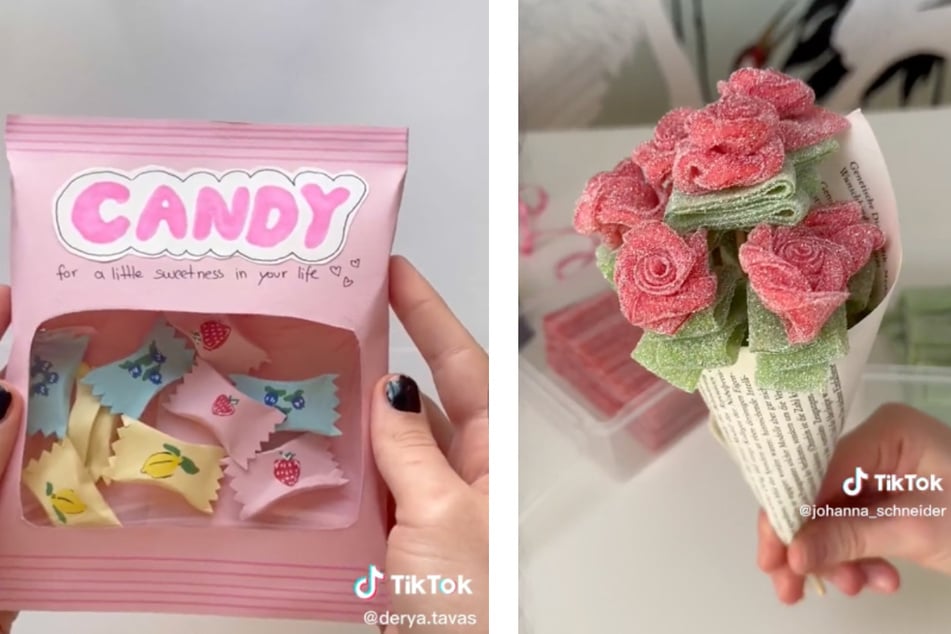 Everyone knows that flowers and fancy chocolates scream true love.

But have you considered giving your love candy and flowers in one?
TikToker Johanna's viral clip shows how to make a bouquet of roses out of gummy candy strips. In the vid, she rolls up red sour gummy ribbons to make roses and green ones to make leaves for a tiny bunch of candy roses. Then she uses a page from a book to wrap up her sweet bouquet.
Not only does the Valentine' Day gift in this vid look doable, but it's also beautiful.
The clip has been up just one day and has wowed 12 million TikTok users. Commenters gushed over the flowers, with many writing, "Thats what I really wish for!"
Johanna isn't the only one on the platform with a deliciously viral Valentine's tip. TikToker Mistie Knight's DIY tutorial clip of strawberries becoming candied roses boasts 1.6 million views and 40,000 likes. This super creative idea is sure to prove to your love that you know how to make something as sweet as a strawberry even sweeter.
But Valentine's Day isn't all about turning food into flowers. It's also about sweet words.
TikTok DIY paper Valentines take TikTok by storm
Instead of giving your love real candy, you could make them a bag full of pretend paper treats filled with sweet notes!
TikTok creator Derya's DIY paper candy tutorial vid has an astounding 66 million views and 10 million likes. In it, she turns pastel-colored paper into an adorable bag of "candy." With a glue stick and scissors, she makes little pink, yellow, and blue wrappers and fills up them with tiny rolled-up notes with messages like "I love you."
She puts her sweets in a handmade package that says "Candy for a little sweetness in your life."
Commenters loved the idea, with many saying it would make the perfect Valentine for their mom.
TikTok DIY Valentine's cards are adorable and magical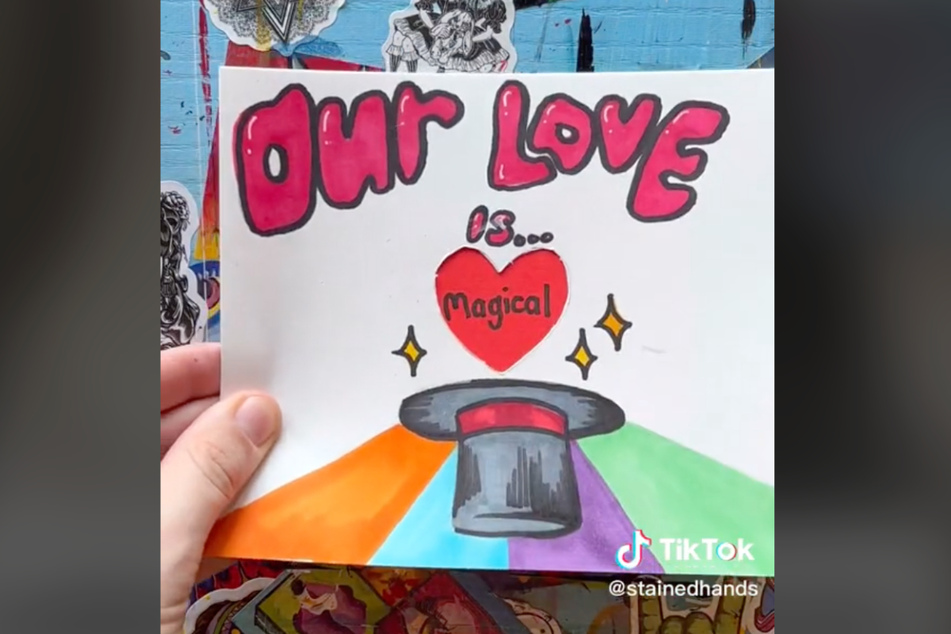 Candy isn't the only Valentine's gift you can make out of paper.
There's always the classic: the Valentine's Day card. Some TikTokers have scored viral hits with their card creations.

One of the most popular tutorials comes from TikToker Devyn. Her viral clip, which has garnered 2 million views in 24 hours, shows how to create a card that doubles as a magic trick. It requires paper, tape, and something to cut out a heart shape.
The heart cut-out in the card changes colors with a flip of your hand, thanks to the flaps in the back, and reads "Our love is magical."
Another simple but stunning Valentine's Day card is from TikTok user Naomi. The viral clip has shown more than 4 million users how to make a heart-shaped love note that's also its own envelope. Multiple commenters said they'd be trying their hands at this one: "So cute I have to make it."
All of these adorable TikTok Valentine's Day gift ideas may take some elbow grease and glue, but they aren't going to cost you an arm and a leg. The handmade touch is sure to please your loved ones too!
Cover photo: collage: screenshot/TikTok/derya.tavas & screenshot/TikTok/johanna_schneider