This moving optical illusion tattoo is making TikTok trip out
Nashville, Tennessee – If you're not a fan of tattoos, you'll definitely cringe at the sight of "ink sacks" plastered atop freshly tatted skin.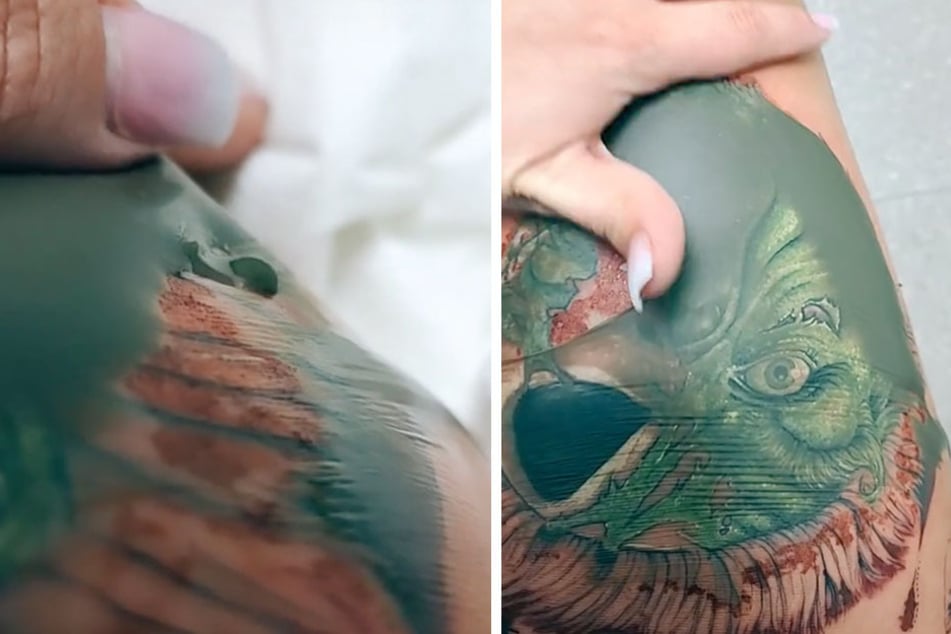 There's nothing freakier than witnessing something moving that shouldn't be. In this case, that something is a tattoo covered by a strange sack of ink.
When TikTok user Kristen Berner showed off her new tattoo and oscillating ink in a sack that covered it, people had questions.
The video, which now has over 81 million views, shows Berner running her hand over her new thigh tattoo and its current sack, moving the ink back and forth to show off its creepiness in full-effect.
Naturally, people were confused, concerned, and creeped out by the sack. One comment read, "That's not good sweet, it can be quite dangerous."

Another comment, left in all caps, said, "Y'all also don't realize that the ink is being rejected by the skin its like your skin is vomiting ink," followed by several sassy emojis.
One major misconception people had about the sack was thinking it was Berner's actual skin that had bubbled over her new tattoo.
But the mystery was soon uncovered.
Tattoo artists have varying aftercare tactics
Tattoo artists have different tactics and suggested supplies to use for after-care. Some keep it old school with Aquaphor, cling wrap, and tape.
But it appears Berner's artist has taken the modern-day route and used a Saniderm tattoo aftercare bandage.
Another TikTok user Brianna Lally found the others' distressed comments to be laughable, knowing herself users were worried for all the wrong reasons.
"These comments [laughing emoji] IT'S NOT SKIN! It's a wrap. It's better for healing," she said.
Berner's excitement about the optical illusion was also apparent, as she repeatedly wrote, "Ink sack! Ink sack! Ink sack!"
Once the tattoo is healed, the bandage can be easily removed and clients are left with vivid and vibrant ink.
Next time you're due for another tattoo, ask your artist how they feel about ink sacks, and you might walk away with one yourself.
Cover photo: Screenshot/TikTok/lefttheberneron