Bama basketball and Brandon Miller's historic night gets dragged as murder case details emerge
Tuscaloosa, Alabama - Despite receiving jeers and boos, Alabama basketball's star freshman Brandon Miller made history in Columbia on Wednesday night in the Crimson Tide's 78-76 overtime victory against South Carolina.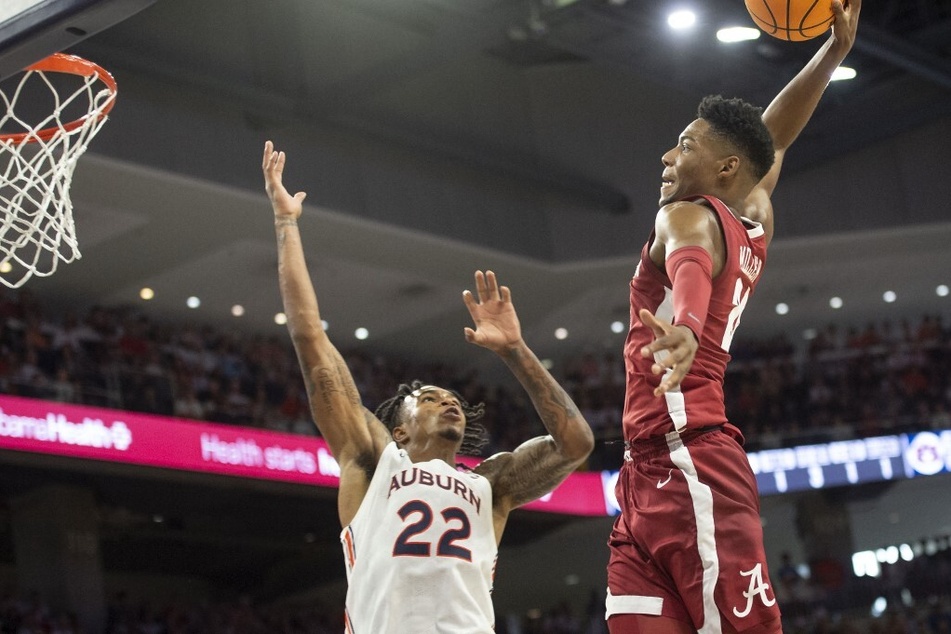 Amid chants of "Guilty" and "Lock him up" from the South Carolina arena audience when Miller touched the ball, the hoops phenom scored a career-high of 41 points - the most points by a freshman in a Division I game this season and the most by an Alabama freshman in program history.
The historic night happened just a day after Tuscaloosa police revealed that Miller provided his former teammate Darius Miles with the handgun used to kill Jamea Harris in January.
Miles was immediately removed from the Alabama team and is facing capital murder charges after his arrest. Miller and another Alabama player on the scene, Jaden Bradley, have not been charged.
Controversially, Miller was cleared to play as an active member of Alabama's team just three hours before the game's tip off.
The Crimson Tide released a statement on Wednesday night that they continue to cooperate with authorities.
"Based on all the information we have received, Brandon Miller is not considered a suspect in this case, only a cooperative witness," they said.
Jim Standridge, an attorney representing Miller, also released a statement on Wednesday to "provide additional facts on Brandon's behalf in response to misstatements in reporting yesterday regarding Brandon."
According to Standridge, Miller was already in transit to Miles when he received the text to bring the gun to the location of the shooting and that Miller never touched the gun. It was "concealed under some clothing in the back seat of his [Miller's] car," the statement read.
Police testified on Tuesday that Miles texted Miller asking for a gun, to which Miller replied, "The heat is in the hat."
Basketball world voices strong disappointment in Alabama basketball
Following Miller's historic performance on Wednesday, the basketball world - including some Alabama fans - took to social media to share their disappointment in the Alabama program, ripping it to shreds.
"I guess basketball players in Alabama are honorary white people. Or maybe it's the gun that's the white person here. Typically when you serve as an apparent accessory to murder, police charge you with being an accessory to murder," a fan tweeted.
"I have a very hard time believing Miller had no idea what was going on! Sounds like a good ol fashioned Alabama cover up!" another fan claimed, taking a shot at the university.
"This story just keeps getting more and more confusing," one fan wrote, noting the change in the story's details.
"So what I'm reading is that Brandon delivered a weapon to a drunk Miles after a night at the club. Wrong place wrong time my ass," another user responded, in a diss to head coach Nate Oats, who claimed Miller was simply in the "wrong place at the wrong time."
Alabama players, including Miller, were not made available to speak to media after the victory. Miller is currently the highest-ranked NBA prospect so far among college players. He is projected to be a first round pick in the 2023 NBA Draft.
Cover photo: Collage: MICHAEL CHANG / Wesley Hitt / GETTY IMAGES NORTH AMERICA / Getty Images via AFP